Hey there, folks! Ever wondered if you need an AED? It's not exactly a conversation starter at the dinner table, but it's one of those topics that could make a world of difference in a life-and-death situation. In this blog post, we're going to dive into the world of Automated External Defibrillators (AEDs) and explore why they might be more essential than you think.
Shocking Truth About AEDs
Let's start with the basics. What on earth is an AED, and why should you care about it?
A Life-Saving Marvel
An AED, short for Automated External Defibrillator, is a portable device that can literally save your life. It's like having a superhero in a box, only instead of capes, it comes with sticky pads and electric shocks.
How Does it Work?
When someone's heart decides to do the funky chicken and goes into a chaotic rhythm, an AED is there to restore order. It delivers an electric shock to the heart, which can stop abnormal rhythms and let the heart resume its normal, life-sustaining beat.
AED vs. CPR
You might be thinking, "But isn't CPR enough?" Well, CPR is fantastic, but think of it as a helping hand. An AED is like the cavalry riding to the rescue. It's quick, efficient, and can make a huge difference.
Time is of the Essence
The key to successful defibrillation is time. The sooner an AED is used, the better the chances of survival. With every passing minute, the odds drop, so having an AED on hand is like having a guardian angel watching over you.
Who Needs an AED Anyway?
Now, you might wonder who should have an AED. It's not just for hospitals and ambulances, my friends.
Home Sweet Home
Having an AED at home is like having insurance for your heart. If someone in your family has a heart condition, it's a no-brainer. But even if you're all fit as a fiddle, life can be unpredictable. You wouldn't leave your home without locking the doors, so why leave it without this potentially life-saving device? Ensure the longevity and reliability of your life-saving equipment by Click here to shop AED batteries from AED Advantage.
Fitness Fanatics
If you're a gym junkie or an avid runner, an AED can be your best workout buddy. Overexertion or underlying heart conditions can trigger cardiac issues. Having an AED nearby is like a personal medic on standby.
Businesses and Public Spaces
It's not just about you; it's about everyone. Businesses, malls, and public spaces can be hotspots for cardiac emergencies. Having AEDs accessible in these locations can turn bystanders into heroes.
Schools and Educational Institutions
Our little ones spend a significant part of their day in educational institutions. Having AEDs in schools can be a game-changer. Kids can be prone to sudden cardiac issues, and having an AED around can make all the difference.
The Fear Factor
Now, you might be hesitating to get an AED because you're not a doctor, and the idea of using one sounds as complex as rocket science. But fear not; it's easier than you think.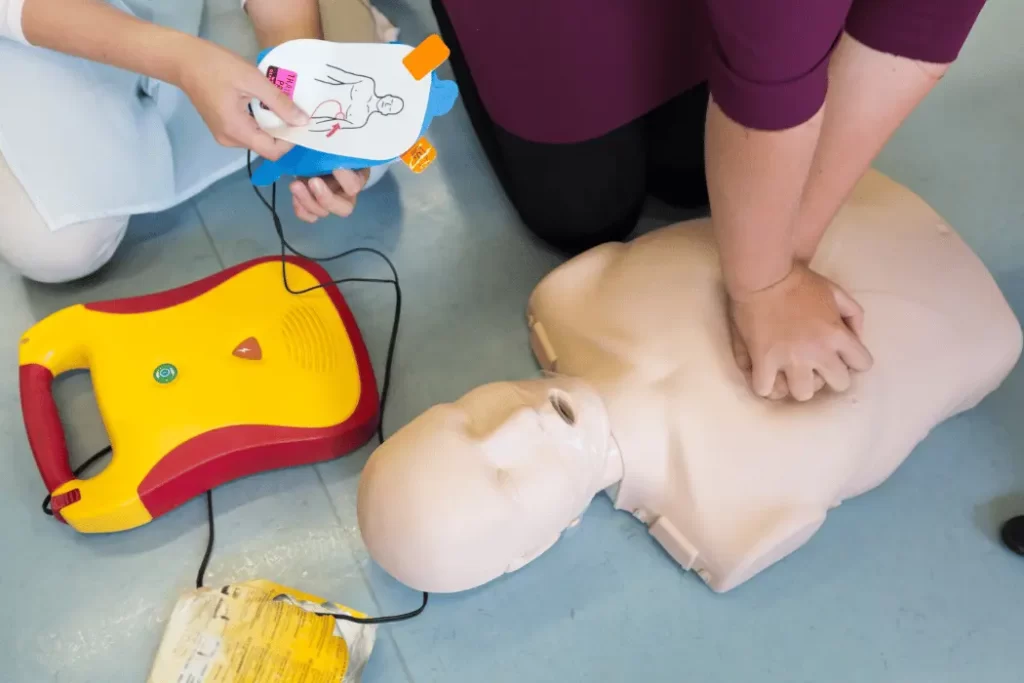 Also Checkout: Is Heart Failure Reversible?
User-Friendly
Modern AEDs are designed to be user-friendly. They come with clear instructions, and some even have voice prompts that guide you through the process. You don't need a medical degree to use one, just a willingness to save a life.
The Legal Side of Things
You might also be concerned about the legal aspects. What if something goes wrong? Well, in many places, Good Samaritan laws protect those who use AEDs in good faith to help someone in need. So, your intentions are legally covered.
AEDs on a Budget
Let's address the elephant in the room. You might be thinking that AEDs are expensive and out of reach. The good news is, they come in various price ranges.
Recertified and Refurbished
You can find recertified or refurbished AEDs at a fraction of the cost of a brand new one. They are just as effective and can be a budget-friendly option.
Grants and Community Programs
Many communities and organizations offer grants or discounts for AEDs, especially in areas where they are needed the most. It's worth checking if there are any such programs in your region.
Sharing is Caring
If you can't afford one on your own, consider going in on an AED with a group of friends, neighbors, or coworkers. Sharing the cost makes it more accessible to everyone.
Maintaining Your AED
Now that you're convinced about the importance of having an AED, let's talk about maintenance.
Regular Checks
An AED is not a set-it-and-forget-it kind of device. It needs periodic checks to ensure it's in working order. Most AEDs come with self-test features, but it's essential to follow up on them.
Training
Get trained on how to use the AED. Many organizations offer AED training courses that can equip you with the knowledge and confidence to use it effectively.
The Heart of the Matter
In the grand scheme of life, our hearts are the engines that keep us going. An AED can be the ultimate backup for when the engine sputters.
Cardiac Arrest Can Happen to Anyone
Cardiac arrest doesn't discriminate. It can happen to anyone, regardless of age or fitness level. Having an AED nearby can be a lifesaver for a loved one or a stranger in need.
Seconds Matter
Remember, every second counts during a cardiac emergency. Quick action with an AED can be the difference between life and death.
Final Thoughts
So, do you need an AED? Well, I hope this blog post has shed some light on the subject. While we hope you'll never have to use one, having an AED nearby can provide peace of mind and, in some cases, save a life.
In the end, it's not just about having a device. It's about being prepared, being a responsible member of your community, and having the power to make a difference when it matters most.
Remember, heroes don't always wear capes. Sometimes, they're found in the form of a small, unassuming box that says "AED."
So, if you're thinking about it, go ahead and consider getting one. It's a decision that could truly be a lifesaver.