Kanhangad, situated in the Kasaragod district of Kerala, is known for its serene beauty and rich cultural heritage. Like many regions in India, Kanhangad witnesses many pregnancies each year. Consequently, you can easily receive a gynaecology treatment in Kanhangad, Kerela.
Pregnancy is a transformative voyage that brings happiness, excitement, and many changes to a woman's body. As the body adapts to the growing life within, it often sends signals through pregnancy symptoms. Awareness of these symptoms can help women recognise the early signs of pregnancy and seek appropriate care. This article will explore ten common pregnancy symptoms that every woman should know.
1. Missed Period
A missed period is often the first sign that prompts a woman to consider the possibility of pregnancy. When conception occurs, the body stops ovulating and menstruating. However, it's important to note that other factors like stress or hormonal changes can also lead to missed periods.
2. Nausea and Morning Sickness
Nausea, commonly called morning sickness, is a well-known pregnancy symptom. Morning sickness typically manifests in the initial stages of pregnancy and can be induced by hormonal fluctuations. Contrary to its name, morning sickness can occur at any time.
3. Fatigue
The surge in hormones and the increased demands of pregnancy can leave women feeling extremely tired. The body works hard to nourish the growing foetus, which can decrease energy levels.
4. Tender Breasts
Breast tenderness is a symptom many women experience shortly after conception. Hormonal fluctuations can cause the breasts to become swollen, sore, and sensitive to touch.
5. Frequent Urination
The body produces more blood during pregnancy, and the kidneys work harder, increasing urination. This symptom can become more pronounced as the expansion of the uterus leads to increased pressure on the bladder.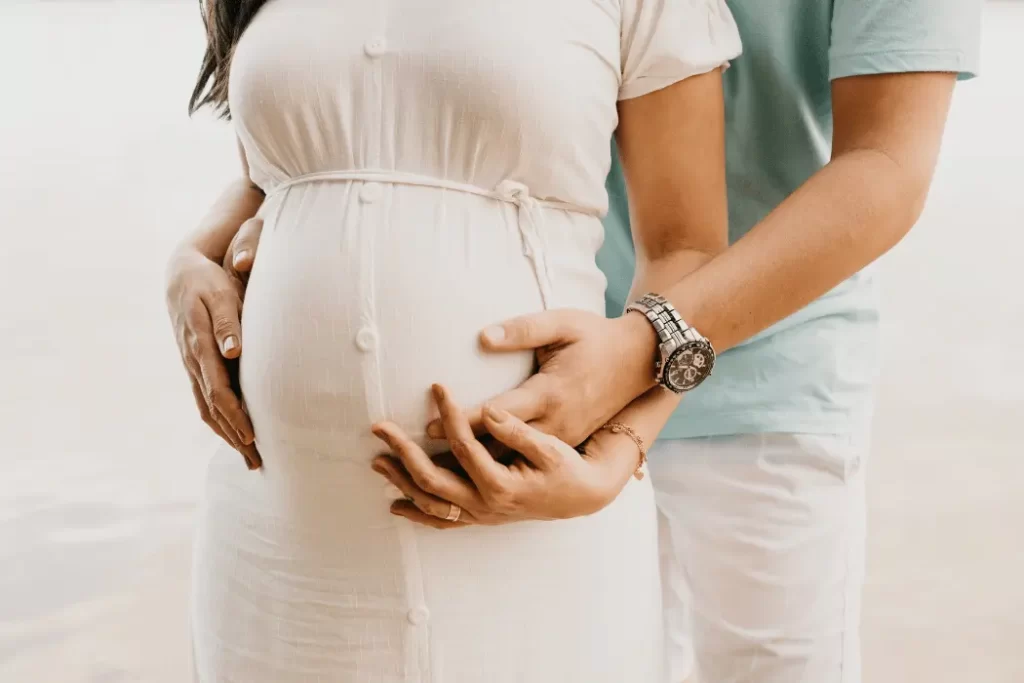 6. Changes in Food Preferences
Cravings and aversions to certain foods are another hallmark of pregnancy. Hormonal changes can lead to changes in taste and smell preferences, causing women to develop intense cravings for specific foods or lose their appetite for others.
7. Mood Swings
Hormonal fluctuations during pregnancy can also impact mood. Many women experience mood swings, ranging from heightened emotions to irritability or sadness.
8. Increased Basal Body Temperature
For women actively tracking their menstrual cycles, a sustained increase in basal body temperature beyond the typical luteal phase can be an early indicator of pregnancy.
9. Vaginal Changes
During pregnancy, heightened blood flow to the pelvic region can result in alterations in vaginal discharge. Some women notice a thin, milky discharge, while others might experience mild spotting, both of which are normal.
10. Swelling and Bloating
As pregnancy progresses, the body retains more water, leading to swelling and bloating, especially in the hands, feet, and ankles. This symptom is often more pronounced in the later stages of pregnancy.
Gynaecology Treatment: Supporting a Healthy Pregnancy
Maintaining a healthy pregnancy involves recognising pregnancy symptoms and seeking proper medical care. Gynaecology treatment in Kanhangad, Kerela, is crucial in ensuring the well-being of the expectant mother and the developing baby. Frequent appointments with a gynaecologist can assist in monitoring the pregnancy's advancement, detecting possible concerns, and offering guidance for managing symptoms associated with pregnancy.
Gynaecologists are equipped to address a wide range of concerns during pregnancy, from prenatal care and nutrition to addressing complications that may arise. Gynaecologists can conduct screenings, ultrasounds, and various diagnostic assessments to oversee the well-being of both the expectant mother and the baby. Furthermore, they can advise on lifestyle modifications, including dietary and exercise recommendations, to promote a healthy pregnancy.
Conclusion
Pregnancy is a transformative experience accompanied by various symptoms that signal the body's adjustment to nurturing a new life. By being aware of these common pregnancy symptoms, women can recognise the signs of pregnancy early on and seek the appropriate care and guidance from gynaecologists. Gynaecology treatment is vital in ensuring a healthy and safe pregnancy journey, allowing expectant mothers to navigate the exciting path of motherhood with confidence and support.