A bright smile can light up a room and boost your confidence, but what happens when you're self-conscious about your teeth? Buck teeth, or protruding front teeth, can make some people feel embarrassed, but the good news is that there are several ways to deal with this condition. Having straight and healthy teeth not only boosts your confidence, but it also contributes to your total health and fitness. From orthodontic treatment to small tips that can help you feel more confident, this article will cover everything you need to know about smiling with confidence despite having buck teeth. Whether you're looking for solutions for yourself or a loved one, read on to discover the tips and tricks that can help you feel great about your smile.
What are Buck Teeth?
Buck teeth refer to protruding upper front teeth that stick out beyond the lower front teeth. They are a common condition that affects people of all ages, and while they may not pose any health risks, they can affect an individual's self-esteem and cause speech difficulties.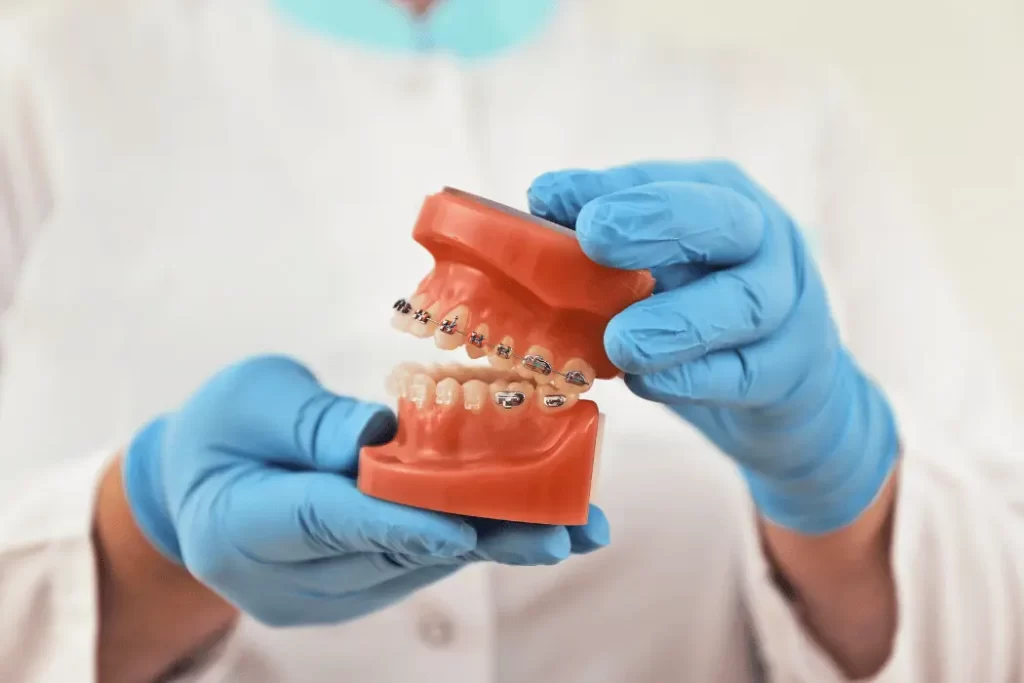 What Causes Buck Teeth?
Buck teeth can be caused by a variety of factors, including:
Genetics
Thumb-sucking or pacifier use as a child
Tongue thrusting
Poor oral habits
Mouth breathing
Injuries or trauma to the mouth
Read more about Thumb Sucking Teeth.
Orthodontic Treatment for Buck Teeth
The most effective way to correct buck teeth is through orthodontic treatment, which involves the use of braces or clear aligners. Orthodontic treatment helps to straighten and align the teeth, reducing the prominence of protruding teeth.
Braces
Braces are the most common form of orthodontic treatment for buck teeth. They work by applying gentle pressure on the teeth, gradually moving them into their proper positions. Braces are usually worn for 12-24 months, depending on the severity of the condition.
Clear Aligners
Clear aligners are an alternative to traditional braces. They are a series of custom-made, clear plastic trays that fit over the teeth, gradually shifting them into their proper positions. Clear aligners are removable and are replaced every few weeks, making them a more convenient and discreet option.
Tips for Dealing with Buck Teeth
While orthodontic treatment is the most effective way to correct buck teeth, there are a few tips you can follow to help you feel more confident while undergoing treatment.
Practice Good Oral Hygiene
Maintaining good oral hygiene is essential when undergoing orthodontic treatment. Brush your teeth twice a day and floss regularly to keep your teeth and braces clean. This will help to prevent the buildup of plaque and food particles, which can lead to tooth decay and gum disease.
Choose the Right Foods
While undergoing orthodontic treatment, it's essential to avoid foods that are hard, sticky, or chewy, as they can damage your braces and prolong your treatment time. Stick to soft foods such as soup, yogurt, and mashed potatoes.
Use Dental Wax
Orthodontic treatment can cause some discomfort, especially during the first few days after getting braces or aligners. Use dental wax to cover any brackets or wires that are causing irritation or discomfort.
Wear Lipstick
Wearing lipstick can help draw attention away from your teeth and onto your lips. Choose a shade that complements your skin tone and apply it before leaving the house.
Practice Good Posture
Maintaining good posture can help reduce the appearance of buck teeth. Stand up straight with your shoulders back and your chin up to help align your teeth properly.
Conclusion
Buck teeth may cause some self-esteem and speech difficulties, but it's a common condition that can be easily corrected through orthodontic treatment. Braces and clear aligners are the most effective ways to fix buck teeth, but there are several tips you can follow to feel more confident while undergoing treatment. By practicing good oral hygiene, choosing the right foods, using dental wax, wearing lipstick, and maintaining good posture, you can smile with confidence despite having buck teeth. Remember, a bright smile is a symbol of confidence and happiness, and with these tips, you can smile with confidence and feel great about yourself.