Thumb sucking is a natural reflex for infants and young children, providing a sense of comfort and security. While many children grow out of this habit by the age of four, some continue to suck their thumbs well into their teenage years. Unfortunately, prolonged thumb sucking teeth can have a negative impact on oral health, specifically affecting the alignment of teeth and the development of the jaw.
In this blog post, we will explore the impact of thumb sucking on dental health, discussing how the habit can cause a variety of problems such as misaligned teeth, speech difficulties, and even an altered facial structure. The habit of thumb sucking can have a significant impact on your total health and fitness, particularly your dental health. We will also examine some of the warning signs that parents should be aware of when it comes to prolonged thumb sucking, as well as effective ways to help children break the habit.
The causes of thumb sucking
Thumb sucking is a common habit in young children and is considered a normal part of development. It usually starts during infancy and can continue for several years. However, if the habit persists beyond the age of five, it may have a significant impact on your dental health. There are several causes of thumb sucking, including genetics, emotional stress, and boredom. Infants and young children often suck their thumbs as a means of self-soothing and finding comfort. Additionally, if children are feeling anxious, insecure, or bored, they may also turn to thumb sucking to cope with their emotions. In some cases, thumb sucking can become a habit that persists beyond its initial purpose, and that may lead to negative consequences such as malocclusion, which is the misalignment of teeth, and other dental problems.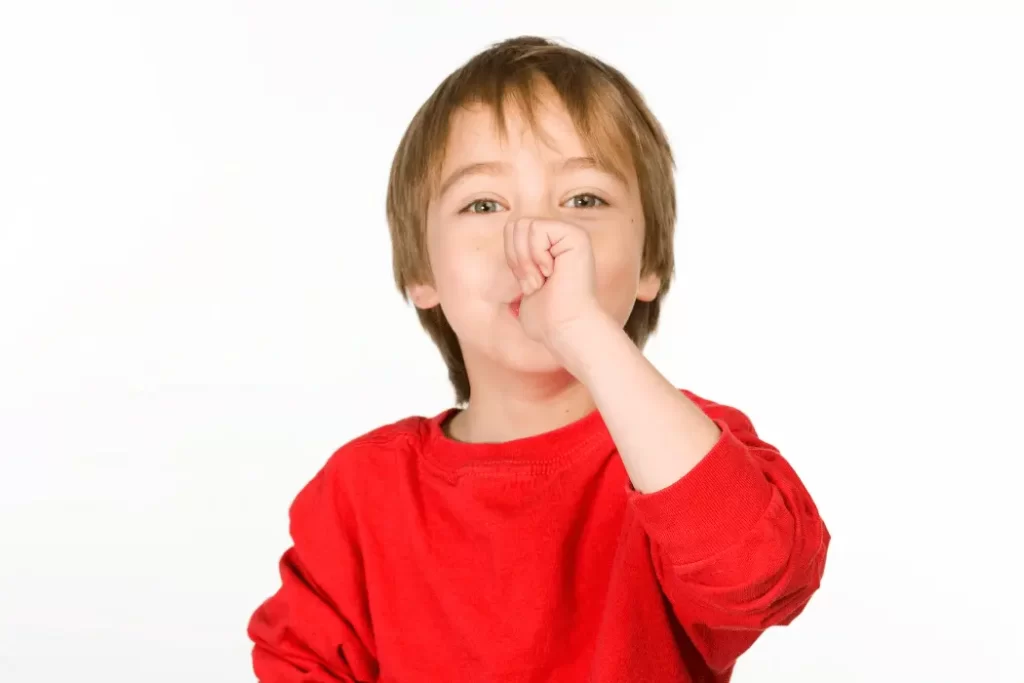 How Does Thumb Sucking Affect Teeth
Thumb sucking is a common habit in children that can lead to detrimental effects on dental health if not stopped at an early age. The intensity, frequency, and duration of thumb sucking can determine the extent of harm caused on teeth and jaws.Thumb sucking can cause a variety of problems for dental health, including:
Misaligned Teeth
Frequent thumb sucking can cause teeth to become misaligned or move out of their natural positions. This can lead to problems with biting and chewing and may require orthodontic treatment to correct.
Open Bite
Open bite is a condition where the front teeth do not touch when the back teeth are closed. This can be caused by prolonged thumb sucking, as the pressure from the thumb pushes the front teeth out of alignment.
Narrowing of the Palate
Thumb sucking can also cause the roof of the mouth (palate) to become narrower. This can make it more difficult for the adult teeth to come in properly and may require orthodontic treatment to correct.
Speech Problems
In some cases, prolonged thumb sucking can lead to speech problems. This can be caused by the changes to the shape of the mouth and the position of the teeth.
Read more about Choosing a Kids Dentist.
When Should You Be Concerned About Thumb Sucking?
Most children stop sucking their thumb on their own between the ages of 2 and 4. If your child is still sucking their thumb after the age of 4, it is a good idea to talk to your dentist about the potential impact on dental health.
If you notice any signs of dental problems, such as misaligned teeth, an open bite, or speech problems, you should also seek the advice of a dental professional.
Breaking the Thumb Sucking Habit
Breaking the thumb sucking habit can be challenging, but it is important for dental health. Here are some tips to help your child stop thumb sucking:
Positive Reinforcement
Positive reinforcement can be a powerful motivator for children. Praise your child when they are not sucking their thumb and offer small rewards for progress.
Distraction
Distraction can be an effective way to help your child stop thumb sucking. Encourage them to engage in other activities, such as playing with toys or reading books.
Mouth Guards
Mouth guards can be helpful for children who are having difficulty breaking the habit. These devices are designed to make thumb sucking less satisfying and can help your child stop.
Professional Help
In some cases, professional help may be needed to help your child stop thumb sucking. Talk to your dentist or pediatrician about your options.
Tips for Helping Your Child Stop Thumb Sucking
Here are some additional tips for helping your child stop thumb sucking:
Talk to your child about why thumb sucking is not good for their dental health.
Offer emotional support and encouragement.
Provide alternatives for comfort, such as a stuffed animal or blanket.
Consider using bitter-tasting nail polish to discourage thumb sucking.
Conclusion
Thumb sucking can have significant effects on dental health, especially when it continues into the permanent teeth phase. The habit can change the developing structure of the mouth and damage the alignment of the teeth. Parents should regularly check to see if their child is sucking their thumb and take steps to discourage the habit if it continues. Consulting with a dentist can help in identifying and treating any dental problems that arise due to thumb sucking. By taking proactive measures, parents can help ensure the healthy growth and development of their child's teeth.