One of the best features of living in a house is that you have your very own backyard. It's the perfect place to spend time with friends and family and allows you to immerse yourself in nature.
Surprisingly, not many of us are utilizing the area to its full potential. With the right enhancements, you can completely transform the space.
Not sure where to get started? Then keep on reading! In this article, we are going to discuss eight tips and tricks that will help you make the most out of your backyard.
Determine your style.
The first step of designing a backyard is determining what you want to use it for. Once you know the purpose of the area, you can think about the design style and necessary elements. For a vibrant and well-kept outdoor space, professional garden maintenance services can ensure your landscape looks its best year-round.
Do you prefer a modern look that is easy to maintain? How about a lush oasis full of life? By asking yourself the right questions, you can get a better picture of the outcome you desire.
Create an outdoor entertainment area.
Creating an entertainment area is certainly one of the best ways to make the most out of your yard. It's ideal for hosting events and will encourage you to go outdoors throughout the entire year.
Start by furnishing the area with luxury sofas, a good-quality dining table, and cushions for added comfort. Things like an outdoor kitchen, projector screen, and sound system are a few other great additions.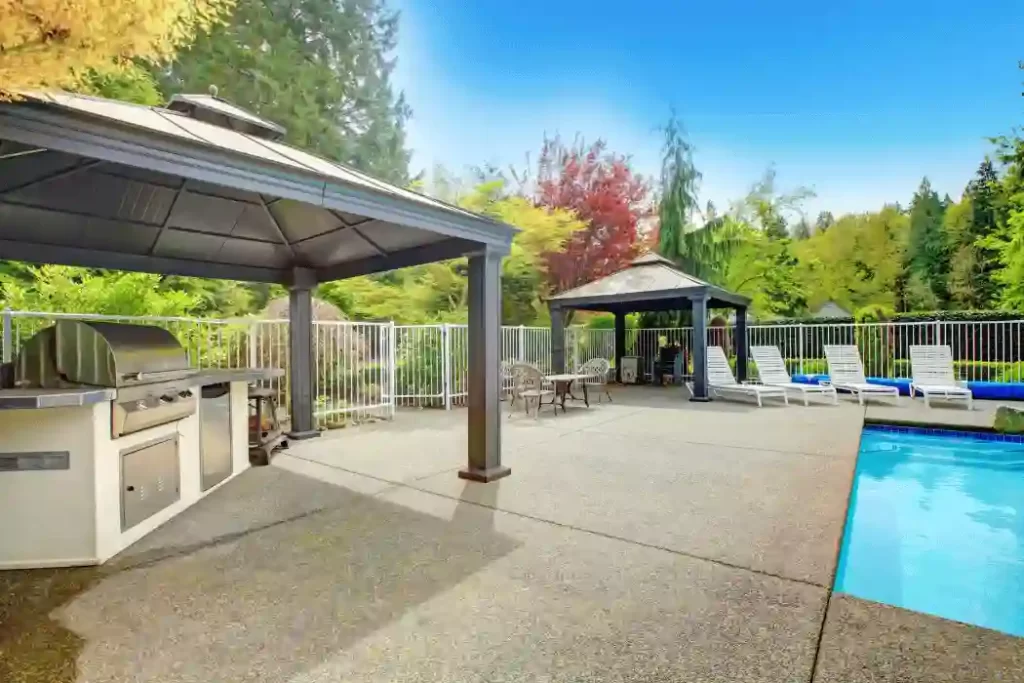 Consider the layout and flow.
Your backyard's layout should allow for comfortable movement and flow between the different areas. Think about how you'll walk between each space – from the entertaining area to the shed, pool, and other garden elements.
You'll need to design a clear walkway that is both practical and visually appealing. It's also important to arrange furniture in a way that allows you to move around freely, especially if you're planning to use the area for exercise and yoga.
Prioritize landscaping.
Landscaping features such as a flower bed, shrubs, and trees can completely transform the appearance of your backyard. These natural elements will help create a calm environment and may even attract beautiful wildlife.
Some plants and greenery will also have additional purposes. For instance, trees can provide shade while bright flowers can add color and texture to the space. You could even start a herb or vegetable garden.
Incorporate lighting.
If you're looking for an affordable way to transform your yard almost immediately, lighting is worth considering. The right lights add a magical touch and you'll be able to use the area when the sun goes down safely.
Opt for solar-powered designs that are energy-efficient and easy to maintain. A fire pit can also add extra light and heat during those colder winter months.
Install a water feature.
Another excellent way to enhance your backyard is by installing water features such as a pond, pool, or fountain. These not only provide an eye-catching element, but many people find them to be relaxing.
Pools and ponds provide a place to unwind, with the added benefits of swimming and even feeding fish. Fountains, on the other hand, create a calming ambiance that helps drown out other unpleasant sounds.
Of course, don't forget about maintenance. They require a lot of hard work, so be sure you have the time and money to care for them.
Personalize with artwork and décor.
Just like the interior of your home, it's possible to personalize your yard with artwork and décor. From beautiful statues to wind chimes and mosaics, there are so many wonderful ways to represent yourself.
You can even have a go at creating some things yourself! The right pieces can make a focal point that will certainly spark conversation.
Designate an area for your children.
Finally, if you have children, it's a great idea to designate an area for them in the yard. There are so many benefits to outdoor play, and you'll get some much-needed peace in the household.
You could add a slide, swing set, sandpit, or tree house depending on your kid's interests and age. Just ensure it's secure to avoid any accidents.
Final Words
As you can see from the above, there are many creative ways to transform your backyard. By following these tips, you can create a space that the entire family will enjoy for years to come.
Furthermore, the right improvements can actually improve the value of your home. You can think of it as an investment that will pay off in the long run.