Complex Regional Pain Syndrome (CRPS) is an enigmatic and frequently misconstrued medical condition that affects the nervous system, resulting in persistent pain and an array of other distressing symptoms. Despite its relative infrequency, CRPS can be a debilitating and life-altering affliction for those enduring its burdens. This article delves into the nuances of CRPS, elucidating its nature, etiology, clinical manifestations, diagnostic procedures, and therapeutic options.
Gaining Insight into CRPS
What is CRPS? Complex Regional Pain Syndrome is a disorder primarily afflicting the extremities, such as the arms, legs, hands, and feet. It is characterized by severe and enduring pain that often transcends the magnitude of the initial injury or triggering incident. Pain associated with CRPS typically takes on a chronic nature, manifesting as either persistent or intermittent. The ailment is classified into two principal categories. 
The first category, CRPS Type I, previously identified as Reflex Sympathetic Dystrophy or RSD, manifests following an injury or trauma that does not directly cause harm to the nerves within the affected area. Frequently, it is precipitated by events such as fractures, surgical interventions, or minor injuries. The second type, CRPS Type II (formerly referred to as Causalgia) is linked to a conspicuous nerve injury within the affected area, which can often be identified.
Exploring the Underlying Causes
The precise etiology of CRPS continues to be a subject of ongoing exploration and contention. It is thought to be caused by the complicated interaction of the neurological and immune systems. Common triggers and risk factors include:
Traumatic incidents or injuries
Surgical procedures
Infections
Nerve impairments
Genetic predispositions
Aberrant inflammatory responses
Psychological influences
It is imperative to acknowledge that not all individuals exposed to these triggers will develop CRPS, and the pathophysiological mechanisms of the condition remain incompletely understood.
Checkout: Integrative Therapies for Comprehensive Pain Management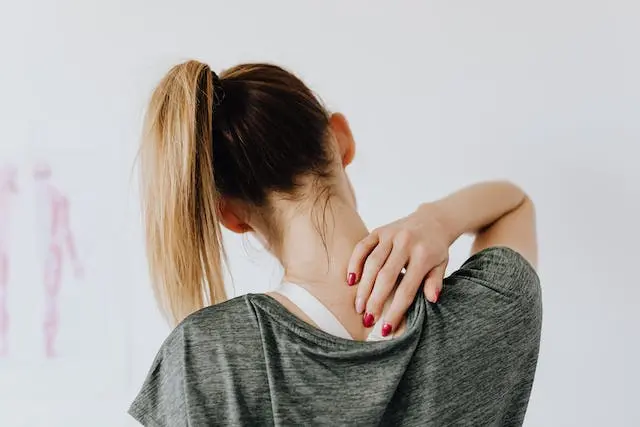 Identifying Clinical Indications
CRPS is often distinguished by a myriad of symptoms, the presentation and intensity of which can diverge among individuals. Frequently encountered signs and symptoms encompass:
Intense and persistent pain
Changes in skin temperature and color, accompanied by swelling
Sensorial abnormalities, such as heightened sensitivity or numbness
Changes in hair and nail growth
Muscular spasms and weakness
Articular rigidity
Impaired mobility
The pain experienced in CRPS is frequently characterized as a burning, stabbing, or throbbing sensation and can extend beyond the initially affected region.
Diagnostic Challenges
The diagnosis of CRPS can prove to be intricate as there is no singular definitive test to confirm the condition. Healthcare professionals depend on a comprehensive assessment of clinical parameters and medical history, taking into account the presence of symptoms consistent with CRPS while eliminating other potential sources of pain. Supporting diagnostic measures encompass imaging studies (e.g., X-rays, MRIs), bone scans, and sympathetic nerve blocks. Timely identification is pivotal for the efficacious management and treatment of CRPS.
Diverse Therapeutic Modalities
CRPS treatment endeavors to mitigate pain, enhance functionality, and ameliorate the patient's overall quality of life. It typically entails a multidisciplinary approach, which may encompass:
Pharmacological interventions include over-the-counter and prescription pain relievers, anticonvulsants, and antidepressants.
Physical therapy with gentle exercises to enhance mobility and alleviate pain.
Sympathetic nerve blocks encompass the administration of anesthetic substances in the proximity of the affected nerves to provide transient relief.
Mirror therapy is a technique employing mirrors to manipulate the brain's perception of reduced pain.
Psychotherapy encompasses cognitive-behavioral therapy and other psychological strategies to address the emotional and psychological facets of the condition.
In severe cases, more invasive treatments like spinal cord stimulation or the implantation of pain pumps may be contemplated. The selection of treatment is tailored to the individual's specific needs, guided by the recommendations of their healthcare team.
Adapting to Life with CRPS
CRPS presents substantial challenges and can profoundly affect an individual's daily life. Coping with CRPS often necessitates resilience, a robust support network, and a comprehensive medical care approach. This condition can lead to not only physical limitations but also emotional and psychological distress.
Resources and support groups are accessible to aid patients and their families in navigating the tribulations linked to this condition, providing a vital lifeline in the journey towards managing and understanding this complex disorder. These support networks provide a secure environment for individuals to exchange their experiences, seek guidance, and foster a sense of camaraderie among those impacted by CRPS.
Conclusion
Complex Regional Pain Syndrome is an intricate and frequently enigmatic condition that can wield a profound impact on an individual's life. It is imperative for those grappling with CRPS symptoms to seek prompt medical attention to secure a timely diagnosis and suitable therapeutic interventions. Ongoing research into the causative factors and therapeutic modalities of CRPS offers optimism for enhanced management of this condition in the future, potentially affording those affected a superior quality of life.