Pain, an intricate aspect of the human experience, comes in various forms, from acute to chronic, mild to severe. It can disrupt daily life, hinder productivity, and even lead to emotional distress. In recent times, the approach towards pain management has evolved beyond just conventional medical treatments. Integrative therapies have gained prominence as a holistic approach to comprehensive pain management. These therapies combine conventional medicine with alternative practices to offer a more holistic and well-rounded approach to alleviating pain and improving the overall quality of life. Integrative therapies play a crucial role in comprehensive pain management, contributing to both total health and fitness by addressing the physical, emotional, and mental aspects of discomfort.
Understanding Integrative Pain Management Therapies
Integrative therapies, also known as complementary or alternative therapies, encompass a wide array of approaches that aim to treat pain and improve overall well-being. These therapies integrate conventional medical practices with evidence-based alternative methods. Unlike standalone conventional treatments, integrative therapies adopt a more comprehensive approach, addressing not only the physical symptoms but also the emotional and psychological aspects of pain.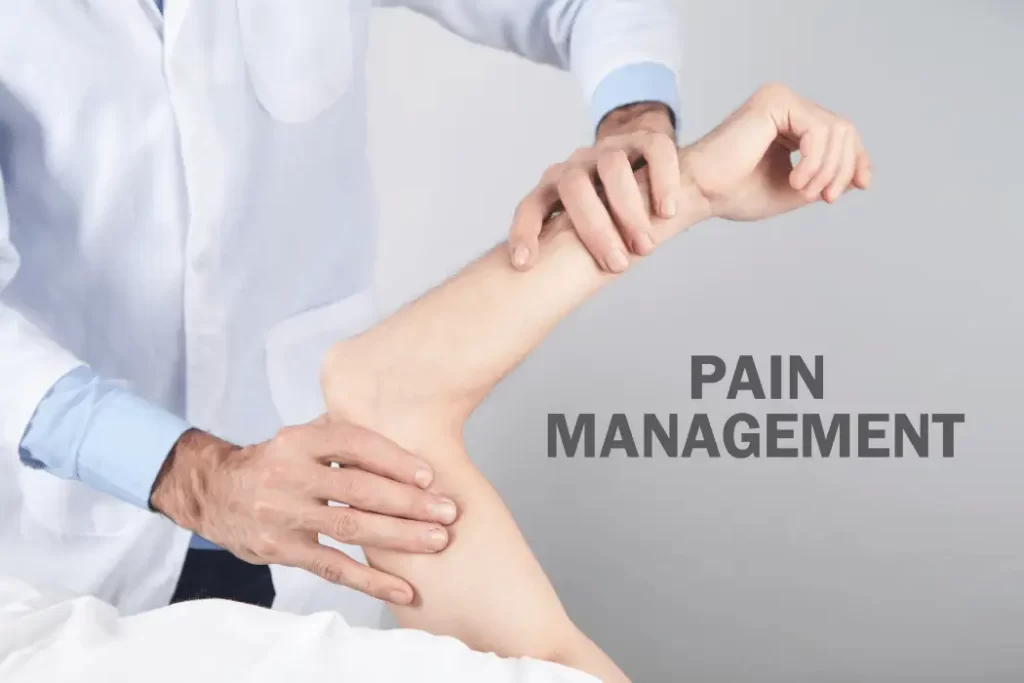 The Role of Integrative Pain Management Therapies
Holistic Healing through Mind-Body Practices
Mind-body practices are an integral part of integrative pain management. Techniques such as yoga, meditation, and deep breathing help individuals connect their physical sensations with their mental state. These practices can help reduce stress, anxiety, and depression, which often exacerbate pain. By promoting relaxation and mindfulness, mind-body practices contribute to an enhanced sense of well-being, making pain more manageable.
The Power of Physical Therapies
Physical therapies, including chiropractic care, massage therapy, and acupuncture, focus on addressing pain through manipulation, muscle release, and energy balance. Chiropractic adjustments align the spine to alleviate musculoskeletal pain, while massage therapy targets muscle tension and improves circulation. Acupuncture, an ancient practice involving the insertion of thin needles into specific points on the body, stimulates the release of endorphins and promotes pain relief.
Herbal and Nutritional Approaches
Integrative pain management also explores the benefits of herbal remedies and nutritional supplements. Turmeric, known for its anti-inflammatory properties, and ginger, with its analgesic effects, are commonly used to manage pain naturally. Omega-3 fatty acids, found in fish oil supplements, have shown promise in reducing inflammation and pain associated with conditions like arthritis.
Cognitive-Behavioral Strategies
Addressing the emotional impact of pain is crucial in comprehensive pain management. Cognitive-behavioral therapy (CBT) is a psychological approach that helps individuals change negative thought patterns and develop effective coping mechanisms. By reframing perceptions of pain and teaching adaptive strategies, CBT empowers individuals to better manage their pain and improve their overall emotional well-being.
The Collaborative Pain Management Approach 
The strength of integrative therapies lies in their collaborative nature. Rather than replacing conventional medical treatments, integrative therapies work alongside them. Medical professionals and alternative practitioners collaborate to create tailored treatment plans that address the unique needs of each individual. This synergy maximizes the potential for pain relief and enhances the overall quality of life.
The Evidence Base
Critics may question the efficacy of integrative therapies due to their holistic and sometimes unconventional nature. However, a growing body of research supports their effectiveness. Numerous studies have shown that integrative therapies can provide meaningful pain relief and improve patients' well-being. As more research continues to emerge, the legitimacy of these approaches gains further validation.
Conclusion
Pain, though universal, need not dominate our lives. Integrative therapies offer a ray of hope by presenting a holistic approach to pain management. Through the integration of conventional medicine with complementary practices, these therapies address pain's multi-dimensional nature. From mind-body practices to herbal remedies and collaborative treatment plans, integrative therapies empower individuals to take control of their pain and regain their quality of life. In a world where pain can often seem insurmountable, integrative therapies shine as a beacon of comprehensive pain management. As the medical landscape continues to evolve, embracing these holistic approaches can pave the way for a brighter, pain-free future.