Worldwide, millions of people struggle with the dangerous and compulsive habit of smoking. According to the World Health Organization (WHO), up to half of smokers die from diseases linked to tobacco use each year, killing an estimated 8 million people. Despite the tobacco's well-known detrimental consequences on health, many individuals still smoke, often in spite of their best efforts to quit. This article will explain the benefits of quitting smoking for overall health and wellness and will include tips and resources to help smokers kick the habit.
The effects of smoking on health
Smoking has significant and diverse health concerns. Smoking is the number one avoidable cause of mortality in the world and causes a variety of health issues, such as:
Cancer – Smoking is the primary factor in 85% of instances of lung cancer. Smoking also raises the possibility of getting stomach, bladder, breast, cervical, esophageal, kidney, liver, and pancreatic cancer.
Diseases of the respiratory system – Smoking harms the lungs and airways, causing chronic bronchitis, emphysema, and chronic obstructive pulmonary disease (COPD). Shortness of breath, coughing, wheezing, and other respiratory issues might be brought on by these illnesses.
Cardiovascular disease – Smoking harms blood arteries, raising the possibility of peripheral artery disease, heart disease, and stroke. Additionally, it raises heart rate and blood pressure, exerting additional stress on the cardiovascular system.
Difficulty with reproduction – Smoking can lead to pregnancy issues such as infertility, early delivery, low birth weight, and others. Men may have erectile dysfunction as a result of it.
Dental issues – Smoking can result in tooth loss, gum disease, stains on the teeth, and foul smell.
Skin conditions – Smoking can speed up the aging process and lead to wrinkles and skin discolouration.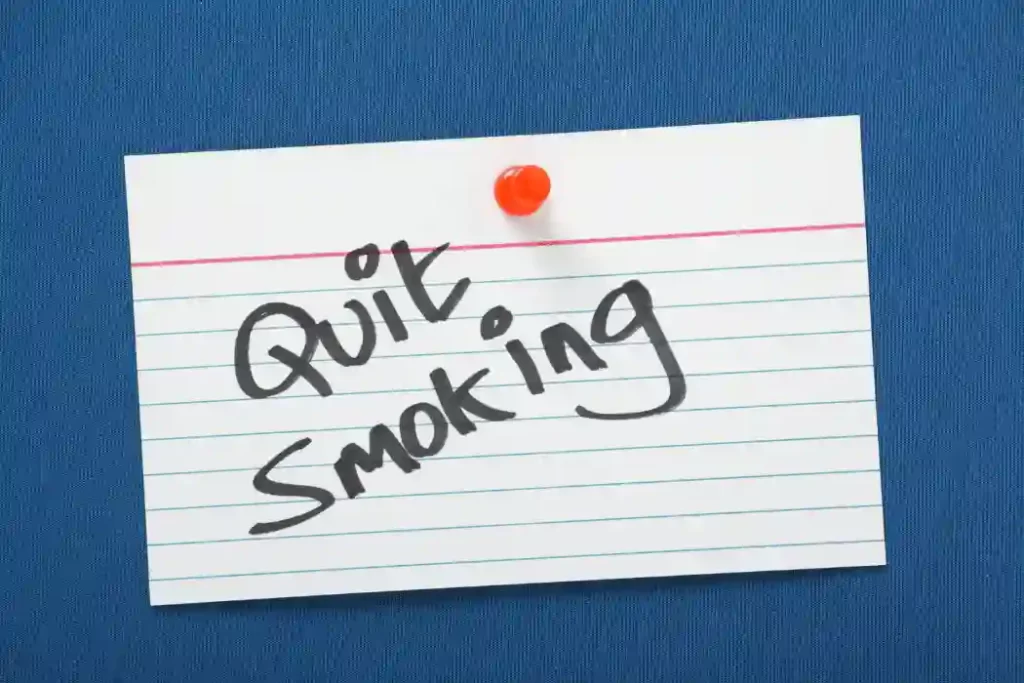 The advantages of giving up smoking
Your whole health and wellbeing can benefit greatly from quitting smoking. Among the advantages of giving up smoking are:
Healthier respiratory system – Quitting smoking can enhance lung health and lower the chance of developing respiratory conditions like COPD and emphysema.
Cancer risk is decreased – Smoking cessation can dramatically reduce the risk of lung cancer and other cancers.
Increased cardiovascular fitness – Quitting smoking can reduce blood pressure and heart rate, which lowers the risk of peripheral artery disease, heart disease, and stroke.
Better reproductive health – Giving up smoking can increase fertility, lower the chance of difficulties during pregnancy, and lessen erectile dysfunction.
Better dental health – Giving up smoking can enhance oral hygiene, lower the risk of gum disease, and prevent tooth loss.
Better skin health – Giving up smoking can help to even out skin tone, minimize wrinkles, and delay the signs of premature aging.
Read more about Quit Smoking Holistically.
Advice on how to stop smoking
Although giving up smoking can be a difficult and stressful journey, it is doable with the correct resources and assistance. Here are some suggestions for quitting:
Decide when to stop – To stop smoking, pick a date and stick to it.
Find out what triggers you – Develop coping mechanisms for the events, people, or feelings that set off your smoking habit.
Seek assistance – Inform your loved ones that you're giving up smoking and ask for their encouragement. Join a support group or ask a healthcare provider for assistance.
Use nicotine replacement treatment – Nicotine replacement therapy can help lessen cravings and withdrawal symptoms. Examples include patches, gum, and lozenges.
Try behavioral treatment – You can learn coping mechanisms and alter your behavior by using behavioral therapy, such as cognitive-behavioral therapy or motivational interviewing.
Keep busy – Engage in pursuits that will keep you from smoking. Take up a new pastime, go for a walk, or hang out with your loved ones.
Avoid triggers – Keep away from circumstances or activities, such as consuming alcohol or being around smokers, that can make you want to light up.
Stay upbeat – Think of the advantages of quitting and the improvements to your health and wellbeing that you are making.
Resources to help you stop smoking
There are several tools at your disposal to assist you in giving up smoking. Here are some ideas to think about:
Nicotine replacement therapy – Reducing cravings and withdrawal symptoms can be accomplished with the aid of nicotine replacement therapy (NRT) products like patches, gum, or lozenges.
Vaping – Some individuals use vaping as a short-term aid in their efforts to stop smoking. Studies show that vaping is far more effective in assisting people in quitting smoking than nicotine replacement therapy or quitting on one's own. However, it's crucial to remember that vaping is not a permanent fix. If you're looking for a variety of robust, high-performance vape products, we suggest having a look at EB Design Vapes.
Prescription drugs – Several prescription drugs, including bupropion and varenicline, are available that can assist you in quitting smoking.
Help groups – You can get the motivation and help you need to stop smoking by joining a support group, whether it be in person or online.
Behavioral therapy – Behavioral therapy can assist you in creating coping mechanisms and altering your behavior. Examples of behavioral therapy include cognitive-behavioral therapy (CBT) and motivational interviewing.
Services such as quitlines are available in many nations and offer telephone assistance and counseling to aid in quitting smoking.
Apps for smartphones – Numerous apps for smartphones are available to aid with quitting smoking.
Conclusion
In conclusion, giving up smoking is a critical step in improving one's health and fitness. Anyone may overcome the difficulties of quitting smoking and take advantage of the numerous advantages of a smoke-free life by making use of the tools available, seeking assistance, and forming healthy habits.