If you're an adventurous eater looking to try something new and exciting, look no further than snake fruit. This tropical fruit, also known as Salak, is native to Indonesia and has a distinct, spiky exterior that makes it stand out from other fruits. Snake Fruit is not only a unique tropical fruit but also a powerhouse of nutrients. It's rich in antioxidants, vitamins, and minerals and is believed to help improve digestion, boost energy levels and even protect against certain diseases. Incorporating snake fruit into your diet can contribute to your total health and fitness due to its high fiber, antioxidant, vitamin, and mineral content. In this article, we'll explore the many benefits of snake fruit, how to prepare it, and some creative ways to enjoy this unique and exotic tropical delight.
What is Snake Fruit?
Snake fruit, also known as Salak, is a unique and exotic tropical fruit that is native to Southeast Asia. Despite its prickly and scaly exterior, Salak has a deliciously sweet and tangy flavor that is highly sought after by food enthusiasts around the world. With a texture that is similar to a cross between an apple and a pineapple, Salak is a versatile fruit that can be eaten raw or used in a variety of culinary dishes. Recently, Salak has gained popularity due to its numerous health benefits, as it is rich in antioxidants, vitamins and minerals. In this document, we will explore the fascinating world of Snake fruit, its history, nutritional value, cultivation methods and methods of consumption that have made it one of the most loved fruits among tropical fruit aficionados.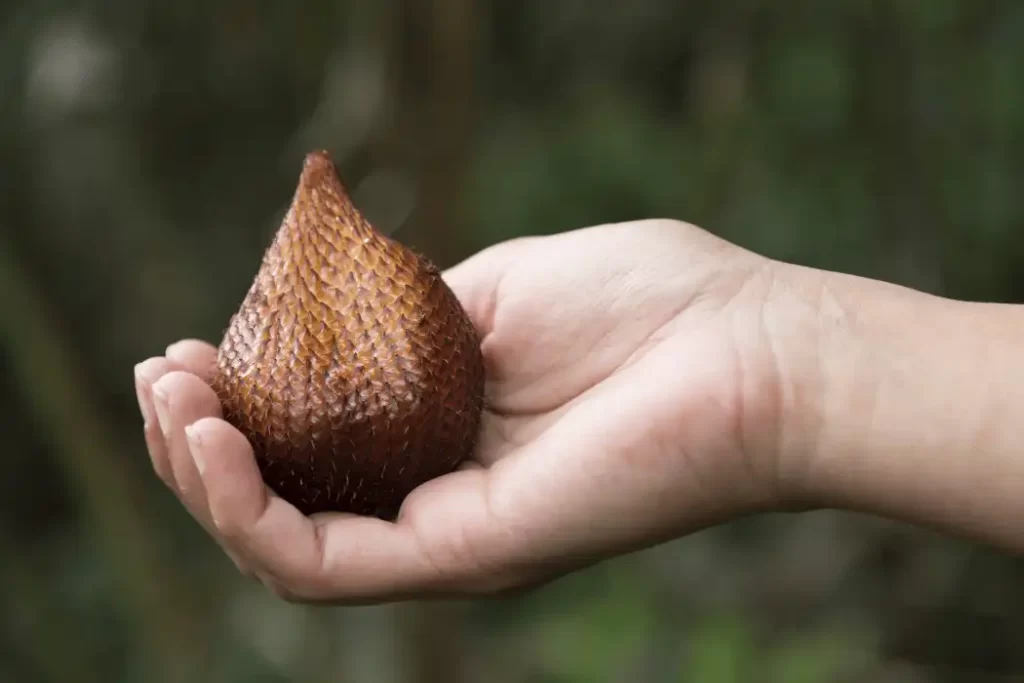 Nutritional Benefits of Snake Fruit
Not only is snake fruit delicious, but it's also packed with nutrition. Here are some of the health benefits of incorporating snake fruit into your diet:
Rich in Antioxidants
Snake fruit is rich in antioxidants, which can help protect your body against free radicals and reduce your risk of chronic diseases like heart disease and cancer.
High in Fiber
Snake fruit is high in fiber, which can help promote healthy digestion and prevent constipation.
Rich in Vitamins and Minerals
Snake fruit is also rich in vitamins and minerals, including vitamin C, potassium, and iron.
Read more about Passion Fruit During Pregnancy.
How to Prepare Snake Fruit
Preparing snake fruit is easy, but it's important to take caution when handling the spiky exterior. Follow these steps to prepare snake fruit:
Rinse the fruit under cold water to remove any dirt or debris.
Cut off the top and bottom of the fruit with a sharp knife.
Make a shallow cut down the length of the fruit, being careful not to cut too deep.
Peel back the scales and remove the fruit from the skin.
Discard the skin and enjoy the fruit.
Ways to Enjoy Snake Fruit
There are many ways to enjoy snake fruit, here are a few ideas:
Fresh and Raw
The simplest way to enjoy snake fruit is to eat it fresh and raw. Simply peel the fruit and enjoy the juicy, sweet flesh.
Snake Fruit Salad
Add some variety to your fruit salad by adding snake fruit. Simply chop up some fresh snake fruit and mix it in with your favorite fruits.
Snake Fruit Smoothie
Add some snake fruit to your favorite smoothie recipe for a sweet and tangy twist.
Snake Fruit Jam
Turn your snake fruit into a delicious jam that can be spread on toast, crackers, or used as a topping for ice cream.
Where to Find Snake Fruit
While snake fruit is native to Indonesia, it's becoming increasingly popular in other parts of the world. You can typically find snake fruit at Asian markets or specialty grocery stores. If you can't find fresh snake fruit, you may be able to find it in dried or canned form.
Conclusion
Snake fruit is a unique and exotic tropical fruit that is worth trying if you ever come across it. Its spiky appearance, sweet and tangy taste, and numerous health benefits make it a must-try for any adventurous fruit lover. Whether you enjoy it on its own or incorporate it into your favorite dishes, snake fruit is sure to leave a lasting impression on your taste buds. So, the next time you're looking to try something new, be sure to look out for this delicious and nutritious fruit.