In a world where children are surrounded by screens and sedentary activities, it has become crucial to encourage them to engage in physical activities that promote their overall health and well-being. One such activity that ticks all the boxes for both fun and fitness is roller skating. Kids roller skates have emerged as a popular choice among parents and guardians who are seeking to foster active and healthy lifestyles for their children. Encouraging healthy kids through roller skates enhances their total health and fitness. In this comprehensive guide, we will delve into the numerous benefits of kids roller skates, their impact on physical development, and how they contribute to nurturing essential life skills.
The Physical Benefits of Roller Skating
Roller skating is more than just a recreational activity; it's a fantastic workout for children of all ages. As they glide and maneuver on wheels, kids engage various muscle groups, including their legs, core, and even arms. This full-body workout helps in improving cardiovascular health, enhancing balance, and developing coordination. Moreover, roller skating is a low-impact exercise, reducing the risk of joint injuries commonly associated with high-impact activities.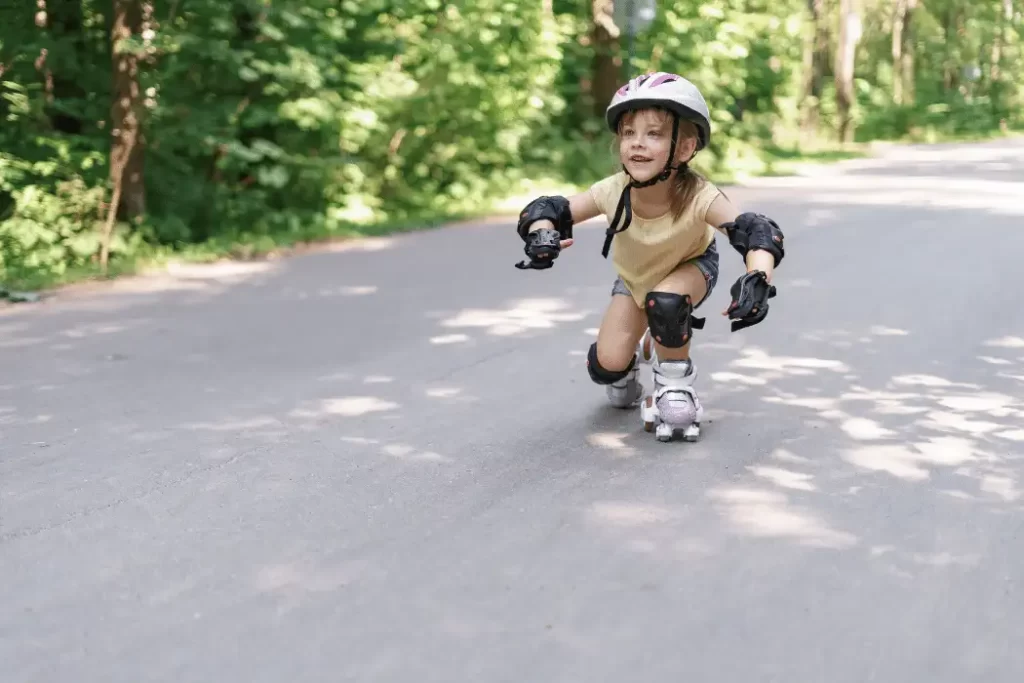 Boosting Motor Skills and Coordination
Children are naturally curious and keen on exploring their physical capabilities. Roller skating provides an excellent platform for them to enhance their motor skills and coordination. The act of balancing on skates, propelling forward, and maneuvering around obstacles requires a synchronization of movements. With consistent practice, kids not only refine their balance but also develop sharper reflexes and hand-eye coordination.
Social Interaction and Building Confidence
Roller skating isn't just about physical health; it also plays a pivotal role in nurturing social skills and boosting confidence. When kids gather at a roller skating rink or park, they have the opportunity to interact with their peers, make new friends, and learn valuable communication skills. The shared experience of learning and enjoying a new skill creates a sense of accomplishment, which in turn builds their self-esteem and self-assurance.
A Break from Screens and Digital Devices
In an age where digital devices dominate entertainment, kids roller skates offer a refreshing alternative that encourages outdoor play and physical activity. Roller skating allows children to disconnect from screens, step into the open air, and engage with their surroundings. This break from constant screen time not only benefits their physical health but also contributes to improved mood and mental well-being.
Safety First: Choosing the Right Kids Roller Skates
Ensuring the safety of children while roller skating is of utmost importance. When selecting kids roller skates, several factors should be considered:
1. Proper Fit:
Skates that fit well provide better control and stability. A snug yet comfortable fit is essential to prevent accidents and discomfort.
2. Adjustable Features:
Since kids' feet grow rapidly, opting for skates with adjustable sizing ensures a longer period of use without compromising on comfort and safety.
3. Quality and Durability:
Investing in high-quality skates ensures longevity and reduces the risk of accidents caused by wear and tear.
4. Protective Gear:
Never overlook the importance of protective gear such as helmets, knee pads, elbow pads, and wrist guards. These items provide an added layer of safety.
Conclusion
In a world where technology often takes center stage, it's vital to provide children with opportunities for active play that contribute to their overall well-being. Kids roller skates offer a gateway to fun, fitness, and valuable life skills. From enhancing physical health and motor skills to fostering social interactions and boosting confidence, roller skating enriches children's lives in multifaceted ways. So, why wait? Equip your child with a pair of high-quality roller skates and watch them embark on a journey of active and healthy living.