Borderline personality disorder (BPD) is a mental health disorder that impacts how one perceives oneself and interacts with others. People with BPD experience instability in their moods, emotions, relationships, and sense of self. This can often lead to difficulty functioning in daily life. Despite being a serious condition, BPD is often misunderstood and misdiagnosed, leaving those affected without necessary treatment and support. In this post, we'll discuss the various signs and borderline personality disorder symptoms to understand the disorder better. We'll look at how symptoms manifest and the social, emotional, and cognitive effects they can have. We'll also discuss how to get help and the treatment options available. Understanding BPD is the first step in seeking proper care, and we hope this post helps to demystify the disorder.
Read More: Total Fitness and Health Tips Guide
1. Unstable Mood Swings
One of the most common symptoms of Borderline Personality Disorder (BPD) is unstable mood swings. People with BPD can experience intense emotions that can rapidly change from one extreme to another. This can be difficult to manage and severely impact a person's daily life. People with BPD may feel joy or elation one moment, then sudden rage and anger the next. These mood swings can be triggered by seemingly small events, like an argument or a perceived slight from someone else, and can cause a person to act in ways that are out of character for them. Understanding and finding ways to cope with these mood swings is essential for those with BPD.
2. Intense Fear of Abandonment
One of the core symptoms of borderline personality disorder is the intense fear of abandonment. This fear stems from a deep-seated sense of insecurity and is characterized by feelings of anxiety, distress, and depression when a person feels like they might be abandoned or neglected by someone they care about. This fear may lead to behaviors like clinging to a partner, being overly possessive, or attempting to control the relationship. People with BPD may also have difficulty forming healthy relationships due to their fear of abandonment and difficulty trusting others. Understanding this fear of abandonment can help individuals and their loved ones develop strategies to manage this symptom. You can learn more about personality disorders by visiting the website https://cfhh.ca/blog/what-freud-said-about-personality-disorders/.
3. Impulsive Behaviors
Impulsive behaviors are one of the most notable symptoms of Borderline Personality Disorder (BPD). People with BPD tend to act without considering the consequences. This can manifest in different ways, such as excessive spending, reckless driving, risky sexual behavior, substance abuse, or even self-harming. These behaviors can be dangerous and can lead to serious consequences. It is important for those living with BPD to understand their behaviors' consequences and work with a mental health professional to manage and minimize their impulsive behaviors.
4. Suicidal Thoughts
Suicidal thoughts are another common symptom of Borderline Personality Disorder. When a person with BPD has suicidal thoughts, they can be frequent, disturbing and intrusive. These thoughts can range from fleeting thoughts of death to detailed plans of how to carry out suicide. Many people with BPD report feeling suicidal in response to feelings of emptiness, rejection, or hopelessness. It's important to take these thoughts seriously, as they can be a sign of an impending crisis and should be addressed immediately if they arise.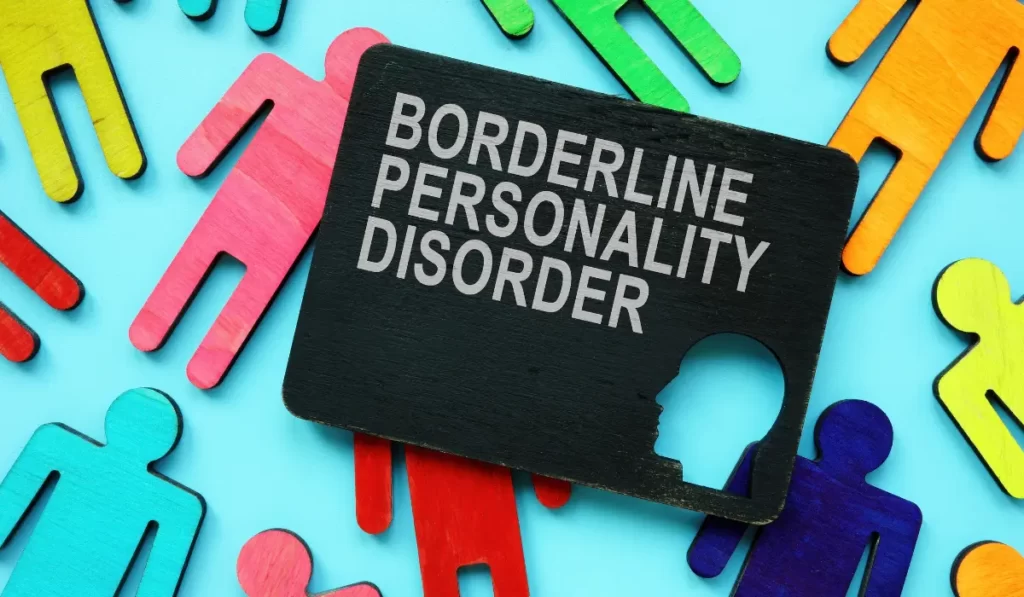 5. Unstable Self-Image
One of the most difficult symptoms of Borderline Personality Disorder is an unstable self-image. People with BPD often feel as though they are never quite sure who they are or what they want. This can lead to frequent changes in lifestyle and behavior, going from one extreme to the other without feeling any real connection to either end. This feeling of disconnection can be incredibly isolating, making it difficult to form and maintain relationships. People with BPD often struggle to cope with their shifting sense of self and may feel unable to recognize their own worth and value. It is important to remember that this feeling of instability is a symptom of BPD and not a personal failing.
6. Intense Feelings of Emptiness
People suffering from Borderline Personality Disorder often experience intense feelings of emptiness. A sense of loneliness, isolation, and lack of purpose often accompanies this feeling. Individuals may feel detached from the world and struggle to find joy in activities they once found pleasure in. It's not uncommon for people with BPD to feel like they are missing something or that they are incomplete. This can lead to a strong desire to fill the emptiness with unhealthy behaviors, like substance abuse, overeating, and impulsive spending. Emotional regulation can help control these feelings, allowing the individual to find more healthy and meaningful ways to cope.
7. Chronic Feelings of Anger and Irritability
One of the most common symptoms of borderline personality disorder is chronic feelings of anger or irritability. People with this condition may experience intense and frequent outbursts of anger, often in response to situations that seem minor or insignificant. They may also have a difficult time controlling their anger, and it can be difficult to understand what triggers it. It is important to remember that these feelings are a symptom of the disorder, not a character flaw. It is important for people with this condition to have support from friends, family, and mental health professionals to learn how to manage better and express their feelings.
8. Unstable Relationships
People with a borderline personality disorder often have difficulty forming and maintaining healthy relationships. These individuals may experience rapid shifts in closeness and distance in relationships and unpredictable and intense emotions. They may idealize or devalue a relationship partner, and their feelings may change quickly over the course of a few hours or days. This can be confusing and difficult for the partner, as they feel they can never quite predict how the person with BPD will feel or behave. This instability in relationships ultimately leads to a sense of abandonment and isolation, leading the person with BPD to feel even more emotionally vulnerable.
In conclusion, Borderline Personality Disorder is a serious mental illness that can be difficult to diagnose and manage. It is important to be aware of the signs and symptoms of the disorder in order to recognize it in yourself or a loved one and get the necessary treatment. With the right support and treatment, it is possible to manage Borderline Personality Disorder and lead a fulfilling life.