In a world where appearances matter more than ever, hair health stands at the forefront of self-care and grooming. The quest for lustrous, vibrant hair has led many individuals to explore the realm of professional hairdressing. Whether it's a stunning haircut, a refreshing treatment, or an expertly applied color, professional hairdressing holds the key to unlocking the full potential of your hair. Professional hairdressing not only transforms your appearance but also promotes healthy hair, contributing to overall total health and fitness. In this comprehensive guide, we delve into the secrets of salon treatments and their profound impact on nurturing hair health.
The Science Behind Hair Health
Understanding Hair Structure
Before we embark on our journey through the world of professional hairdressing, it's essential to grasp the fundamentals of hair structure. Each strand of hair is composed of three layers: the cuticle, cortex, and medulla. The cuticle acts as a protective barrier, while the cortex determines the hair's strength and color. The medulla, though often absent in fine hair, contributes to its overall structure. Professional hairdressers possess an in-depth knowledge of these layers, enabling them to tailor treatments to individual hair needs.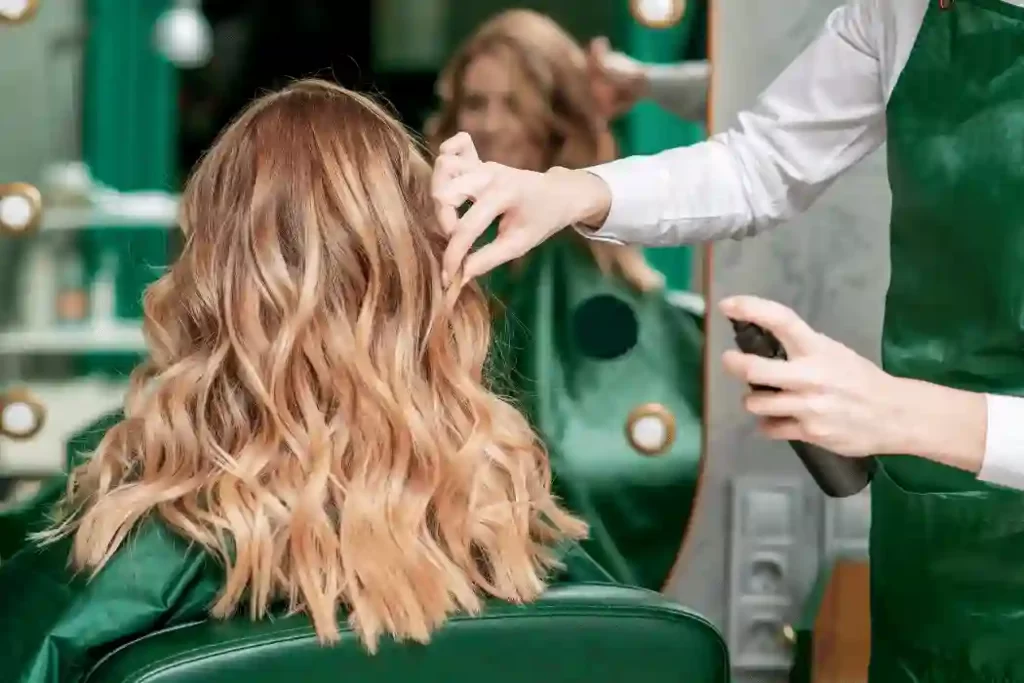 Customized Treatments for Optimal Results
Personalized Hair Analysis
One of the standout advantages of professional hairdressing is the personalized approach to hair analysis. Trained stylists assess various factors such as hair type, texture, and current condition to develop a tailored treatment plan. This bespoke strategy ensures that every client receives the care their hair truly deserves. Whether you have fine, delicate strands or thick, unruly locks, professional hairdressers have the expertise to address your unique needs.
Advanced Hair Treatments
From revitalizing hair masks to intricate hair spa procedures, professional hairdressing offers a wide array of advanced treatments. These treatments often incorporate high-quality, nourishing ingredients that penetrate deep into the hair shaft, promoting repair and rejuvenation. Unlike over-the-counter products, these specialized treatments are designed to target specific concerns, ranging from dryness and frizz to damage and lack of volume.
The Art of Haircutting
Precision and Technique
A well-executed haircut is the foundation of any great hairstyle. Professional hairdressers master the art of precision and technique, ensuring that every cut complements the client's facial structure and personal style. By utilizing expert knowledge of angles and proportions, hairdressers create silhouettes that enhance the client's natural beauty. From classic bobs to trendy pixie cuts, their skillful hands bring visions to life.
Maintaining Shape and Structure
Beyond the initial cut, regular visits to a professional hairdresser are crucial for maintaining the shape and structure of your hairstyle. These visits allow for timely touch-ups and adjustments, preventing the style from losing its intended form. With their trained eyes and steady hands, professional hairdressers ensure that your hair remains a true masterpiece, even as it grows.
Mastering the Art of Color
The Science of Color
Hair color is a powerful tool for expressing individuality and Hairstyle. Professional hairdressers are well-versed in the science of color, understanding how different shades interact with various hair types. Whether you're seeking a subtle balayage or a bold statement, these experts have the knowledge and experience to achieve stunning, long-lasting results.
Minimizing Damage
While coloring can transform your look, it's important to prioritize hair health throughout the process. Professional hairdressers use high-quality products and precise application techniques to minimize damage caused by coloring treatments. By selecting products enriched with nourishing ingredients, they mitigate the potential harm to your hair's integrity, ensuring vibrant color without compromising health.
The Psychological Impact
Boosting Confidence
The effects of professional hairdressing extend beyond physical appearance. A fresh haircut or a rejuvenating hair treatment can significantly boost one's confidence and self-esteem. Walking out of a salon with perfectly styled hair can make you feel empowered and ready to conquer the world. The psychological impact of a professional hairdressing experience is undeniable, making it an investment in both outer and inner beauty.
Conclusion
In a world where first impressions matter, investing in professional hairdressing is a step toward ensuring your hair's vitality and radiance. The meticulous attention to detail, the science-backed treatments, and the artistry of hairdressing professionals collectively contribute to an elevated hair care journey. From personalized analysis to precision haircuts and expert color application, every aspect of professional hairdressing serves a distinct purpose in nurturing hair health. So, embrace the transformative power of professional hairdressing and unlock the secret to radiant, healthy hair.