In an era where health and wellness take center stage, the pursuit of physical fitness has transformed into a holistic journey. Among the myriad approaches to achieving fitness goals, the integration of self defense training has emerged as a powerful and dynamic method. Going beyond conventional exercise routines, the practice of self defense offers an array of fitness benefits that encompass not only physical prowess but also mental agility and empowerment. Engaging in self-defense practices offers not only protection but also contributes to total health and fitness, enhancing physical strength, mental alertness, and overall well-being. In this comprehensive article, we delve into the multifaceted advantages of incorporating self defense into your fitness regimen, presenting a compelling case for its integration into a well-rounded lifestyle.
Building Strength and Endurance
The foundation of self defense lies in equipping individuals with the skills and techniques necessary to protect themselves. These skills demand a strong foundation of physical strength and endurance. With regular practice, practitioners engage in various movements that work multiple muscle groups simultaneously. From delivering precise strikes to executing defensive maneuvers, each action contributes to the development of functional strength. As practitioners progress, their endurance improves, allowing for sustained performance over extended periods.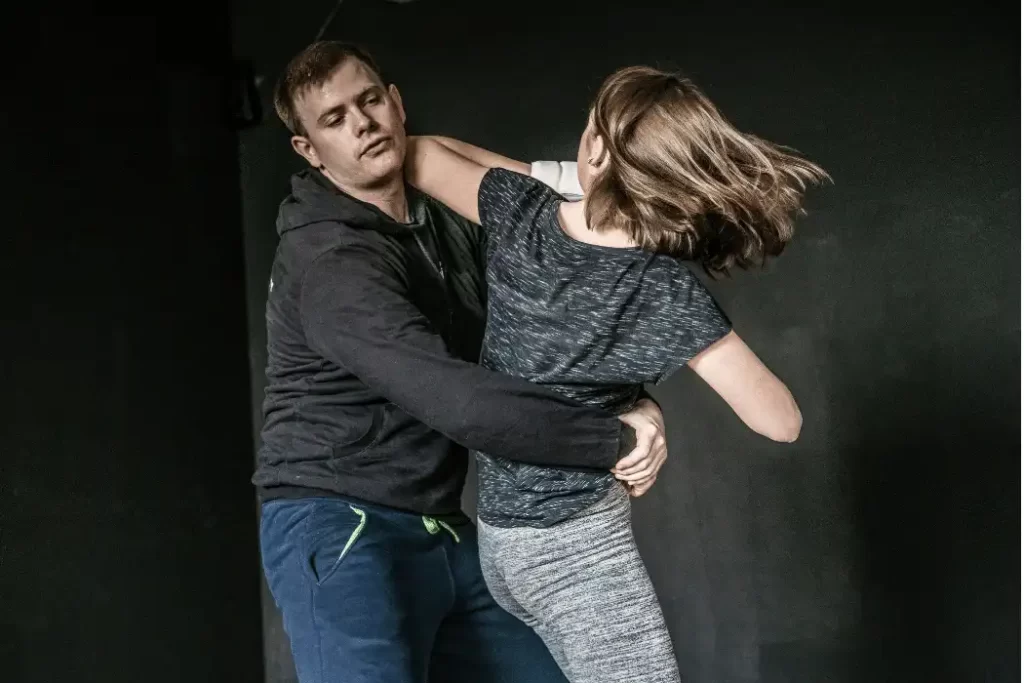 Enhancing Cardiovascular Fitness
The dynamic nature of self defense training elevates heart rates and promotes cardiovascular fitness. Engaging in drills that mimic real-life scenarios, practitioners experience bursts of intense activity followed by periods of active recovery. This pattern effectively enhances cardiovascular endurance, leading to improved heart health and efficient oxygen transport throughout the body. By seamlessly blending self defense techniques with cardiovascular exercise, individuals can achieve a balanced and comprehensive fitness routine.
Fostering Flexibility and Agility
Self defense training demands quick reactions and fluid movements, promoting enhanced flexibility and agility. Practitioners repeatedly engage in actions that require them to stretch, twist, and shift their bodies. Over time, this continuous stretching and movement routine improves overall flexibility. Furthermore, the rapid shifts in position and execution of techniques contribute to heightened agility, allowing practitioners to move with precision and grace.
Core Stability and Balance
The execution of self defense techniques relies heavily on maintaining balance and stability. Practitioners learn to engage their core muscles effectively, promoting improved posture and reducing the risk of injuries. Every punch, kick, and evasion maneuver demands a stable core, effectively transforming self defense training into a comprehensive core-strengthening workout. By focusing on core engagement, practitioners inadvertently enhance their overall stability and balance.
Mental Focus and Stress Relief
The cognitive demands of self defense training extend beyond physical actions. Practitioners learn to anticipate and respond swiftly to potential threats, honing their mental focus and situational awareness. This heightened cognitive engagement not only enhances self defense capabilities but also serves as a mental workout, sharpening concentration and decision-making skills. Additionally, the physicality of self defense provides an outlet for stress relief, enabling practitioners to channel their energy constructively and alleviate daily pressures.
Instilling Confidence and Empowerment
The acquisition of self defense skills instills a profound sense of confidence and empowerment. As individuals become proficient in techniques that empower them to protect themselves, their self-assurance naturally grows. This newfound confidence transcends the training environment, influencing various aspects of life. Walking with confidence, knowing that you possess the skills to defend yourself if necessary, can have a transformative impact on self-image and interactions with the world.
Fostering Social Connections and Camaraderie
Engaging in self defense training often brings individuals together within a supportive community. The shared pursuit of self-improvement and personal safety creates a strong bond among practitioners. The sense of camaraderie encourages consistent training, creating a positive feedback loop that reinforces commitment to fitness goals. Beyond physical fitness, the friendships formed in the training environment contribute to a sense of belonging and motivation.
Conclusion
The convergence of self defense and fitness presents a unique approach to well-rounded personal development. The amalgamation of physical conditioning, mental sharpness, and empowerment encapsulates the essence of a holistic fitness journey. By embracing the fitness benefits of self defense, individuals not only elevate their physical capabilities but also nurture their mental resilience and self-confidence. The journey towards comprehensive fitness and empowerment begins with the fusion of self defense techniques into your routine. Step onto the path of enhanced physical and mental well-being, and discover the transformative potential of uniting self defense and fitness.