In the world of modern dentistry, the restoration of a confident smile has become more accessible than ever before. Thanks to advancements in dental technology, one of the most effective solutions for restoring smiles and improving oral health is dentures. Whether you're missing a few teeth or require a complete set, dentures can transform your appearance, boost your self-esteem, and enhance your overall quality of life and total health and fitness. In this comprehensive guide, we'll explore the world of dentures, their various types, and their myriad benefits.
Understanding Dentures: A New Lease on Life
What Are Dentures?
Dentures are removable dental prosthetics designed to replace missing teeth and surrounding tissues. They come in different types, catering to various levels of tooth loss, and are custom-made to fit comfortably in your mouth. Dentures are composed of durable materials that mimic the appearance and function of natural teeth.
Types of Dentures
1. Complete Dentures
Complete dentures are recommended when all teeth in the upper or lower jaw are missing. These dentures are crafted to replicate the appearance and functionality of a full set of teeth. They rest on the gums and are held in place by suction and oral muscles.
2. Partial Dentures
Partial dentures are an ideal solution when only a few teeth are missing. They consist of replacement teeth attached to a metal or plastic framework that clasps onto existing natural teeth for stability.
3. Implant-Supported Dentures
Implant-supported dentures offer a more secure and stable fit by anchoring the dentures to dental implants that are surgically placed in the jawbone. This option provides enhanced chewing efficiency and prevents bone loss.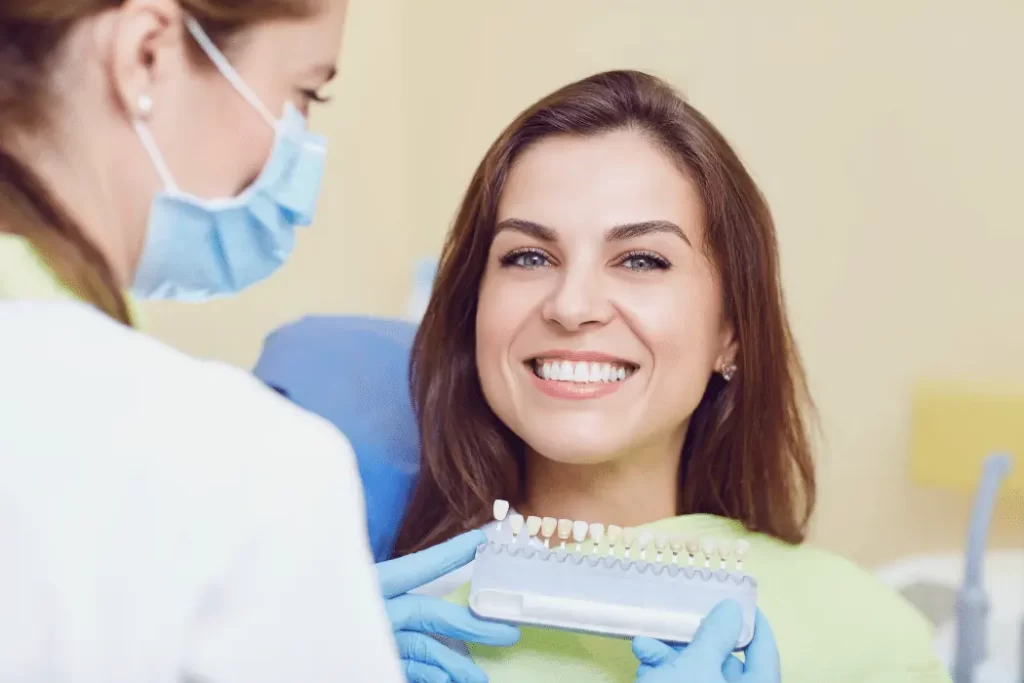 Benefits of Dentures
1. Restored Aesthetics
Dentures bring back the beauty of your smile, boosting your confidence and self-image. With the ability to choose the size, shape, and color of your replacement teeth, you can achieve a natural and appealing appearance.
2. Improved Speech
Missing teeth can lead to speech difficulties. Dentures provide support to your lips and cheeks, helping you articulate words more clearly and confidently.
3. Enhanced Chewing Functionality
Chewing with missing teeth can be challenging and uncomfortable. Dentures restore your ability to chew a variety of foods, allowing for a more diverse and nutritious diet.
4. Preventing Oral Health Complications
Tooth loss can lead to oral health issues such as shifting of remaining teeth and bone loss. Dentures help maintain the structure of your mouth and prevent further dental problems.
5. Customized Solutions
Dentures are tailored to your unique dental needs. Your dentist in dubai will work closely with you to ensure that your dentures fit comfortably and function seamlessly.
Caring for Your Dentures
Proper care of your dentures is crucial to their longevity and your oral health. Here are some essential tips for maintaining your dentures:
Daily Cleaning: Clean your dentures daily with a soft-bristle toothbrush and a non-abrasive denture cleaner to remove food particles, stains, and bacteria.
Handle with Care: When cleaning your dentures, place a towel or basin of water underneath to prevent breakage if accidentally dropped.
Soak Overnight: Store your dentures in a denture solution or water overnight to keep them moist and maintain their shape.
Regular Dental Visits: Visit your dentist regularly to ensure that your dentures are fitting well and to address any issues promptly.
Oral Hygiene: Even with dentures, it's important to maintain good oral hygiene. Brush your gums, tongue, and palate daily to keep your mouth clean and healthy.
A New Chapter of Confidence
In conclusion, dentures offer a transformative solution for individuals seeking to restore their smiles and improve their quality of life. With various types available, each catering to specific dental needs, dentures provide a customized and natural-looking option to replace missing teeth. By enhancing aesthetics, speech, chewing functionality, and preventing oral health complications, dentures play a pivotal role in boosting self-confidence and overall well-being.
If you're considering dentures, consult with a qualified dentist who can guide you through the process and help you regain your smile with comfort and confidence. Embrace the possibilities that dentures bring and embark on a new chapter of life with a revitalized and radiant smile.