Catla fish, scientifically known as Catla catla, is one of the most popular fish species in South Asia. It is widely consumed due to its delicious taste and rich nutritional profile. This fish is a good source of protein, vitamins, and minerals, making it an excellent addition to a healthy diet. Here are 6 Amazing Healthy Catla Fish Benefits for Total Health and Fitness. Learn about the 6 amazing healthy Catla fish benefits we must know for a nutritious diet.
Rich Source of Omega-3 Fatty Acids
Catla fish is a rich source of omega-3 fatty acids, which are essential for maintaining good health. These fatty acids play a crucial role in reducing inflammation, improving heart health, and supporting brain function. Regular consumption of Catla fish can help lower the risk of heart disease, stroke, and certain types of cancer.
Promotes Heart Health
The omega-3 fatty acids found in Catla fish help reduce the levels of triglycerides in the blood, which are a type of fat that contributes to heart disease. They also help lower blood pressure and prevent the formation of blood clots, reducing the risk of heart attacks and strokes. Including Catla fish in your diet can promote a healthy heart and improve cardiovascular function.
Boosts Brain Function
The omega-3 fatty acids present in Catla fish are beneficial for brain health. They play a crucial role in the development and maintenance of the brain cells, improving cognitive function and memory. Regular consumption of Catla fish may help reduce the risk of age-related cognitive decline and enhance overall brain function.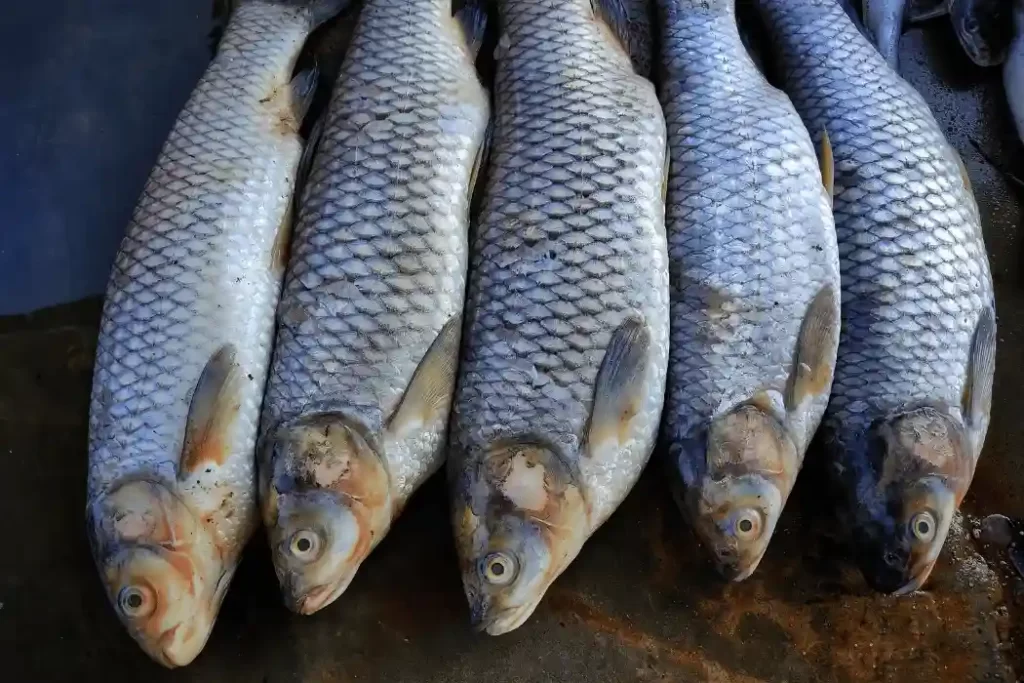 Supports Weight Loss
If you're looking to shed those extra pounds, Catla fish can be a valuable addition to your diet. It is low in calories and fat while being high in protein. The high protein content helps you feel fuller for longer, reducing your overall calorie intake. Additionally, the omega-3 fatty acids in Catla fish help boost metabolism and promote fat burning, aiding in weight loss.
Strengthens Immune System
A strong immune system is essential for fighting off infections and diseases. Catla fish contain various vitamins and minerals, including vitamin C and zinc, which are known to strengthen the immune system. Regular consumption of Catla fish can help enhance your body's ability to defend against common illnesses and promote overall well-being.
Enhances Skin Health
The nutrients present in Catla fish, such as omega-3 fatty acids and vitamins, contribute to healthy skin. These nutrients help maintain skin elasticity, reduce inflammation, and prevent skin disorders like acne and eczema. Adding Catla fish to your diet can help you achieve glowing, healthy skin.
Conclusion
Catla fish is not only a delectable culinary choice but also offers a multitude of health benefits. From being a rich source of omega-3 fatty acids to promoting heart health, boosting brain function, supporting weight loss, strengthening the immune system, and enhancing skin health, Catla fish proves to be a nutritious addition to any diet. Incorporating this fish into your meals can contribute to a healthier lifestyle. Uncover the numerous catla fish benefits and improve your health with this nutritious addition to your diet.
FAQs of Catla Fish Benefits
1. Can Catla fish be consumed by people with seafood allergies?
Answer: While Catla fish is generally safe for consumption, individuals with seafood allergies should exercise caution. It is always advisable to consult a healthcare professional if you have any allergies or concerns.
2. How often should Catla fish be consumed to reap its health benefits?
Answer: Including Catla fish in your diet two to three times a week can help you experience its health benefits. However, moderation is key, and it is important to maintain a balanced diet.
3. Can Catla fish be consumed by pregnant women?
Answer: Catla fish is a good source of nutrients like omega-3 fatty acids, which are beneficial during pregnancy. However, pregnant women should consult their healthcare provider for personalized advice regarding their dietary choices.
4. Are there any specific cooking methods recommended for Catla fish?
Answer: Catla fish can be cooked using various methods such as grilling, baking, or pan-frying. It is advisable to opt for healthier cooking methods that require less oil to retain its nutritional value.
5. Where can Catla fish be purchased?
Answer: Catla fish is commonly available in fish markets, supermarkets, and online seafood stores. It is essential to choose fresh and high-quality fish from reputable sources.