Eyebrows play a crucial role in framing our face and enhancing our overall appearance. Well-groomed and defined eyebrows can make a significant difference in how we look and feel. If you're tired of spending precious time every morning perfecting your eyebrows with makeup or struggling to achieve the desired shape, then professional eyebrow embroidery might be the solution for you. Transforming your eyebrows with professional eyebrow embroidery not only enhances your appearance but also contributes to your overall health and fitness. In this article, we will explore the transformative benefits of professional eyebrow embroidery and provide you with essential information to help you make an informed decision.
What is eyebrow embroidery?
Eyebrow embroidery, also known as microblading or feathering, is a semi-permanent cosmetic procedure that involves enhancing and reshaping the eyebrows using tiny hair-like strokes. This technique creates natural-looking eyebrows that mimic real hair strands, giving you fuller, symmetrical, and well-defined brows.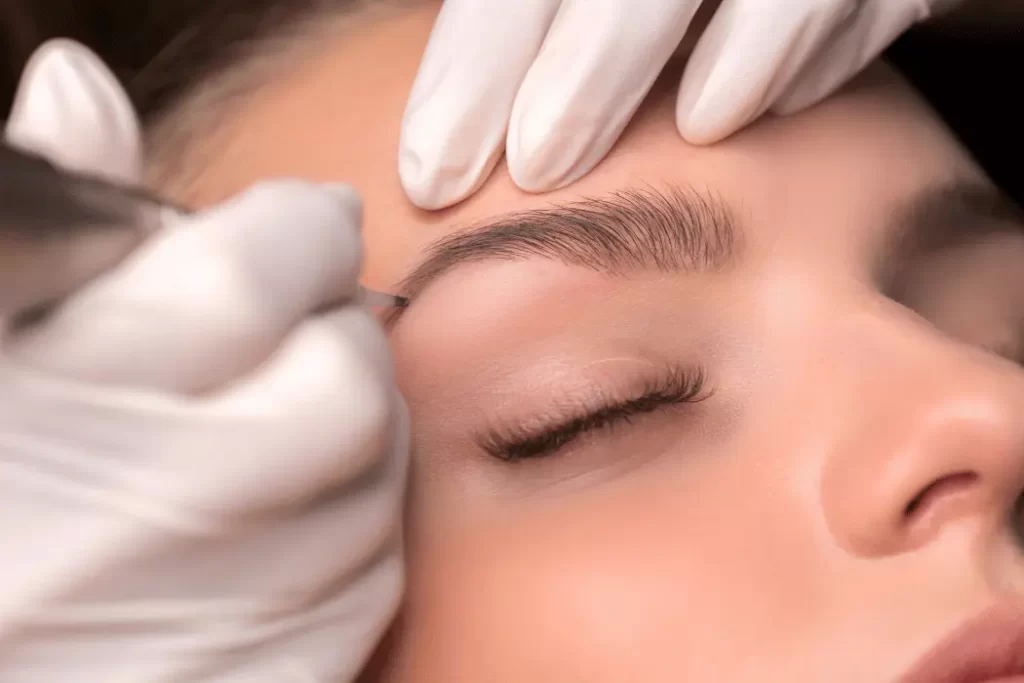 Benefits of professional eyebrow embroidery
Professional eyebrow embroidery offers a range of benefits compared to traditional eyebrow makeup techniques. Some of the key advantages include:
Time-saving: With eyebrow embroidery, you can say goodbye to the daily hassle of shaping and filling in your eyebrows. Wake up with beautiful brows every day, saving valuable time in your beauty routine.
Enhanced appearance: Eyebrow embroidery can transform thin, sparse, or uneven eyebrows into full and symmetrical ones, enhancing your facial features and overall appearance.
Long-lasting results: Unlike traditional eyebrow makeup that requires daily application and touch-ups, eyebrow embroidery can last for months or even years, depending on individual factors and aftercare.
Boosts self-confidence: Well-shaped eyebrows can have a significant impact on your self-confidence. With professional eyebrow embroidery, you can enjoy a natural-looking and flattering eyebrow shape that complements your face and boosts your self-esteem.
Read more about Ingrown Eyelash.
The Process of Eyebrow Embroidery
The process of eyebrow embroidery involves several steps to ensure optimal results and client satisfaction. Let's take a closer look at each stage:
Consultation and design
Before the procedure, you will have a consultation with a professional eyebrow embroidery artist. During this session, you will discuss your desired eyebrow shape, color, and any concerns or questions you may have. The artist will analyze your facial features, skin tone, and existing eyebrow hair to determine the most suitable design for you.
Preparing the eyebrows
Once the design is finalized, the artist will prepare your eyebrows for the embroidery process. They will clean the area thoroughly and remove any makeup, oils, or dirt to ensure a clean and sanitized surface. This step is crucial for the proper adherence of the pigments during the embroidery process.
Embroidery technique
The embroidery technique involves the use of a handheld tool with fine needles. The artist will delicately create hair-like strokes by depositing pigments into the superficial layers of the skin. The strokes are carefully placed to mimic the natural direction and growth pattern of your eyebrow hair, resulting in a realistic and natural-looking outcome.
During the procedure, the artist will continuously communicate with you to ensure your comfort. Topical anesthetic creams may be applied to minimize any potential discomfort, although individual pain tolerance varies.
Healing and aftercare
After the embroidery process, your eyebrows may appear slightly darker and more defined than expected. This is normal and part of the initial healing process. Over the next few days, the pigmented area will undergo a mild exfoliation, causing the color to soften and lighten to its desired shade.
To promote proper healing and prolong the longevity of your eyebrow embroidery, it is essential to follow the aftercare instructions provided by your artist. These instructions may include avoiding excessive water exposure, touching or scratching the treated area, and applying prescribed ointments or creams.
It's important to note that eyebrow embroidery is a semi-permanent procedure. Over time, the pigments will gradually fade, and touch-up sessions may be required to maintain the desired appearance. The frequency of touch-ups will depend on factors such as your skin type, lifestyle, and adherence to aftercare instructions.
Choosing a Professional Eyebrow Embroidery Artist
Selecting a skilled and reputable eyebrow embroidery artist is crucial for achieving satisfactory results. Here are some factors to consider when choosing a professional:
Research and recommendations
Start by conducting thorough research on reputable artists in your area. Seek recommendations from friends, family, or trusted beauty professionals who have had positive experiences with eyebrow embroidery.
Portfolio and experience
Review the artist's portfolio to assess their skill and expertise. Look for before-and-after photos of previous clients to gauge the quality of their work. Consider artists with extensive experience in eyebrow embroidery, as their knowledge and proficiency can contribute to better outcomes.
Hygiene and safety practices
Ensure that the artist follows strict hygiene and safety protocols. They should use sterile, single-use needles and maintain a clean and sanitized workspace. Don't hesitate to ask about their sterilization procedures and certification in bloodborne pathogen training.
By choosing a professional eyebrow embroidery artist, you can have confidence in their abilities to deliver exceptional results while prioritizing your safety and satisfaction.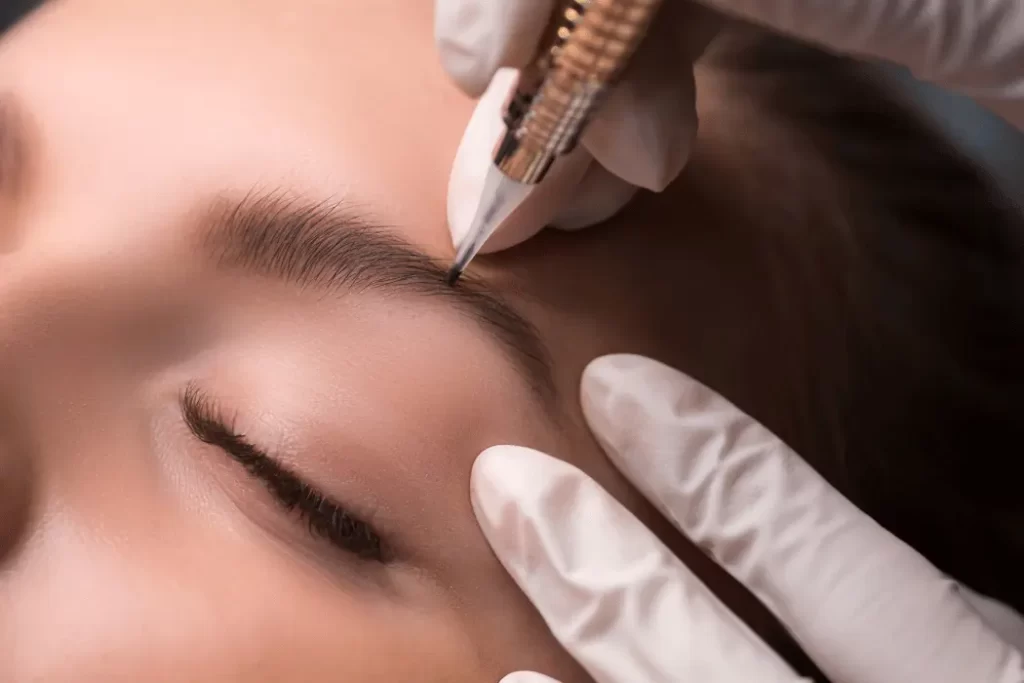 Benefits of Professional Eyebrow Embroidery
Professional eyebrow embroidery offers a range of benefits compared to traditional eyebrow makeup techniques. Let's explore these advantages:
Natural-looking results
One of the significant benefits of professional eyebrow embroidery is the ability to achieve natural-looking results. The fine hair-like strokes created during the process closely resemble real eyebrow hair, blending seamlessly with your existing hair and mimicking its texture and color.
Saves time on daily eyebrow makeup routine
If you find yourself spending valuable time each morning trying to perfect your eyebrows with makeup, eyebrow embroidery can be a game-changer. With professionally embroidered eyebrows, you wake up to well-shaped and defined brows, eliminating the need for daily eyebrow makeup application.
Long-lasting effects
Unlike traditional eyebrow makeup that requires daily touch-ups, eyebrow embroidery provides long-lasting results. Depending on individual factors and aftercare, the effects can last anywhere from several months to a few years. This longevity allows you to enjoy beautiful brows for an extended period without the hassle of frequent maintenance.
Boosts self-confidence
Well-shaped eyebrows can significantly enhance your overall appearance and boost your self-confidence. Eyebrow embroidery offers the opportunity to achieve symmetrical and perfectly shaped brows tailored to your facial features. The improved aesthetics can give you a sense of empowerment and make you feel more confident in your daily life.
Aftercare Tips for Maintaining Beautiful Eyebrows
To ensure your embroidered eyebrows remain stunning and well-maintained, it's essential to follow proper aftercare instructions. Here are some tips to help you maintain your beautiful brows:
Cleaning and moisturizing
Clean the eyebrow area gently using a mild cleanser or specialized aftercare product recommended by your artist. Avoid rubbing or scrubbing the treated area. After cleansing, apply a thin layer of moisturizer or ointment provided by your artist to keep the skin hydrated and promote healing.
Avoiding excessive sun exposure
Protect your embroidered eyebrows from prolonged sun exposure, especially during the initial healing phase. Sunlight can fade the pigments and affect the overall appearance of your brows. If you're outdoors, apply a broad-spectrum sunscreen with a high SPF to shield your brows from harmful UV rays.
Scheduling touch-up sessions
To maintain the desired shape and color of your eyebrows, consider scheduling touch-up sessions as recommended by your artist. Touch-ups allow for adjustments, color enhancements, and the restoration of any faded strokes. Regular touch-ups can extend the lifespan of your eyebrow embroidery and keep them looking fresh and vibrant.
Conclusion
Professional eyebrow embroidery offers a transformative solution for those seeking well-shaped, natural-looking eyebrows without the daily hassle of makeup application. By consulting with a skilled artist and undergoing the embroidery process, you can enjoy the benefits of time-saving, long-lasting results, and an enhanced sense of self-confidence. Proper aftercare is crucial for maintaining the beauty of your embroidered eyebrows, including cleaning, moisturizing, and protecting them from excessive sun exposure. Remember to schedule touch-up sessions as recommended to keep your eyebrows looking fresh and vibrant. Don't let misconceptions deter you—when performed by a professional, eyebrow embroidery can provide stunning results that blend seamlessly with your facial features. So, why not transform your eyebrows and embrace the beauty and convenience of professional eyebrow embroidery?