Eyelashes play an essential role in our visual health, protecting our eyes from dust, debris, and other foreign particles. However, when they grow inward or towards the eye, they can cause discomfort, irritation, and even infection. This condition is known as ingrown eyelash, and it affects people of all ages and genders. Maintaining good eye health is an essential part of total health and fitness, and understanding how to prevent and treat ingrown eyelashes is an important step in achieving this goal. In this article, we will discuss what ingrown eyelashes are, what causes them, how to prevent and treat them, and when to seek professional help.
What Is Ingrown Eyelash?
Ingrown eyelashes, also known as trichiasis, occur when the eyelash follicle grows inwards, towards the eye, instead of outwards. This can lead to the eyelash rubbing against the eye, causing irritation, redness, and discomfort. In some cases, ingrown eyelashes can also cause corneal abrasions, scarring, and vision problems if left untreated.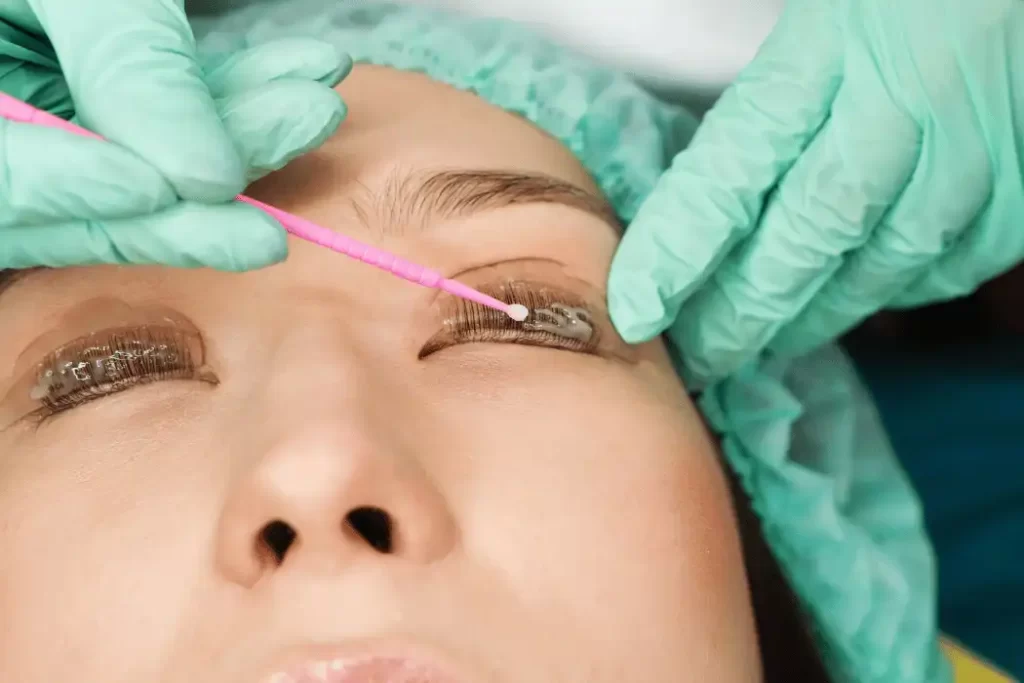 Causes of Ingrown Eyelash
Ingrown eyelashes can be caused by various factors, including:
1. Genetics
Some people are more prone to developing ingrown eyelashes due to their genetics. If someone in your family has trichiasis, you are more likely to develop it too.
2. Eye Infections
Infections such as blepharitis or conjunctivitis can cause ingrown eyelashes as a result of inflammation and scarring.
3. Eye Injuries
Eye injuries, such as scratches or burns, can cause the eyelashes to grow abnormally, leading to trichiasis.
4. Aging
As we age, our skin loses elasticity, and our eyelashes can start to grow inwards, causing trichiasis.
5. Skin Conditions
Skin conditions such as rosacea, eczema, or psoriasis can cause ingrown eyelashes.
Read more about Best Lash Lift Kit for You.
Symptoms of Ingrown Eyelash
The symptoms of ingrown eyelashes can vary depending on the severity of the condition. Some common symptoms include:
Eye redness
Eye pain
Sensation of something in the eye
Light sensitivity
Tearing
Blurred vision
How to Prevent Ingrown Eyelash
Prevention is key when it comes to ingrown eyelashes. Here are some tips to help prevent trichiasis:
1. Proper Eye Hygiene
Maintaining proper eye hygiene can prevent eye infections, which can cause ingrown eyelashes. Wash your hands before touching your eyes, remove your makeup before going to bed, and avoid sharing eye cosmetics.
2. Avoid Eye Irritation
Avoid rubbing your eyes, and protect your eyes from irritants such as smoke, dust, and wind. Wear eye protection when necessary, such as when playing sports.
3. Proper Eyelash Care
Be gentle when removing your makeup, and avoid using eyelash curlers, as they can damage your lashes and cause them to grow abnormally.
Treating Ingrown Eyelash
If you suspect you have ingrown eyelashes, it is essential to seek treatment to prevent complications. Here are some treatment options:
1. Removal of the Ingrown Eyelash
Your eye doctor may remove the ingrown eyelash with tweezers or scissors, depending on the severity of the condition.
2. Electrolysis
Electrolysis is a procedure that uses a small electric current to destroy the hair follicle, preventing the eyelash from growing back.
3. Surgery
In severe cases, surgery may be necessary to correct the position of the eyelashes.
When to Seek Professional Help
If you are experiencing any symptoms of ingrown eyelashes, such as eye pain, redness, or blurred vision, it is essential to seek professional help. Additionally, if you have a history of eye infections or eye injuries, you may be at higher risk of developing ingrown eyelashes, and it is recommended to see an eye doctor regularly for checkups. Your eye doctor can examine your eyes and determine the best course of treatment for your condition, which may include removal of the ingrown eyelash, electrolysis, or surgery. Do not ignore any eye-related symptoms, as they can lead to more severe complications if left untreated.
Conclusion
Ingrown eyelashes are a common eye condition that can cause discomfort, irritation, and potential complications if left untreated. The causes of ingrown eyelashes include natural aging, eye infections, and injuries. Fortunately, there are several ways to prevent and treat ingrown eyelashes, including maintaining good hygiene, avoiding eye makeup, and seeking professional help when necessary. It is important to be aware of the symptoms of ingrown eyelashes and to seek prompt medical attention if you experience any eye-related discomfort. By taking proper care of your eyes, you can prevent the development of ingrown eyelashes and maintain good eye health for years to come.