Maintaining a healthy lifestyle is a constant struggle, especially in a world where we are constantly on the go, with busy schedules and fast food readily available. However, developing a sustainable routine is key to achieving long-term health and fitness goals. To achieve total health and fitness, we must build a foundation of consistent habits that work for our schedules and goals. This means that we need to combine regular exercise, healthy eating, and stress management into a realistic and achievable routine. In this post, we will explore the benefits of a sustainable routine for total health and fitness and provide practical tips on how to build such a routine. We will also discuss the common challenges that derail many people's fitness goals and provide solutions to overcome them. Following these strategies, you can sustain a healthy lifestyle and achieve your fitness goals without feeling overwhelmed or burnt out. With commitment and consistency, you can build a sustainable routine.
1. Set realistic goals
Setting realistic goals is one of the most important steps in building a sustainable health and fitness routine. Many people make the mistake of setting unrealistic goals that are too difficult to achieve, leading to disappointment, frustration, and, ultimately, giving up altogether. Setting achievable goals that align with your current fitness level, lifestyle, and schedule is important. When determining your goals, consider your current fitness level, medical conditions or injuries, and time constraints. Start with small, achievable goals, and gradually increase the difficulty as you progress. This approach will help you stay motivated, track your progress, and achieve long-term success. Building a sustainable health and fitness routine is a marathon, not a sprint. Setting realistic and achievable goals is critical in the journey towards total health and fitness.
2. Create a plan of action
Creating a plan of action is a crucial step towards building a sustainable health and fitness routine. A clear and concise plan helps you stay focused and motivated and ensures that you progress towards your goals. Before creating a plan, take some time to define your objectives, such as weight loss or building muscle. Consider your current fitness level and any health conditions affecting your workout choices. Once you clearly understand your goals and limitations, you can begin to create a plan that includes a mix of strength training, cardio, and rest days. Setting realistic and achievable targets that you can measure and track over time is essential. Adjust your plan periodically to challenge yourself and avoid boredom or plateauing. Creating a plan may seem overwhelming initially, but taking the time to do so will set you up for success and keep you on track towards optimal health and fitness.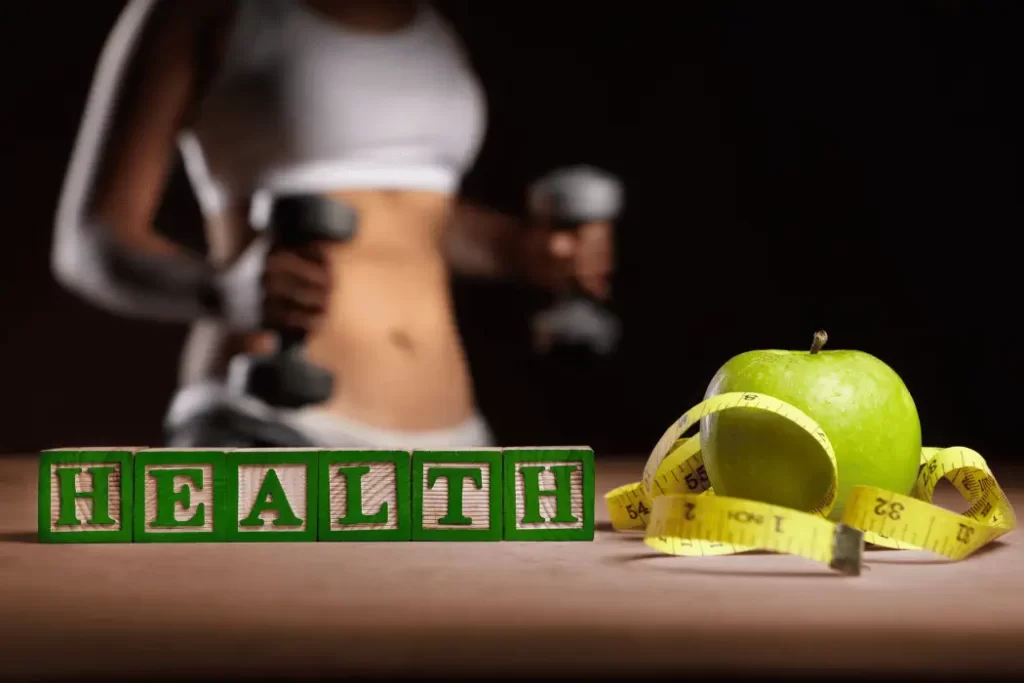 3. Schedule time for exercises
One crucial aspect of building a sustainable health and fitness routine is scheduling time for exercise. Failure to set aside time for exercising can lead to neglecting your physical health and disrupting your daily program. You may find that with a busy schedule, it's nearly impossible to simply "find time" for exercise. However, by intentionally planning a workout routine into your day, you can be more committed and consistent in achieving your fitness goals. Whether waking up an hour earlier or using your lunch break to squeeze in a workout, finding a routine that works well for you is essential. Additionally, keeping track of your workouts on a schedule can help you stay accountable and motivated, providing measurable progress for your weight loss or strength training goals. So, make a plan and dedicate time each day to exercise. You'll be surprised by how much easier it is to reach your health goals with a little bit of structure on your side!
Read more about stretches with exercise ball.
4. Make healthy eating choices
Making healthy food choices is one of the essential components of a sustainable health and fitness routine. The food we eat is the fuel for our body, and it is essential to choose nutrient-dense, whole foods that provide us with the energy and nutrients we need. One way to make healthy eating choices is by consuming various vegetables and fruits, whole grains, lean proteins, and healthy fats. These foods give our bodies the nutrients to function correctly, boost our immune system, and support our overall health. Additionally, limiting our intake of processed and high-fat foods and added sugar is recommended, which can be detrimental to our health and increase the risk of chronic diseases. It is essential to prioritise healthy eating choices and adopt a balanced approach to food that supports our overall well-being.
5. Develop a habit of consistent self-care
Developing a habit of consistent self-care is a vital component of a total health and fitness routine. It is essential to prioritize ourselves by consistently taking care of our physical, emotional, and mental well-being. When we make self-care a daily routine, we strengthen our physical abilities and enhance our emotional and mental strength. Incorporating meditation, yoga, daily exercise, journaling, and getting enough sleep can help us stay energized and calm, improve our mood, and reduce stress. Consistency is key in self-care, requiring discipline and dedication to make it a part of our daily routines. By consistently caring for ourselves, we can feel more capable of handling challenges and building a sustainable routine towards a healthier and happier life.
To sum up, building a sustainable fitness routine requires commitment, creativity, and flexibility. By setting realistic goals, finding activities you enjoy, and giving yourself rest and recovery time, you can create a routine that works for your lifestyle and enhances your overall health and well-being. Remember, the road to total health and fitness is a lifelong journey, but with dedication and persistence, you can achieve your goals and stay on track for years.