The human body is a complex network of interconnected systems, each contributing to our overall well-being. Among these, the thyroid gland, often referred to as the body's "master regulator," plays a pivotal role. Nestled in the front of the neck, this small butterfly-shaped gland influences everything from metabolism to mood. However, amid its crucial role, numerous myths and misconceptions about thyroid health have arisen. In this article, we delve into the intricacies of thyroid function, dispelling common myths while shedding light on essential facts that contribute to achieving total health and fitness. Join us on this journey of discovery as we unravel the truth behind thyroid health.
Understanding the Thyroid Gland
Before we dive into myths and facts, it's essential to grasp the basics. The thyroid gland produces hormones that regulate metabolism, energy levels, mood, and more. It's a vital player in maintaining bodily equilibrium.
Common Thyroid Myths
Myth 1: Thyroid Issues Only Affect Women
Contrary to popular belief, thyroid problems can affect people of all genders. While women are more prone to thyroid disorders, men can also experience them. It's important not to overlook symptoms based on gender assumptions.
Myth 2: All Thyroid Problems Cause Weight Gain
Weight gain is often associated with an underactive thyroid (hypothyroidism), but it's not the only symptom. Hyperthyroidism, an overactive thyroid, can lead to weight loss. Symptoms vary and can include fatigue, hair loss, and changes in heart rate.
Myth 3: Hypothyroidism and Hyperthyroidism are the Only Concerns
These are common thyroid disorders, but there are others like thyroid nodules and thyroiditis. Understanding the full spectrum of thyroid issues is crucial for accurate diagnosis and effective treatment.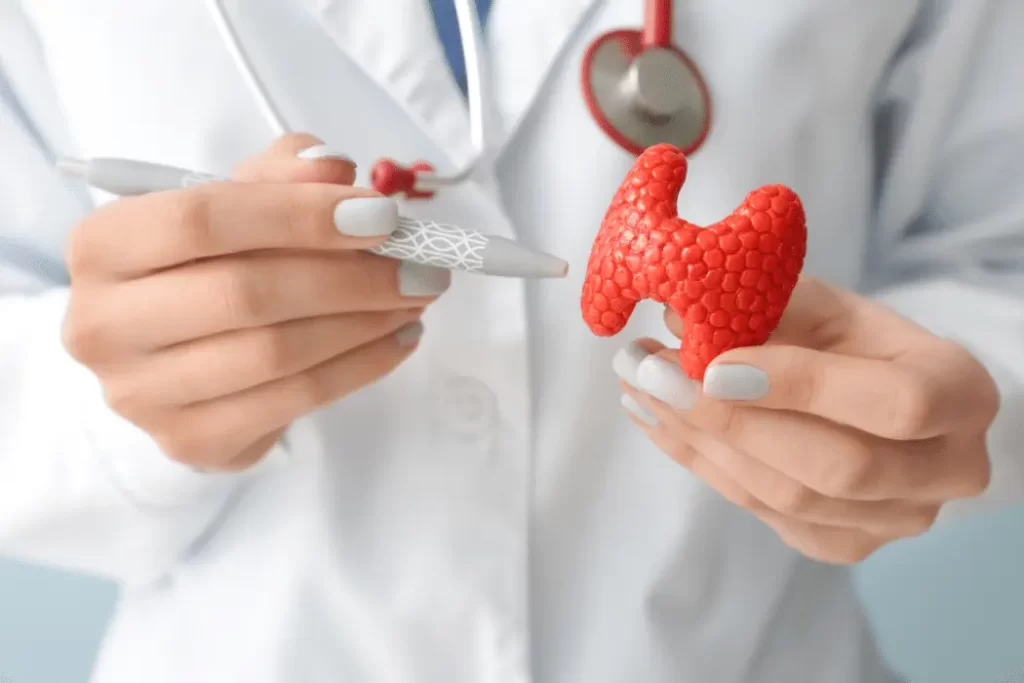 Thyroid Facts You Should Know
Fact 1: The Role of Iodine
Iodine is essential for thyroid hormone production. A deficiency or excess can disrupt thyroid function. Including iodine-rich foods in your diet, like seafood and iodized salt, can help maintain balance.
Fact 2: Thyroid Function Affects Mood and Energy
Thyroid hormones influence neurotransmitters that regulate mood. Imbalances can lead to mood swings, anxiety, and depression. Additionally, thyroid function impacts energy levels and cognitive function.
Fact 3: Thyroid Health and Heart Health are Linked
Thyroid hormones influence heart rate and blood pressure. Thyroid disorders can contribute to cardiovascular issues. Monitoring thyroid health is especially important for individuals with heart conditions.
Factors Affecting Thyroid Health
Genetics and Family History
Genetics play a role in thyroid health. If you have a family history of thyroid disorders, you might be at a higher risk. Regular check-ups and awareness of symptoms are vital.
Diet and Nutrition
A balanced diet rich in nutrients like selenium, zinc, and vitamin D supports thyroid function. Avoid excessive consumption of processed foods and goitrogenic substances, which can interfere with thyroid hormone production.
Stress and Cortisol Levels
Chronic stress can impact thyroid health by elevating cortisol levels. Incorporating stress-reduction techniques like meditation and yoga can help maintain a healthy thyroid.
Diagnosing Thyroid Issues
Medical History and Physical Examination
Doctors consider your medical history and conduct a physical exam to identify potential thyroid issues. Symptoms like fatigue, weight changes, and changes in hair and skin are noted.
Blood Tests and Hormone Levels
Blood tests measure levels of thyroid-stimulating hormone (TSH), T3, and T4. These tests help determine if the thyroid is functioning properly or if there's an imbalance.
Imaging Tests: Ultrasound and Thyroid Scans
Imaging techniques provide a visual assessment of the thyroid's structure and any abnormalities. Ultrasound and thyroid scans help diagnose conditions like nodules and tumors.
Maintaining Thyroid Health Naturally
Balanced Diet with Essential Nutrients
A diet rich in whole foods, lean proteins, and antioxidants supports thyroid health. Prioritize foods like lean meats, fruits, vegetables, and whole grains.
Regular Exercise and Physical Activity
Engaging in regular physical activity boosts metabolism and supports overall health, including thyroid function. Aim for at least 30 minutes of exercise most days.
Stress Management Techniques
Chronic stress negatively impacts thyroid health. Practicing stress-reduction techniques like mindfulness, deep breathing, and hobbies can alleviate stress's effects.
Medical Treatments for Thyroid Disorders
Medications: Thyroid Hormone Replacement
Hypothyroidism often requires medication to replace the deficient hormones. These medications help restore normal thyroid function.
Radioactive Iodine Therapy
Hyperthyroidism may be treated with radioactive iodine, which reduces thyroid activity. This therapy aims to balance hormone production.
Surgical Interventions
In some cases, surgical removal of part or all of the thyroid gland might be necessary, especially if nodules are cancerous or causing significant issues.
Busting Common Myths: The Truth About Thyroid Health
Misconceptions about thyroid health abound. It's crucial to be well-informed and consult medical professionals for accurate guidance tailored to your specific situation.
Conclusion
In conclusion, understanding your thyroid health is not just a matter of knowledge; it's a pathway to empowerment. By dispelling myths and embracing facts, you can take charge of your well-being with informed decisions. Remember that your thyroid isn't just a gland; it's a guardian of harmony within your body. Whether you're making dietary choices, seeking medical advice, or managing stress, the insights you've gained today will guide you towards a healthier, more vibrant life. Let this newfound awareness drive your commitment to optimal thyroid health, paving the way for a future filled with vitality and vitality. Remember, a well-informed you is a healthier you.