Welcome to our blog post, "The Frozen Enigma: Can You Freeze Yogurt?" Yogurt, with its creamy texture and tangy flavor, has become a beloved snack for many. But what happens when you find yourself with leftover yogurt that you don't want to waste? Is freezing it a viable option? In this article, we will unravel the mysteries surrounding freezing yogurt. Join us as we explore the effects of freezing on yogurt's texture, taste, and nutritional value. Discover the tips and tricks for freezing yogurt effectively, and unlock creative ways to use frozen yogurt in delicious treats. When considering the frozen enigma of freezing yogurt, it's essential to understand the impact on its texture and taste while still keeping in mind its potential contribution to total health and fitness. Get ready to delve into the frozen enigma and uncover the truth about freezing yogurt!
What is Yogurt?
Before we dive into the freezing process, let's take a moment to understand what yogurt is. Yogurt is a dairy product made by fermenting milk with live bacteria cultures. This fermentation process produces lactic acid, which gives yogurt its characteristic tangy taste and thick texture. Yogurt is rich in protein, calcium, and beneficial bacteria known as probiotics, which promote a healthy gut.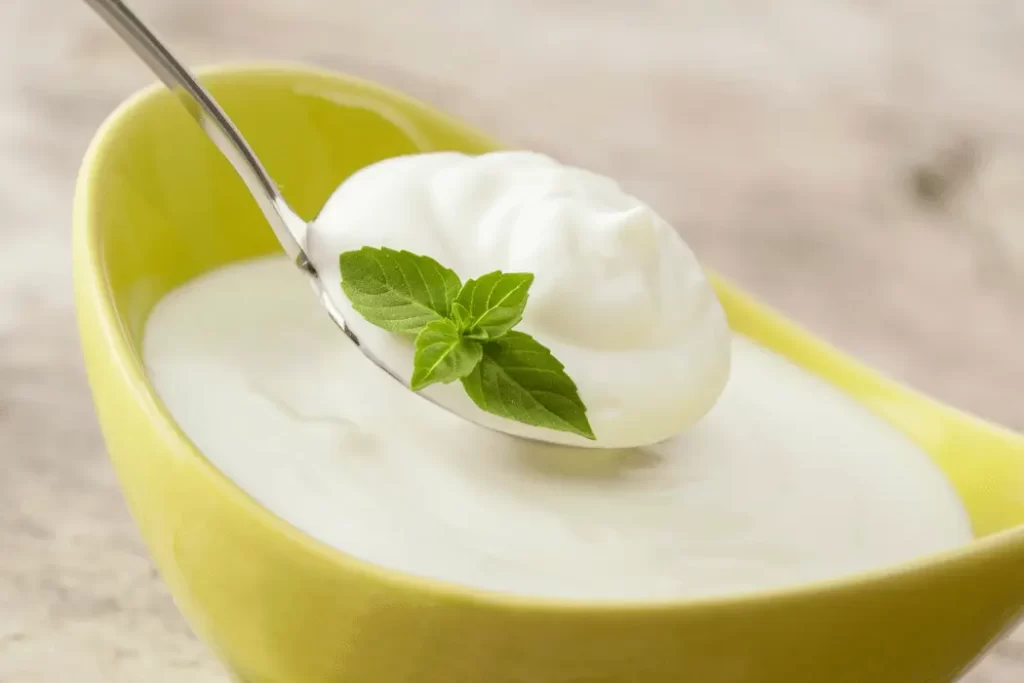 The Freezing Process
When it comes to freezing yogurt, it's essential to understand the freezing process itself. Freezing involves reducing the temperature of a substance below its freezing point, causing it to solidify. However, not all foods react the same way to freezing, and yogurt is no exception.
How Does Freezing Affect Yogurt?
Yogurt contains water, and when it is frozen, the water forms ice crystals. These ice crystals can disrupt the structure of the yogurt, resulting in changes to its texture, consistency, and taste. Additionally, freezing can affect the nutritional value of yogurt, particularly the viability of probiotics.
Read more information about the Hung Curd here.
Can You Freeze Yogurt?
Now, the burning question: can you freeze yogurt? The answer is yes, you can freeze yogurt, but it's important to consider the potential changes it undergoes during the freezing and thawing process.
The Texture and Consistency
One of the noticeable effects of freezing yogurt is the alteration of its texture and consistency. Once frozen and thawed, yogurt can become grainy or watery, losing its smooth and creamy appeal. However, these changes primarily occur in unstrained yogurt or those with lower fat content. Greek yogurt, with its thicker consistency, tends to hold up better when frozen.
The Taste
The taste of frozen yogurt may also be slightly affected. Some individuals find that frozen yogurt has a slightly sour flavor compared to its fresh counterpart. This is because the freezing process can alter the balance of flavors in the yogurt, leading to a more pronounced tanginess. However, the difference in taste is generally subtle and may not be noticeable to everyone. If you enjoy the tangy taste of yogurt, frozen yogurt can still be a delightful treat.
The Nutritional Value
When it comes to the nutritional value of frozen yogurt, there are a few factors to consider. The freezing process itself doesn't significantly impact the overall nutrient content of yogurt. The protein, calcium, and other beneficial nutrients present in yogurt remain relatively stable even after freezing.
However, the viability of probiotics, the live bacteria cultures found in yogurt, may be compromised during freezing and thawing. These beneficial bacteria play a role in supporting gut health and digestion. While some strains of probiotics are more resilient than others, freezing can lead to a reduction in their numbers. If consuming probiotics is an essential aspect of your yogurt consumption, it may be best to opt for fresh yogurt or seek out specially formulated frozen yogurt products that contain viable probiotics.
Tips for Freezing Yogurt
If you decide to freeze yogurt, here are some helpful tips to ensure the best results:
Choosing the Right Container
Select a freezer-safe container with an airtight seal to prevent freezer burn and maintain the quality of the yogurt. Consider portioning the yogurt into individual servings to make it easier to thaw and use.
Preparing Yogurt for Freezing
If you're freezing yogurt in its original container, give it a thorough stir before placing it in the freezer. This helps distribute the moisture and prevent excessive ice crystal formation. If you prefer to freeze smaller portions, transfer the yogurt into the chosen freezer-safe containers, leaving some room for expansion during freezing.
Freezing and Thawing Methods
Place the yogurt in the freezer, ensuring it is positioned away from strong-smelling foods to avoid absorbing odors. For best results, freeze yogurt at a consistent temperature of 0°F (-18°C) or below. When it comes to thawing, transfer the desired amount of frozen yogurt to the refrigerator and let it thaw slowly overnight. Avoid refreezing previously frozen and thawed yogurt to maintain its quality.
Creative Ways to Use Frozen Yogurt
Frozen yogurt can be a versatile ingredient in various recipes and a refreshing treat on its own. Here are some creative ways to use frozen yogurt:
Frozen Yogurt Treats
Indulge in frozen yogurt popsicles, where you can add fresh fruit chunks or drizzle them with melted dark chocolate for an added twist. Alternatively, you can create frozen yogurt parfaits by layering frozen yogurt with granola and fresh berries.
Yogurt-Based Smoothies
Blend frozen yogurt with your favorite fruits, such as bananas, berries, or mangoes, for a creamy and nutritious smoothie. You can also add a splash of milk or a dollop of nut butter to enhance the flavor and texture.
Conclusion
we have thoroughly explored the question, Can you freeze yogurt? and have shed light on the frozen enigma surrounding this beloved dairy product. The answer is a resounding yes, you can freeze yogurt! However, it is important to consider the effects of freezing on yogurt's texture, taste, and nutritional value. While the freezing process may cause slight changes in texture and taste, frozen yogurt can still be a delightful treat. So, next time you find yourself wondering what to do with leftover yogurt, remember that freezing it is a viable option to extend its shelf life. Just keep in mind the tips and tricks we've discussed, such as choosing the right container, following proper freezing and thawing methods, and enjoying your frozen yogurt within a reasonable timeframe. Embrace the frozen enigma and savor the creamy goodness of frozen yogurt whenever you desire. So, go ahead and confidently answer the question, Can you freeze yogurt? with a resounding yes!