In the hustle and bustle of daily life, it's easy to overlook the significance of maintaining good oral health. However, recent scientific discoveries have shed light on a surprising and powerful link between oral hygiene and overall wellness. The mouth-body connection is not merely a dental concern but a vital aspect of our holistic health. This article delves into the intricate relationship between oral health and overall well-being, emphasizing the importance of a healthy smile for a healthy body. The Mouth-Body Connection explores how maintaining good oral health contributes to total health and fitness in the comprehensive discussion on overall wellness.
Understanding the Mouth-Body Connection
The mouth serves as a gateway to the body, and its health can significantly influence various systems throughout. Research has shown that poor oral hygiene can lead to a host of health issues beyond cavities and gum disease. The connection between oral health and overall wellness is a two-way street: systemic health problems can manifest in the mouth, and oral issues can contribute to systemic illnesses.
The Liver: An Unexpected Player
When we think of oral health, we often focus on the teeth and gums. However, the health of our mouth can have surprising implications for other organs, including the liver. Recent studies have indicated that the liver is affected by oral health, highlighting the intricate interplay between these seemingly unrelated body parts.
The liver, a vital organ responsible for detoxification and metabolic functions, can be impacted by poor oral health practices. Inflammation and infection in the mouth can introduce harmful bacteria into the bloodstream. These bacteria can then travel to the liver, potentially leading to inflammation and affecting its optimal functioning. Maintaining good oral hygiene, therefore, not only promotes a radiant smile but also contributes to the well-being of internal organs like the liver.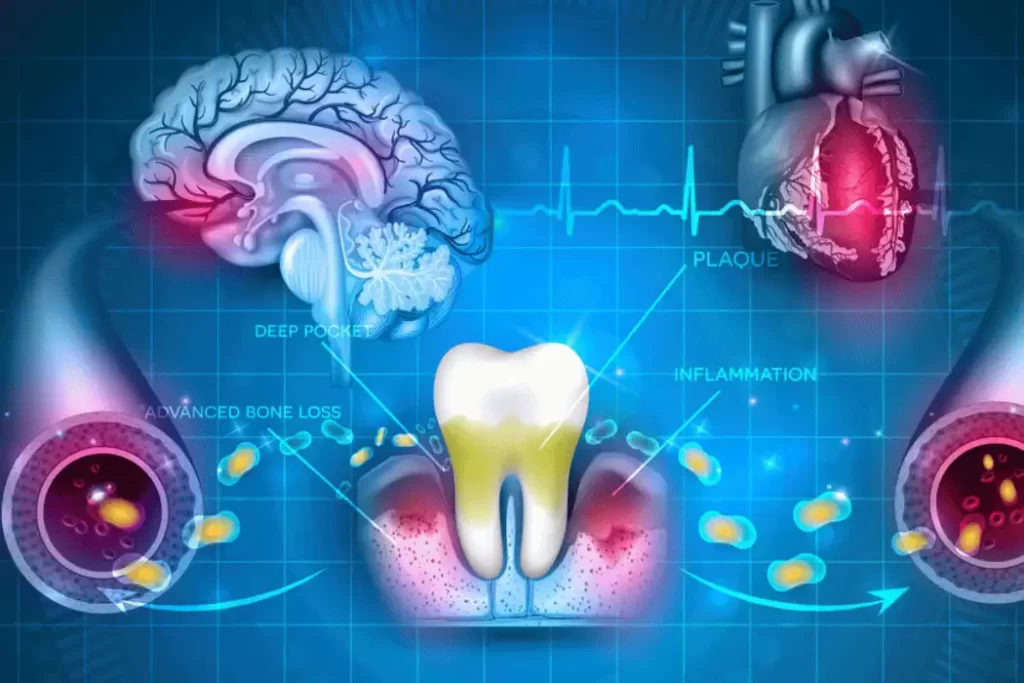 Gum Disease and Systemic Health
One of the key players in the mouth-body connection is gum disease, scientifically known as periodontal disease. This condition, characterized by inflammation of the gums and supporting structures of the teeth, has been linked to various systemic health problems. Research suggests that the bacteria associated with gum disease can enter the bloodstream and trigger inflammation in other parts of the body.
Heart health is one area where the impact of gum disease is particularly notable. Studies have revealed a potential link between gum disease and an increased risk of cardiovascular issues, including heart disease and stroke. Although the exact mechanisms behind this association are still being explored, it underscores the significance of maintaining healthy gums for the well-being of the heart and the entire circulatory system.
Diabetes and Oral Health
The mouth-body connection also extends to individuals with diabetes. Diabetes is a chronic condition that affects the body's ability to regulate blood sugar levels. People with diabetes are more susceptible to gum disease, and conversely, gum disease can make it harder to manage blood sugar levels. This bidirectional relationship emphasizes the need for individuals with diabetes to prioritize their oral health as an integral part of their overall diabetes management.
Pregnancy Considerations
For expectant mothers, oral health takes on added importance. The hormonal changes that occur during pregnancy can increase the risk of gum disease. Moreover, some studies suggest a potential link between gum disease and adverse pregnancy outcomes, such as preterm birth and low birth weight. Proper oral care and regular dental check-ups are crucial for promoting the well-being of both the mother and the developing baby.
Nurturing the Mouth-Body Connection
Cultivating a healthy mouth-body connection involves adopting a comprehensive approach to oral care. Here are some essential tips to consider:
Brush and Floss Regularly: Maintain a consistent oral hygiene routine by brushing your teeth twice a day and flossing daily to remove food particles and plaque buildup.
Healthy Diet: Consume a balanced diet rich in fruits, vegetables, lean proteins, and whole grains. Limit sugary snacks and beverages, as they can contribute to tooth decay.
Regular Dental Check-ups: Schedule routine dental appointments for cleanings and examinations. Your dentist can detect and address oral issues before they escalate.
Stay Hydrated: Drinking water helps rinse away food particles and bacteria, promoting a clean mouth and fresher breath.
Avoid Tobacco and Limit Alcohol: Tobacco use and excessive alcohol consumption can harm oral tissues and increase the risk of oral cancer.
Manage Stress: Chronic stress can contribute to oral health problems. Practicing stress-reduction techniques, such as meditation and yoga, can benefit both your mind and mouth.
Stay Informed: Keep yourself updated on the latest developments in oral health and wellness. Knowledge empowers you to make informed decisions about your oral care.
Conclusion
The mouth-body connection is a fascinating and intricate relationship that highlights the significance of oral health for overall wellness. From impacting the liver to influencing systemic conditions like heart disease and diabetes, maintaining good oral hygiene is an essential component of a holistic approach to health. By nurturing your oral health through proper hygiene, a healthy diet, and regular dental check-ups, you can pave the way for a radiant smile and a healthier body. Remember, a healthy mouth is not just a gateway to a beautiful smile; it's a gateway to a healthier you.