Embark on a transformative fitness journey with the StairMaster before and after. Witness the incredible results of incorporating StairMaster workouts into your routine. Discover how this powerful machine can enhance your cardiovascular endurance, build strength, and improve overall fitness. Experience the total health and fitness benefits that come with challenging yourself on the StairMaster. Unleash your potential and achieve your fitness goals like never before.
What is a StairMaster?
A StairMaster is a specialized exercise machine designed to simulate the movement of climbing stairs. It consists of a rotating staircase with individual steps that move in a continuous loop. Users can adjust the speed and resistance level of the machine to customize their workout intensity. The StairMaster offers a low-impact, high-intensity workout that engages the lower body muscles, including the quadriceps, hamstrings, calves, and glutes.
Benefits of the StairMaster
The StairMaster offers numerous benefits that contribute to its popularity among fitness enthusiasts. Here are some key advantages:
Cardiovascular Conditioning:
Using the StairMaster provides an excellent cardiovascular workout, as it elevates the heart rate and increases oxygen consumption. Regular cardiovascular exercise helps improve overall cardiovascular health, increases endurance, and burns calories.
Lower Body Strength:
The repetitive stepping motion engages the lower body muscles, helping to strengthen and tone the legs, hips, and buttocks. The StairMaster also targets the core muscles, resulting in improved stability and balance.
Calorie Burning:
Due to its high-intensity nature, exercising on the StairMaster can significantly contribute to calorie burning. It helps to create a calorie deficit, which is essential for weight loss and weight management.
Time Efficiency:
The StairMaster allows for an efficient workout, as it engages multiple muscle groups simultaneously. With just a few minutes of exercise, you can experience a challenging and effective full-body workout.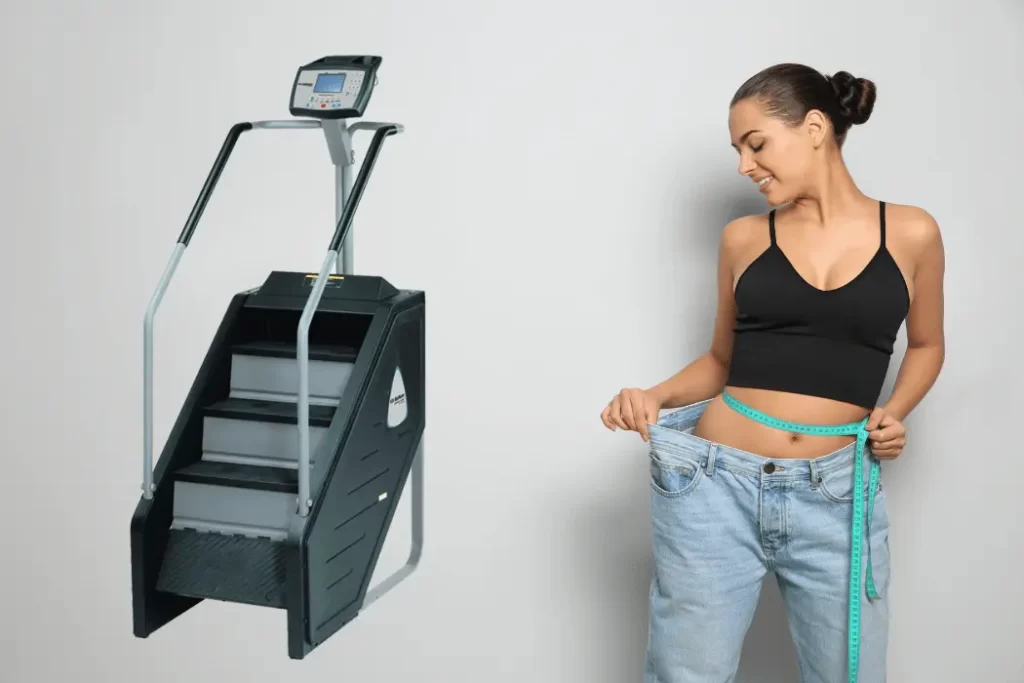 StairMaster Before and After Transformations
Building Strength and Endurance
One of the remarkable aspects of the StairMaster is its ability to help individuals build strength and endurance. Regular use of the StairMaster can lead to visible transformations in both muscle tone and overall fitness levels. The combination of cardiovascular exercise and lower body muscle engagement helps users increase their stamina and endurance over time. By gradually increasing the intensity and duration of their StairMaster sessions, individuals can witness significant improvements in their fitness capabilities.
Weight Loss and Body Sculpting
The StairMaster is also a valuable tool for those looking to shed excess pounds and sculpt their bodies. Its high-intensity nature allows users to burn a substantial number of calories within a relatively short period. Incorporating the StairMaster into a well-rounded fitness routine, along with a balanced diet, can help individuals achieve their weight loss goals. Moreover, the continuous stepping motion engages multiple muscle groups, resulting in toning and sculpting of the lower body. Regular use of the StairMaster can help individuals achieve a leaner and more defined physique.
Enhanced Overall Fitness
By incorporating the StairMaster into your fitness routine, you can experience a significant enhancement in your overall fitness level. The machine's ability to engage both the cardiovascular and muscular systems simultaneously leads to comprehensive fitness improvements. Regular StairMaster workouts can improve cardiovascular endurance, boost metabolism, increase muscle strength, and enhance overall agility and balance. These improvements contribute to an increased quality of life and a more resilient and capable body.
Conclusion
If you're ready to witness the extraordinary power of the StairMaster before and after, get ready to be inspired. The stories of those who have embarked on this fitness journey are a testament to the remarkable impact the StairMaster can have on transforming your body, mind, and overall well-being. Whether you're striving for weight loss, muscle toning, or an overall fitness makeover, the StairMaster is your trusted companion. Embrace the challenge, overcome the obstacles, and embark on a transformative fitness journey that will leave you in awe of your own potential. The StairMaster before and after stories are waiting to ignite your passion for change and help you unveil a new, healthier you.