Are you feeling self-conscious about the shape of your face? Are you tired of feeling like you have a round, square, or wide jawline that makes you look heavier than you really are? If so, you may be interested in Masseter Botox, a non-invasive treatment that can help to slim your face and enhance your overall appearance. While Masseter Botox can help slim your face and enhance your appearance, it's important to remember that total health and fitness also play a crucial role in achieving your desired look. Here's what you need to know about this popular cosmetic procedure.
Masseter Botox, also known as jawline slimming or jawline contouring, involves the injection of botulinum toxin A into the masseter muscles on either side of the jawline. These muscles are responsible for chewing and clenching, and over time can become enlarged due to habitual clenching or grinding, leading to a wider or more square-shaped jawline. By relaxing these muscles with Botox, the jawline can appear softer, smoother, and more refined.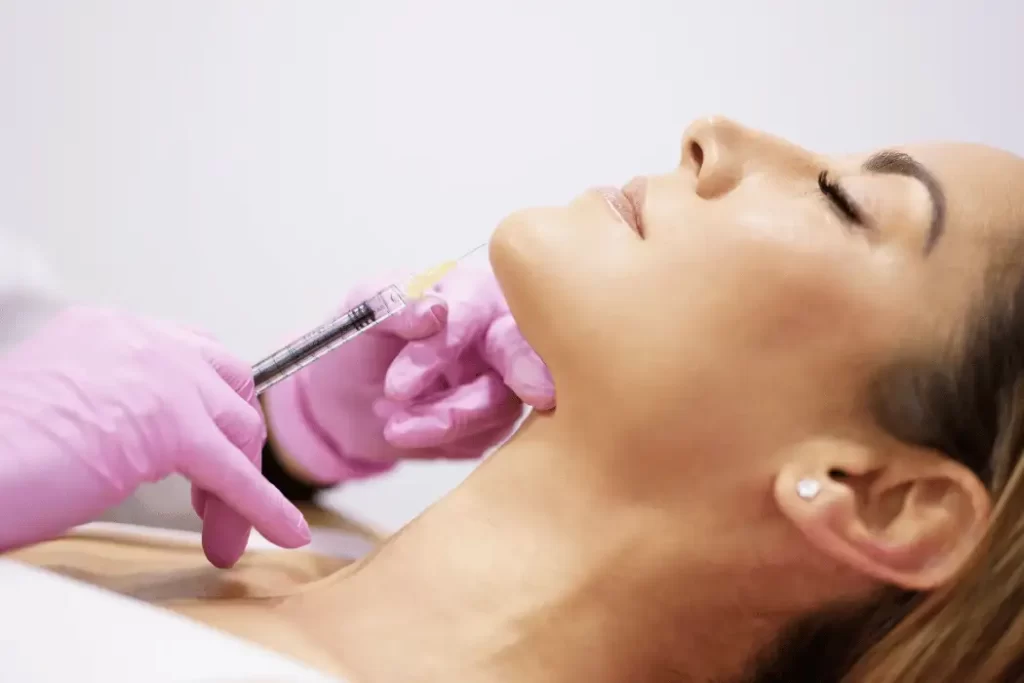 What is Masseter Botox?
Masseter Botox refers to the use of botulinum toxin injections to slim down the appearance of the face. This method involves the injection of botulinum toxin type A into the masseter muscles, which are located in the jaw and are responsible for chewing. By weakening these muscles, the size of the jawline can be reduced, resulting in a more feminine and contoured appearance of the face. Masseter Botox is a safe and reliable cosmetic treatment that has become increasingly popular in recent years, particularly among those seeking a non-surgical way to enhance their facial features. It is important to choose a reputable and experienced provider for the procedure, as like any cosmetic treatment, there are potential risks and side effects that must be taken into consideration. Understanding the benefits, limitations, and process of Masseter Botox is essential for those interested in this cosmetic procedure.
How does Masseter Botox work?
Masseter Botox is a non-surgical treatment designed to slim down the face and treat conditions such as bruxism and temporomandibular joint disorder (TMJ). The treatment involves injecting botulinum toxin into the masseter muscles, which are responsible for the movement of the jaw. The toxin blocks the signals from nerves to the muscles, causing them to relax and reduce in size, giving the face a slimmer appearance. The treatment typically takes about 15 to 30 minutes depending on the area of injection, and the results are noticeable within 2-4 weeks. The duration of the effects can vary depending on the patient's individual metabolic rate and the dosage of the botulinum toxin used. The treatment is safe, effective and minimally invasive, making it an increasingly popular method of facial contouring. However, it is important to consult with a qualified and experienced medical practitioner to ensure the treatment is appropriate for you and to discuss any potential risks or side effects.
Read more about Botox Under Eyes.
What results can be expected?
If you are considering Masseter Botox as a way to slim your face, you may be wondering what results you can expect from this treatment. Generally, patients see noticeable face slimming results a few weeks after their treatment, with maximum results appearing within one to two months. It's important to note, however, that individual results may vary based on factors such as the size of your masseter muscles, the amount of Botox used, and your overall health. Additionally, it's important to have realistic expectations about the amount of slimming that can be achieved with Masseter Botox. While the treatment can provide significant face slimming results, it is not a substitute for weight loss or other lifestyle changes. Your results also may not be permanent, and most patients require subsequent treatments to maintain their desired level of facial slimness. Please consult with a qualified medical professional to discuss your individual goals and potential outcomes before deciding if Masseter Botox is right for you.
What are the benefits of Masseter Botox?
The main benefit of Masseter Botox is that it can help to slim the face and create a more defined jawline. This can enhance your overall appearance and boost your confidence. Additionally, Masseter Botox is a non-invasive treatment that requires no downtime, so you can resume your normal activities immediately after the procedure.
Is the procedure safe and effective?
When considering slimming your face with Masseter Botox, it is important to do your research and ask relevant questions to ensure a safe and effective outcome. One important question to consider is whether the procedure is safe and effective. Botox injections are generally considered safe when administered by a licensed healthcare provider, but as with any medical procedure, there is always a potential for side effects. Additionally, the effectiveness of the procedure will vary depending on the individual's anatomy and medical history. Therefore, it is important to consult with a qualified healthcare provider to determine if Masseter Botox is the right option for you and to discuss any potential risks or complications.
Where to find a qualified medical professional for treatment?
When considering masseter Botox treatment to slim your face, it is crucial to find a qualified and experienced medical professional. Board-certified dermatologists, plastic surgeons, and trained medical professionals who specialize in facial aesthetics are the best options. Before undergoing treatment, it is essential to research the practitioner's credentials and experience, their use of safe and legitimate products, and their reputation within the industry. You can also ask friends, family, or your primary care physician for referrals. It is important to remember that the overuse or misuse of Botox can result in serious injury, so searching for a qualified medical professional is worth the extra effort to ensure a safe and effective treatment.
Conclusion
Masseter Botox can be a useful tool in slimming the face for those who want to reduce the appearance of a wide or square jawline caused by overactive masseter muscles. It is a relatively quick and safe procedure that can provide noticeable results in just a few weeks, without requiring lengthy downtime. However, it is important to always seek out a qualified and experienced practitioner, and to ask any questions you may have about the procedure and potential side effects before undergoing treatment.