Your smile is a powerful asset that can leave a lasting impression. However, a dead tooth can significantly impact your smile's aesthetics and overall oral health. Understanding the causes, effects, and treatment options for a dead tooth is essential in preserving your smile and ensuring optimal dental well-being. In this comprehensive guide, we will delve into the world of dead teeth, exploring the factors that can lead to their demise, the effects they can have on your oral health, and the various treatment approaches available to save your smile. Whether you're experiencing tooth discoloration, sensitivity, or other concerning symptoms, this article will provide valuable insights to help you navigate the complexities of a dead tooth and make informed decisions about your dental care. Taking care of your oral health, including addressing issues like dead tooth, is crucial not only for the appearance of your smile but also for your total health and fitness. So, let's dive in and discover how you can reclaim your smile's radiance and maintain a healthy, confident demeanor.
A dead tooth, also known as a non-vital tooth, is a tooth that has lost its ability to receive blood supply and nourishment. This can happen due to various reasons, such as trauma, dental decay, or a failed dental procedure. When a tooth becomes dead, it can no longer regenerate or repair itself naturally.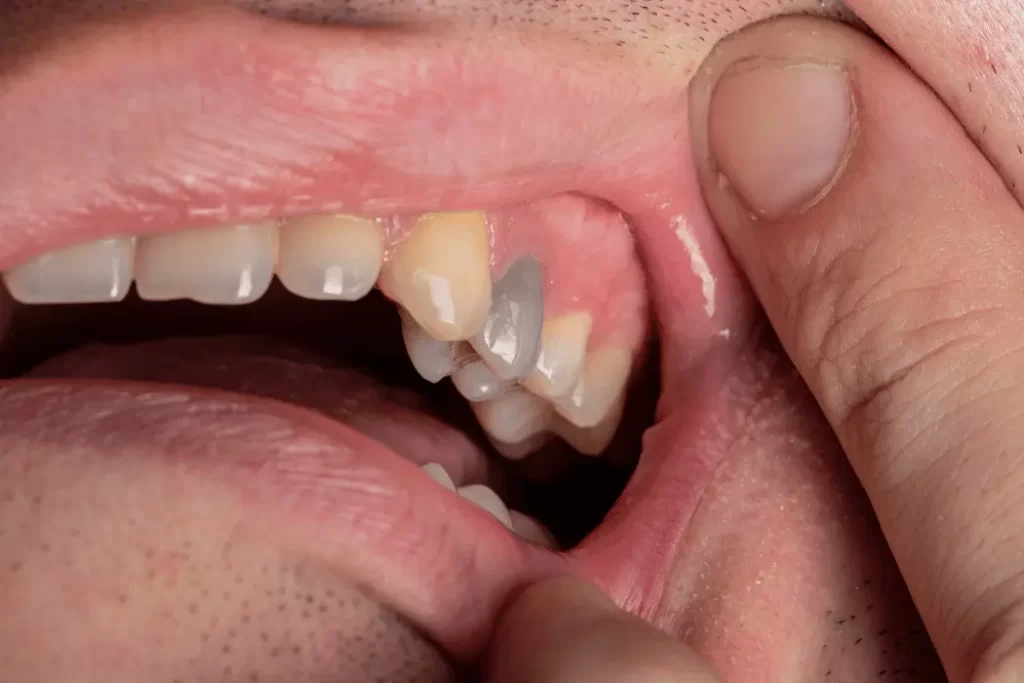 Causes of a Dead Tooth
There are several causes that can lead to a tooth dying or becoming non-vital. The most common causes include:
Trauma:
A severe blow or injury to the tooth can cause the blood vessels and nerves within the tooth to die, resulting in a dead tooth.
Dental Decay:
Untreated tooth decay can progress deep into the tooth, eventually reaching the pulp chamber where the nerves and blood vessels reside. If the infection spreads, the tooth can die.
Dental Procedures:
Occasionally, dental procedures such as root canal treatment or crown placement can inadvertently damage the blood supply to the tooth, leading to its death.
Read more about Understanding the Tooth Number Chart.
Effects of a Dead Tooth
A dead tooth can have various effects on your oral health and overall well-being:
Discoloration:
One of the primary effects of a dead tooth is discoloration. The tooth may turn dark yellow, gray, or black, affecting the aesthetics of your smile.
Sensitivity:
Although the tooth is no longer vital, the surrounding tissues can still experience sensitivity and discomfort due to the presence of infection or inflammation.
Bad Breath:
A dead tooth can harbor bacteria, leading to persistent bad breath that may be difficult to eliminate with regular oral hygiene practices.
Abscess Formation:
If the infection spreads from the dead tooth to the surrounding tissues, it can lead to the formation of a painful dental abscess, which requires immediate attention from a dental professional.
Symptoms of a Dead Tooth
Identifying a dead tooth early on is crucial for timely treatment. Here are some common symptoms to watch out for:
Persistent toothache or throbbing pain
Discoloration of the affected tooth
Swelling and tenderness in the surrounding gums
Sensitivity to hot or cold temperatures
Foul taste or odor coming from the affected tooth
Diagnosis of a Dead Tooth
If you suspect you have a dead tooth, it is essential to visit a dentist for a proper diagnosis. The dentist will conduct a thorough examination, which may include:
Reviewing your dental history and symptoms:
The dentist will ask you about any dental concerns you have and inquire about the symptoms you are experiencing. Providing detailed information about your oral health will assist in the diagnostic process.
Visual inspection of the tooth and surrounding tissues:
The dentist will visually examine the affected tooth and the surrounding gums. They will look for any discoloration, swelling, or signs of infection. They may use a dental mirror and a dental explorer to assess the tooth's condition and detect any visible signs of decay or damage.
Percussion or tapping tests to assess tooth sensitivity:
The dentist may gently tap the tooth using a dental instrument to evaluate its sensitivity. A dead tooth may not respond to the tapping sensation, indicating a lack of nerve vitality.
X-rays or other imaging techniques to evaluate the internal structures of the tooth:
X-rays are commonly used to diagnose a dead tooth. They provide a clear view of the tooth's internal structures, including the pulp chamber and root canals. X-rays can help identify signs of infection, abscess formation, or any other underlying issues.
Treatment Options for a Dead Tooth
Once a dead tooth is diagnosed, several treatment options can be considered, depending on the severity of the condition and the patient's overall oral health. The primary treatment options include:
Root Canal Therapy:
Root canal treatment is often the preferred choice for saving a dead tooth. It involves removing the infected or dead pulp from the tooth, cleaning and disinfecting the root canals, and then filling them with a biocompatible material. Finally, a dental crown is placed over the tooth to restore its strength and appearance.
Extraction of the Dead Tooth:
In some cases, extracting the dead tooth may be necessary, especially if it cannot be saved through other means. After the extraction, the dentist may recommend tooth replacement options such as dental implants, dental bridges, or dentures.
Dental Implants:
Dental implants are a popular long-term solution for replacing missing teeth. They involve surgically placing a titanium post into the jawbone, which acts as a stable foundation for attaching a lifelike dental crown.
Dental Bridge:
A dental bridge is a fixed restoration that replaces one or more missing teeth. It consists of a false tooth (pontic) anchored to adjacent natural teeth or dental implants.
Home Remedies:
While home remedies cannot treat a dead tooth, they may provide temporary relief from associated symptoms. Rinsing with warm saltwater, applying a cold compress to reduce swelling, and using over-the-counter pain relievers can help manage discomfort until professional treatment is obtained.
Prevention of Dead Tooth
Preventing dead tooth is crucial for maintaining good oral health. Here are some preventive measures you can take:
Practice good oral hygiene:
Brush your teeth at least twice a day, floss daily, and use an antimicrobial mouthwash to remove plaque and prevent tooth decay.
Wear a mouth guard during physical activities:
If you participate in contact sports or engage in activities with a risk of dental trauma, wear a mouthguard to protect your teeth from injury.
Avoid chewing on hard objects:
Refrain from chewing on ice, pens, or other hard objects that can cause dental fractures or damage.
Visit your dentist regularly:
Regular dental check-ups allow your dentist to detect early signs of dental problems, including dead teeth. They can provide appropriate treatment before the condition worsens.
Conclusion
A dead tooth can have significant implications for your oral health and the appearance of your smile. Understanding the causes and effects of a dead tooth is crucial in taking proactive steps to save your smile. From trauma and dental decay to failed dental procedures, various factors can lead to tooth death. Recognizing the symptoms and seeking early diagnosis through regular dental check-ups is vital for timely treatment. Whether it's root canal therapy, tooth extraction followed by replacement options like dental implants or bridges, or preventive measures, dentistry offers solutions to restore your oral health and preserve your smile. Remember, prevention is key, so prioritize good oral hygiene, wear protective mouth guards when needed, and maintain regular dental visits. With the right knowledge and professional care, you can save your smile and enjoy a healthy, confident life.