Prostate cancer stands as one of the most prevalent malignancies affecting men globally, with millions of new cases diagnosed annually. Despite the progress in medical treatments and survival rates, a prostate cancer diagnosis can significantly impact a man's emotional well-being. Coping with the physical and emotional challenges of prostate cancer treatment is vital for a patient's overall health and quality of life. This article will shed light on the intersection of prostate cancer and mental health, focusing on strategies to maintain emotional well-being throughout the treatment journey. If you or a loved one is grappling with prostate cancer, seeking support from a specialised oncology hospital in Bangalore can provide tailored care and guidance.
Seeking Support: The Importance of Communication
One of the pivotal steps in managing the emotional challenges of prostate cancer is fostering open and honest communication. Patients should feel comfortable discussing their feelings, concerns, and questions with their healthcare providers, family members, and close friends. Here are some key considerations:
Engaging with Your Healthcare Team: Your medical team plays a critical role not only in treatment but also in offering emotional support. The best hospital for cancer surgery in Bangalore can provide guidance on managing emotional stress, recommend support groups, or connect you with mental health professionals if needed. Don't hesitate to seek their assistance.
Sharing with Loved Ones: Conversations about your diagnosis and treatment plan with family members and friends can create a robust support system. Loved ones can provide emotional support, accompany you to appointments, and assist with practical matters during your treatment journey.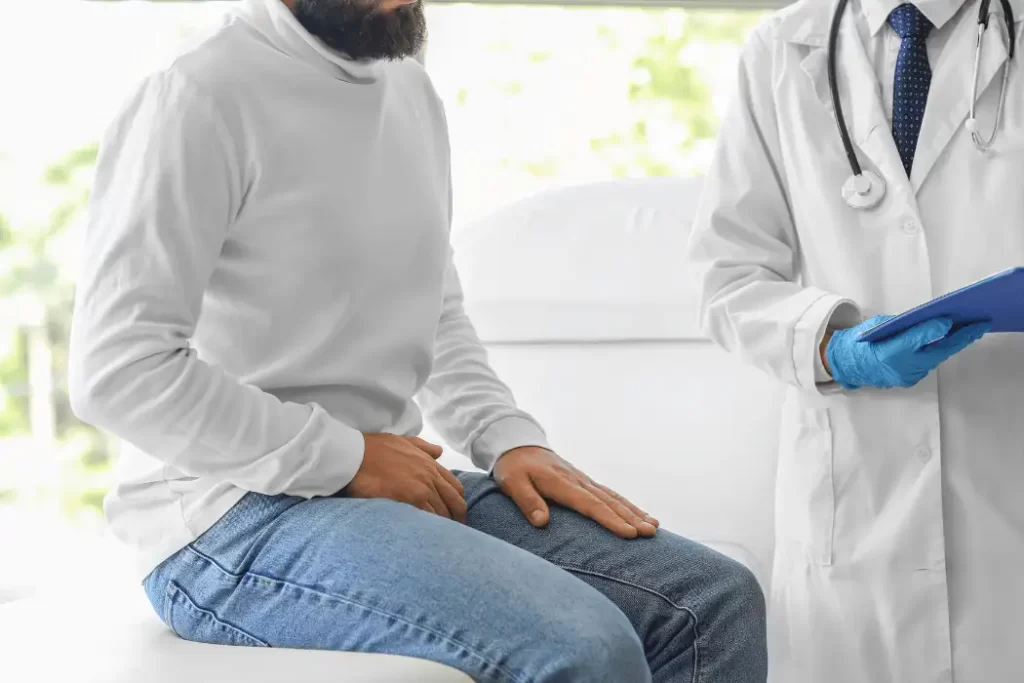 Managing Anxiety and Depression
Anxiety and depression often accompany a prostate cancer diagnosis and treatment. Addressing these issues promptly is essential for maintaining overall well-being. Consider these strategies:
Professional Guidance: Consult with a mental health professional, such as a psychologist or psychiatrist, specialised in cancer-related emotional challenges. They can offer therapy, counselling, or prescribe medication if necessary.
Mindfulness and Relaxation Techniques: Mindfulness meditation, deep breathing exercises, and progressive muscle relaxation can effectively reduce stress and anxiety. Incorporating such practices into your daily routine can promote emotional well-being.
Physical Activity: Regular exercise is proven to enhance your mood and reduce symptoms of depression and anxiety. Collaborate with your healthcare team to establish an appropriate exercise plan during your treatment.
Maintaining a Healthy Lifestyle: Consuming a balanced diet and ensuring sufficient sleep are vital for both physical and emotional health. Control your intake of alcohol and caffeine, as they can exacerbate anxiety and disrupt sleep patterns.
Maintaining a Positive Outlook
Sustaining a positive outlook during prostate cancer treatment can be challenging but is crucial for overall well-being. These tips can help you stay positive:
Set Attainable Goals: Break down your treatment and recovery into manageable goals. Celebrate each achievement, no matter how small, to maintain a sense of progress.
Stay Informed: Keeping abreast of your treatment plan and progress reduces anxiety and empowers you to make informed decisions about your care.
Engage in Enjoyable Activities: Continue pursuing activities you love, whether it's a hobby, a sport, or spending time with loved ones. Engaging in pleasurable activities can offer a much-needed mental respite from cancer-related stress.
Build a Supportive Network: Surround yourself with friends and family who provide emotional support and positivity. Their presence can be a wellspring of strength during challenging times.
In conclusion, a prostate cancer diagnosis is emotionally taxing, but managing your emotional well-being is a vital component of your treatment and recovery. By seeking support, addressing anxiety and depression, coping with treatment side effects, and maintaining a positive outlook, you can navigate the emotional aspects of prostate cancer with resilience and strength. If you find yourself in Bangalore, do not hesitate to reach out to an esteemed oncology hospital in Bangalore for comprehensive and tailored care and support. Remember that you are not alone in this journey, and a wealth of resources and support is available to help you safeguard your emotional well-being during treatment.