Maintaining healthy feet is crucial for overall well-being, and one common foot issue that can cause discomfort and pain is ingrown toenails. Whether you've experienced this problem before or want to prevent it from occurring, this blog post will provide you with essential tips to prevent ingrown toenails and ensure the well-being of your feet. From proper nail care techniques to choosing suitable footwear and maintaining optimal foot hygiene, we will cover everything you need to know to keep your feet happy and pain-free. Preventing ingrown toenails and maintaining healthy feet is not only essential for your foot health but also plays a vital role in your total health and fitness. So, let's dive in and discover the essential strategies for preventing ingrown toenails and promoting healthy feet.
Understanding Ingrown Toenails
Definition and Causes of Ingrown Toenails
Ingrown toenails occur when the edge of the nail grows into the surrounding skin, leading to pain, inflammation, and potential infection. This condition commonly affects the big toe and can be caused by various factors such as improper nail trimming, wearing tight or ill-fitting shoes, injury, and genetic predisposition.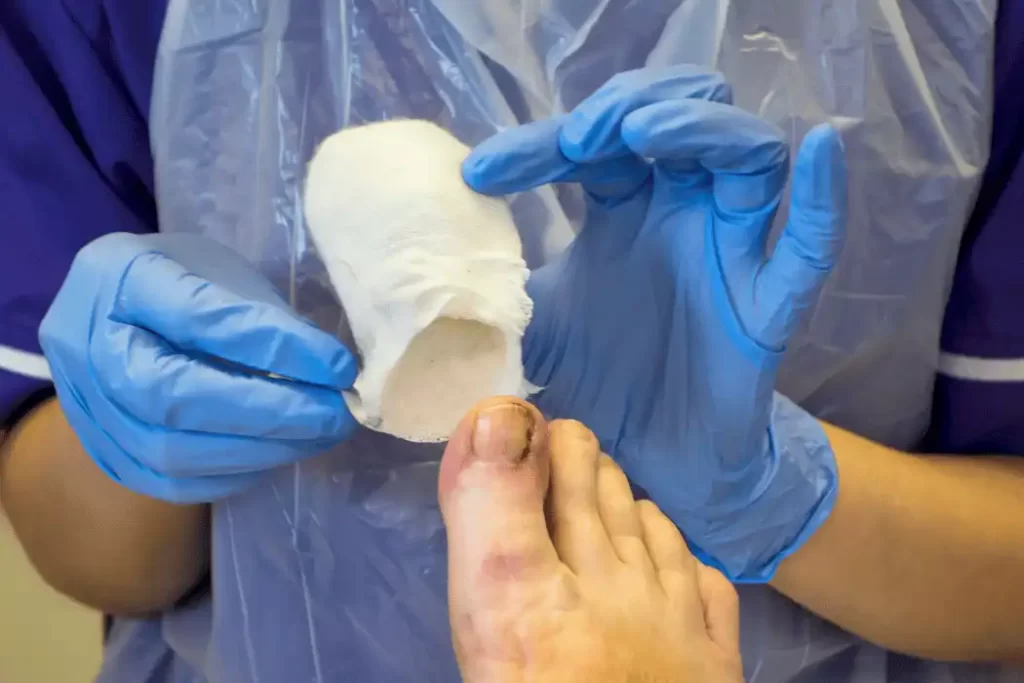 Common Symptoms and Risk Factors
Recognizing the symptoms of ingrown toenail is crucial for early intervention. Common signs include pain, tenderness, redness, swelling, and the presence of pus or drainage. Several risk factors increase the likelihood of developing ingrown toenails, including improper nail cutting techniques, wearing tight or narrow shoes, excessive sweating, foot deformities, and obesity.
Prevention Tips
Preventing ingrown toenails involves adopting good foot care practices and making smart choices when it comes to footwear. By following these essential tips, you can significantly reduce the risk of developing ingrown toenail.
Proper Nail Care and Trimming Techniques
When it comes to nail care, it's important to trim your nails correctly. Trim them straight across, avoiding rounded edges, as this can encourage the nail to grow into the skin. Use a clean, sharp nail clipper or manicure scissors specifically designed for nails. Be careful not to cut the nails too short, as this can also lead to ingrown toenails.
Choosing Suitable Footwear
Wearing well-fitting shoes is essential for foot health. Opt for footwear that provides adequate space for your toes to move freely. Avoid tight or narrow shoes that put pressure on the toes, which can increase the risk of ingrown toenail. Additionally, opt for breathable materials that allow proper air circulation to prevent excessive sweating.
Maintaining Optimal Foot Hygiene
Keeping your feet clean and dry is crucial for preventing ingrown toenails. Wash your feet daily with mild soap and warm water, ensuring to thoroughly dry them afterward, especially between the toes. Moisture can create an ideal environment for fungal and bacterial growth, which can contribute to ingrown toenails. Applying talcum powder can help absorb excess moisture.
Avoiding Injury and Trauma to the Toes
Protecting your toes from injury is essential in preventing ingrown toenails. Be cautious when engaging in activities that could potentially harm your feet, such as sports or heavy lifting. Wear protective footwear, such as steel-toed boots or proper athletic shoes, when necessary. By taking precautions and being mindful of potential risks, you can significantly reduce the chances of injuring your toes and developing ingrown toenail.
Read more about Foot Acupuncture techniques here.
Home Remedies for Ingrown Toenails
While prevention is key, there are also several home remedies you can try if you notice the early signs of an ingrown toenail. These remedies can provide relief and prevent further progression of the condition. It's important to note that these remedies are suitable for mild cases, and if your condition worsens or shows no improvement, it's best to seek professional medical help.
Soaking the Feet in Warm Water
Soaking your feet in warm water can help reduce pain and inflammation associated with ingrown toenail. Fill a basin with warm water and add a mild antiseptic solution if desired. Soak your feet for 15 to 20 minutes, repeating this process two to three times a day. The warm water helps soften the skin and allows you to gently massage the affected area to alleviate discomfort.
Applying Antibiotic Ointments
To prevent infection and promote healing, applying over-the-counter antibiotic ointments can be beneficial. Clean the affected area with mild soap and warm water, pat it dry, and then apply a thin layer of the ointment. This helps keep the area clean and prevents bacterial growth. Remember to follow the instructions provided with the ointment and consult a healthcare professional if there is no improvement or if the condition worsens.
Using Dental Floss or Cotton to Lift the Nail Edge
In some cases, the nail may be embedded in the surrounding skin. Gently lifting the nail edge can provide relief and prevent further growth into the skin. Carefully slide dental floss or a small piece of cotton under the edge of the ingrown nail. This helps elevate the nail and prevent it from digging further into the skin. Remember to sanitize the dental floss or cotton before use to minimize the risk of infection.
When to Seek Professional Help
While home remedies can be effective for mild cases, there are instances where professional medical help is necessary. It's important to recognize the signs that indicate the need for intervention by a healthcare professional.
If you experience severe pain, swelling, or signs of infection, such as increased redness, warmth, or pus discharge, it's recommended to seek medical attention promptly. Additionally, if you have a chronic condition such as diabetes, poor circulation, or a compromised immune system, it's crucial to consult a healthcare professional for proper evaluation and treatment.
Overview of Treatment Options
A healthcare professional, such as a podiatrist or a foot specialist, can provide a thorough examination and recommend appropriate treatment options for ingrown toenails. Treatment may involve:
Partial or complete nail removal: In some cases, a portion or the entire affected nail may need to be removed to alleviate the problem.
Antibiotics: If there is an infection present, oral or topical antibiotics may be prescribed.
Chemical or laser treatments: These procedures can help prevent regrowth of the ingrown toenail.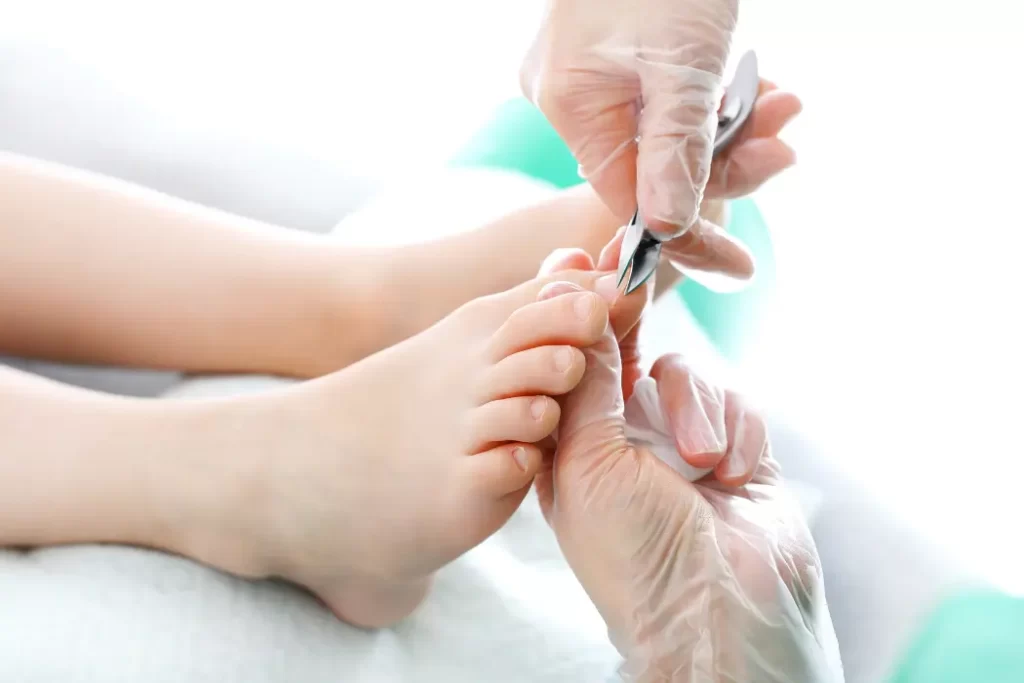 Importance of Regular Foot Examinations
Regular foot examinations are crucial for maintaining optimal foot health and preventing various foot-related issues, including ingrown toenails. Scheduling routine check-ups with a podiatrist or foot specialist is highly recommended as they possess the expertise to detect early signs of problems and provide valuable guidance for proper foot care. Here are some key reasons why regular foot examinations are essential:
Early Detection and Prevention
Regular foot examinations allow healthcare professionals to identify any potential foot problems at their early stages. This early detection enables timely intervention, preventing the progression of conditions like ingrown toenail and other foot ailments. By addressing these issues early on, you can avoid unnecessary pain, discomfort, and complications down the line.
Professional Guidance and Advice
Podiatrists and foot specialists have specialized knowledge in foot care and can provide expert guidance tailored to your specific needs. During a foot examination, they can assess the condition of your feet, analyze your gait, and identify any underlying issues that may contribute to ingrown toenails. They can offer personalized advice on proper footwear, nail care techniques, and foot hygiene, helping you make informed decisions for maintaining foot health.
Monitoring Existing Conditions
If you have pre-existing foot conditions, such as foot deformities or chronic ailments like diabetes, regular foot examinations become even more crucial. These examinations allow healthcare professionals to monitor the progress of your condition, detect any changes, and recommend appropriate treatment adjustments as needed. This proactive approach helps prevent complications and ensures that your foot health remains well-managed.
Addressing Foot Concerns and Discomfort
Regular foot examinations provide an opportunity for you to discuss any concerns or discomfort you may be experiencing with your feet. Whether it's persistent pain, swelling, or unusual sensations, sharing these symptoms with a healthcare professional can lead to a proper diagnosis and effective treatment. They can evaluate the symptoms, conduct additional tests if necessary, and develop a personalized treatment plan to alleviate your discomfort and improve your foot health.
Preventative Measures for Ingrown Toenail
One of the primary focuses of regular foot examinations is the prevention of foot conditions, including ingrown toenails. Healthcare professionals can educate you on proper nail care techniques, emphasize the importance of wearing suitable footwear, and provide tips on maintaining optimal foot hygiene. By following their recommendations, you can significantly reduce the risk of developing ingrown toenail and other related problems.
Conclusion
Prioritizing the health of your feet and taking preventive measures against ingrown toenails is essential for overall well-being. By following the essential tips outlined in this article, including proper nail care, choosing suitable footwear, maintaining optimal foot hygiene, and avoiding injury, you can significantly reduce the risk of developing ingrown toenails. Regular foot examinations by a podiatrist or foot specialist further contribute to early detection, personalized guidance, and proactive care. Remember, healthy feet are the foundation of a comfortable and active lifestyle, so invest in your foot health today for a pain-free tomorrow.