Nausea at night can be a distressing experience that disrupts your sleep and leaves you feeling exhausted the next day. If you find yourself battling bouts of nighttime nausea, it's essential to find effective strategies to overcome it and promote a restful sleep. By implementing effective strategies to overcome nausea at night and promote a restful sleep, you can enhance your total health and fitness. In this article, we will explore various techniques and lifestyle adjustments that can help you manage nausea at night, ensuring a more peaceful slumber.
Understanding Nausea at Night
Before delving into strategies for overcoming nighttime nausea, it's crucial to understand the potential causes and common symptoms associated with this condition. Nausea at night can be triggered by several factors, including digestive issues, hormonal changes, certain medications, anxiety, and stress. The symptoms often include a queasy feeling, an upset stomach, and sometimes, the urge to vomit.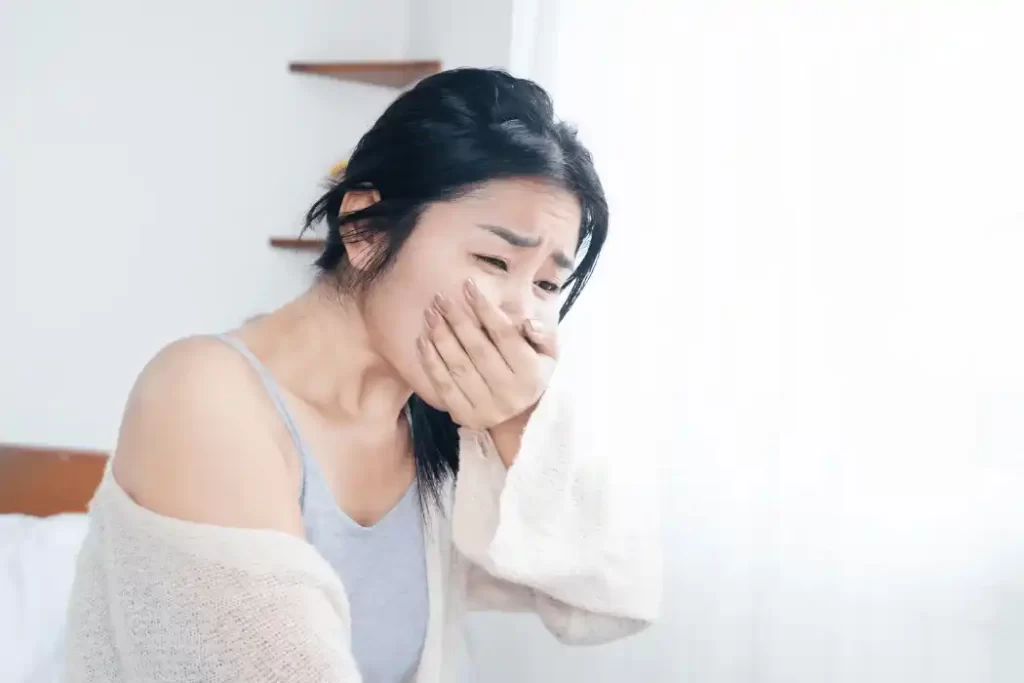 Importance of a Restful Sleep
A restful sleep is essential for overall well-being. During sleep, the body repairs and rejuvenates itself, and the mind consolidates memories and processes emotions. However, nausea at night can disrupt this vital restorative process, leaving you feeling fatigued and unrefreshed. Therefore, finding effective strategies to overcome nighttime nausea is crucial for obtaining quality sleep.
Strategies for Overcoming Nausea at Night
1. Maintaining a Healthy Diet
A healthy diet plays a significant role in managing nighttime nausea. Avoid consuming heavy meals close to bedtime, as they can trigger or worsen nausea. Instead, opt for light, easily digestible meals in the evening. Additionally, identify any specific foods that seem to trigger your symptoms and avoid them. Consider incorporating ginger and peppermint, known for their soothing properties, into your diet.
2. Managing Stress and Anxiety
Stress and anxiety can exacerbate nausea at night. Finding healthy ways to manage stress is crucial for promoting better sleep. Engage in activities that help you relax and unwind, such as yoga, meditation, or listening to calming music. Practice deep breathing exercises to reduce anxiety levels. If stress and anxiety persist, consider seeking professional help from a therapist or counselor.
Check out the The Benefits of Listening to Sleep Music Before Bed.
3. Creating a Soothing Sleep Environment
Your sleep environment plays a vital role in promoting restful sleep. Ensure that your bedroom is a calm and soothing space that promotes relaxation. Keep the room well-ventilated and at a comfortable temperature. Dim the lights and minimize noise to create a peaceful ambiance. Consider using aromatherapy with essential oils like lavender or chamomile, known for their calming effects, to enhance the sleep environment.
4. Relaxation Techniques for Better Sleep
Incorporating relaxation techniques into your bedtime routine can help alleviate nausea and promote a restful sleep. Deep breathing exercises, such as inhaling slowly through your nose and exhaling through your mouth, can help calm the body and reduce nausea symptoms. Progressive muscle relaxation involves tensing and releasing different muscle groups to release tension and induce relaxation. Guided imagery, where you imagine serene and peaceful settings, can also aid in soothing the mind and body before sleep.
5. Seeking Medical Advice
If your nighttime nausea persists or becomes severe, it is essential to consult a healthcare professional. They can evaluate your symptoms, identify any underlying medical conditions, and provide appropriate treatment options. Your doctor may recommend anti-nausea medications or other interventions to help manage your symptoms and improve your sleep quality.
Dietary Tips to Reduce Nausea
When it comes to managing nausea, making smart dietary choices can have a significant impact. Here are some effective tips to help reduce nausea through your diet:
Avoiding heavy meals before bed:
Consuming heavy, rich meals close to bedtime can contribute to nighttime nausea. Instead, opt for lighter, well-balanced meals that are easier to digest. Give yourself a couple of hours between eating and lying down to allow for proper digestion.
Identifying trigger foods:
Pay attention to your body and identify any specific foods that seem to trigger or worsen your nausea. These triggers can vary from person to person, but common culprits include spicy or greasy foods, acidic foods, dairy products, and foods with strong odors. Keep a food diary to track your symptoms and pinpoint the foods that may be causing your nausea.
Incorporating ginger and peppermint:
Ginger and peppermint have long been recognized for their natural anti-nausea properties. Ginger helps soothe the stomach and can be consumed in various forms such as ginger tea, ginger candies, or even freshly grated ginger added to dishes. Peppermint, whether in the form of tea or candies, can also provide relief by calming the digestive system. Experiment with incorporating ginger and peppermint into your diet to see if they help alleviate your nausea symptoms.
Relaxation Techniques for Better Sleep
If you struggle with nighttime nausea and want to improve the quality of your sleep, incorporating relaxation techniques into your bedtime routine can be highly beneficial. Here are three effective relaxation techniques that can help promote a restful sleep:
Deep breathing exercises:
Deep breathing is a simple yet powerful technique that can help calm your mind and relax your body before sleep. Find a comfortable position, close your eyes, and take slow, deep breaths. Inhale deeply through your nose, allowing your belly to rise, and then exhale slowly through your mouth, letting go of any tension or stress. Focus on the sensation of your breath and allow it to anchor you in the present moment. Deep breathing can help reduce anxiety, lower your heart rate, and prepare your body for a peaceful sleep.
Progressive muscle relaxation:
Progressive muscle relaxation involves systematically tensing and releasing different muscle groups in your body to promote relaxation. Start by tensing the muscles in your toes and gradually work your way up to your calves, thighs, abdomen, chest, arms, and finally, your facial muscles. Hold the tension for a few seconds and then release, allowing the muscles to completely relax. This technique helps release physical tension and promotes a sense of deep relaxation throughout your body, preparing you for a more restful sleep.
Guided imagery:
Guided imagery involves using your imagination to create soothing mental images that promote relaxation and sleep. Find a quiet and comfortable space, close your eyes, and imagine yourself in a peaceful and serene setting. It could be a tranquil beach, a lush forest, or any place that brings you a sense of calm. Engage your senses by visualizing the sights, sounds, smells, and even textures of this imagined place. Allow yourself to immerse in this mental imagery, focusing on the details and experiencing a deep sense of relaxation. Guided imagery can help distract your mind from any nausea or discomfort, creating a more peaceful state conducive to sleep.
Conclusion
Overcoming nausea at night is essential for achieving a restful sleep and maintaining overall well-being. By implementing a combination of strategies, including dietary adjustments, stress management techniques, creating a soothing sleep environment, and incorporating relaxation techniques, you can effectively manage nighttime nausea and enjoy a more peaceful slumber. It's important to remember that everyone's experience with nighttime nausea may vary, and it may take some time and experimentation to find the strategies that work best for you. Be patient, persistent, and don't hesitate to seek medical advice if needed. With dedication and a holistic approach, you can overcome nausea at night and pave the way for a restful and rejuvenating sleep experience. Sweet dreams await!