Embarking on a journey to master the martial arts is a path that leads to discipline, strength, and self-discovery. Within this realm, two iconic disciplines stand out: Taekwondo and Karate. Both Taekwondo and Karate have captured the imagination of enthusiasts worldwide, showcasing their unique styles and techniques. In this article, we delve into the world of these revered martial arts, exploring the distinctive attributes and comparing the techniques that define Taekwondo vs Karate. Mastering the martial arts of Taekwondo or Karate offers a holistic approach to total health and fitness, encompassing physical strength, mental agility, and emotional well-being. Join us as we unravel the intricate threads of these disciplines, and discover the fascinating intricacies that make Taekwondo and Karate remarkable in their own rights.
Key differences between Taekwondo/Karate
Mastering the Martial Arts: Taekwondo vs Karate is an important topic for enthusiasts of martial arts. While both Taekwondo and Karate have similarities, there are distinct differences between the two. One of the key differences is the emphasis on striking techniques. Taekwondo focuses on high kicks and jumping spin kicks, while Karate emphasizes punching and hand strikes. Another difference lies in the type of movements used. Taekwondo involves fluid and fast movements, while Karate emphasizes strong and powerful movements. It is also important to note that Taekwondo is more of a sport-oriented martial art, while Karate has a more traditional approach that incorporates philosophical teachings. Understanding the key differences between Taekwondo and Karate is essential in determining which martial art is the best fit for an individual's needs and interests.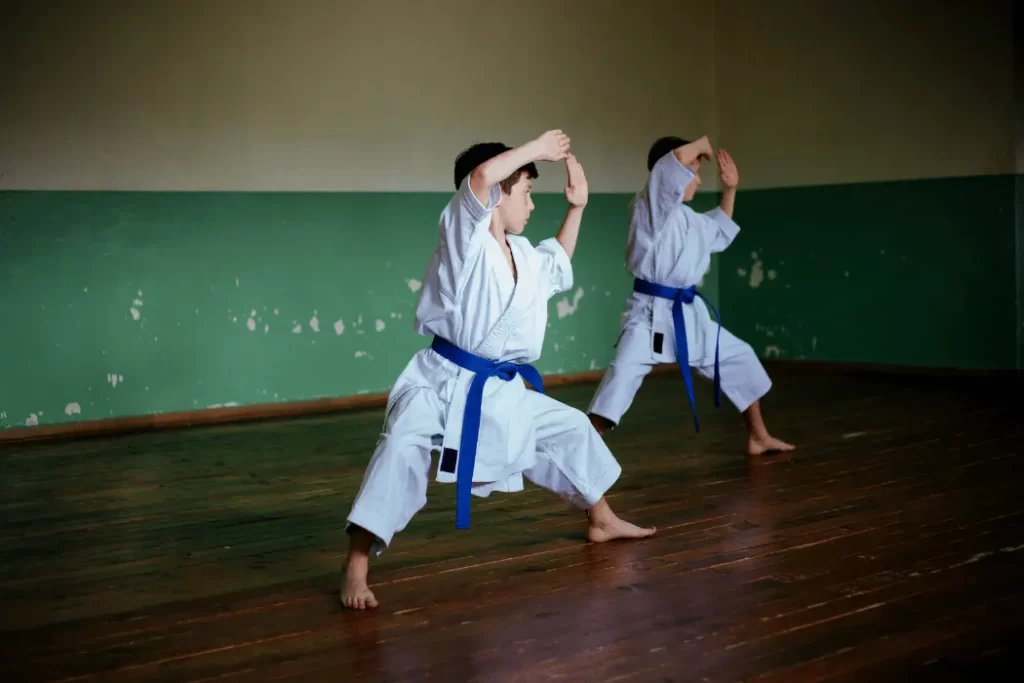 Origins and history of each
When it comes to mastering the martial arts, it's important to understand the origins and history of each discipline. Taekwondo originated in Korea in the 1940s and 1950s, during which a number of martial artists combined elements of traditional Korean martial arts with influences from Chinese martial arts. The Korean government later established the Korea Taekwondo Association to promote and standardize the practice of Taekwondo. Karate, on the other hand, originated in Okinawa, Japan in the early 20th century. It was influenced by Chinese martial arts, as well as Ryukyuan martial arts from Okinawa. Karate was developed as a means of self-defense for the Okinawan people and was later brought to Japan, where it gained popularity and numerous styles developed. Understanding the roots of each discipline is key to gaining a greater appreciation of their techniques and philosophies and is crucial for anyone seeking to master these martial arts.
Read more about Bodycombat Workout here.
Advantages of learning each
When it comes to the advantages of learning martial arts, both Taekwondo and Karate offer numerous benefits that can enhance physical fitness, mental well-being, and self-defense skills. However, Taekwondo and Karate bring their own unique advantages to the table. Taekwondo, known for its dynamic kicking techniques and emphasis on agility, can greatly improve flexibility, balance, and cardiovascular endurance. On the other hand, Karate, with its focus on powerful strikes and close-range combat, enhances strength, coordination, and self-discipline. Whether you choose Taekwondo or Karate, both martial arts instill a sense of self-confidence, teach valuable self-defense techniques, and promote overall physical and mental resilience. Exploring the advantages of Taekwondo vs Karate allows individuals to select the martial art that aligns with their personal goals, preferences, and individual strengths.
Choosing the right martial art
Choosing the right martial art can be a daunting and crucial decision. There are several different styles available, and each has its own advantages and disadvantages. When comparing Taekwondo versus Karate, there are some primary differences to consider. Both martial arts focus heavily on developing self-discipline, flexibility, and strength, but differ in their approaches to achieving this. While Taekwondo emphasizes rapid and powerful leg strikes and dynamic kicking techniques, Karate is more focused on hand strikes and close-range fighting. The best way to decide which is right for you is to try out both and see which one you prefer, as personal preference ultimately plays a significant role in determining success and enjoyment in mastering a martial art.
Importance of proper training
Proper training is an essential component in mastering the martial arts, whether it's Taekwondo or Karate. Training provides not only physical benefits such as improving flexibility, strength, and endurance, but also mental benefits such as discipline, focus, and confidence. It is important to find a qualified instructor who can guide you through the proper techniques and ensure that you are progressing in a safe and effective manner. Additionally, consistent and dedicated training is necessary to maintain your skills and reach new levels of proficiency. It is crucial to understand that mastering the martial arts is a lifelong journey, and proper training is the foundation for success in this journey.
Conclusion
The world of martial arts offers a vast array of disciplines to explore, and Taekwondo and Karate stand out as prominent choices for enthusiasts seeking to master their skills. Through this journey, we have witnessed the distinctive styles, techniques, and philosophies that make Taekwondo and Karate exceptional in their own ways. Whether one is drawn to the dynamic kicks and agility of Taekwondo or the powerful strikes and self-discipline of Karate, both martial arts provide valuable advantages that extend beyond physical fitness. Taekwondo vs Karate, each possesses its unique strengths, fostering self-confidence, discipline, resilience, and equipping practitioners with effective self-defense techniques. Ultimately, the path to mastery lies in choosing the martial art that resonates with one's individual goals, preferences, and aspirations. So, whether you embark on the Taekwondo or Karate journey, remember that the true essence of mastering the martial arts lies in the dedication, perseverance, and personal growth that unfolds along the way.