Are you ready to take your strength and stability training to the next level? Dive into the world of cable squats, a powerful exercise for building lower body strength and core stability. Discover the benefits, proper form, and variations of cable squats to maximize your workout routine. Whether you're a beginner or advanced fitness enthusiast, this guide will help you master cable squats and elevate your total health and fitness to new heights. Get ready to sculpt strong legs, engage your core, and achieve greater overall strength and stability. Let's dive into the world of cable squats and unlock your fitness potential.
Benefits of Cable Squats
Incorporating cable squats into your workout routine offers several benefits:
Increased resistance:
Cables provide a consistent resistance throughout the entire range of motion, activating the muscles more effectively compared to free weights.
Enhanced stability:
The cable's vertical line of pull challenges your balance and stability, engaging the core muscles and promoting better overall stability.
Muscle activation:
Cable squats engage not only the prime movers (quadriceps, hamstrings, and glutes) but also the stabilizer muscles, including the calves, lower back, and core.
Versatility:
Cable machines offer various attachments and settings, allowing you to perform different squat variations and target specific muscle groups.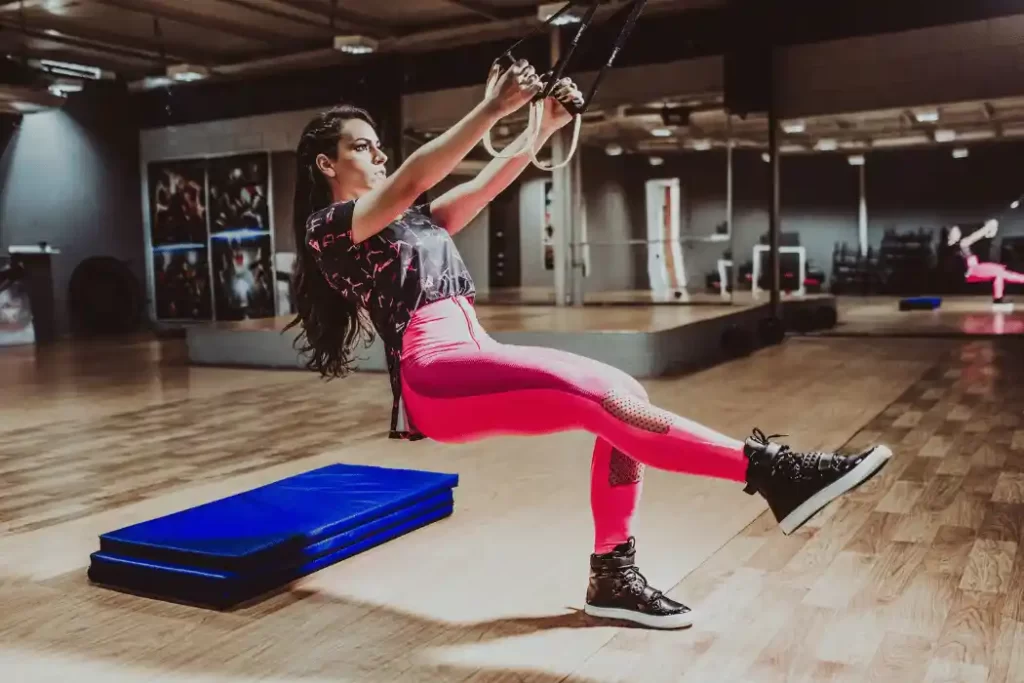 Proper Form and Technique
To perform cable squats with proper form and technique:
Stand facing the cable machine, feet shoulder-width apart.
Hold the handles or attachments at shoulder height with an overhand grip.
Engage your core, maintain an upright torso, and keep your chest lifted.
Begin the squat by pushing your hips back and bending your knees.
Lower your body until your thighs are parallel to the ground or slightly below.
Drive through your heels and extend your knees and hips to return to the starting position.
Maintain a controlled and smooth motion throughout the exercise.
Cable Squat Variations
Wide Stance Cable Squat:
Assume a wider stance, with toes slightly pointed outward, to emphasize the inner thighs and glutes.
Narrow Stance Cable Squat:
Bring your feet closer together, with toes pointing forward, to target the quadriceps and improve stability.
Single-Leg Cable Squat:
Perform the squat while balancing on one leg, challenging your stability and engaging the core and hip muscles.
Tips for Effective Cable Squat Training
Warm up adequately before starting your cable squat workout.
Focus on maintaining proper form and technique throughout the exercise.
Gradually increase the weight/resistance as your strength and stability improve.
Breathe rhythmically, inhaling on the way down and exhaling on the way up.
Incorporate progressive overload by adding more sets, reps, or weight over time.
Common Mistakes to Avoid
Allowing your knees to cave inward or go past your toes.
Rounding your back or hunching your shoulders during the movement.
Using excessive momentum or bouncing at the bottom of the squat.
Not engaging the core and glutes properly.
Neglecting to stretch and cool down after your cable squat workout.
Incorporating Cable Squats into Your Workout Routine
To incorporate cable squats effectively into your workout routine:
Start with 2-3 sets of 8-12 repetitions with a weight that challenges you but allows for proper form.
Gradually increase the weight and/or repetitions over time as you progress.
Include cable squats 1-2 times per week, allowing for adequate rest and recovery between sessions.
Combine cable squats with other lower body exercises for a well-rounded leg and glute workout.
Conclusion
Mastering cable squats can bring significant benefits to your lower body strength and stability training. By incorporating resistance from cable machines, you engage multiple muscle groups and challenge your balance, resulting in increased muscle activation and overall strength gains. Remember to prioritize proper form, progress gradually, and listen to your body's needs. With dedication and consistency, cable squats can become a valuable addition to your workout routine, helping you achieve your fitness goals effectively.