When it comes to making healthier choices, managing chicken taco calories is essential. Explore strategies to enjoy delicious chicken tacos while maintaining a balanced diet. Discover ways to reduce calorie intake without compromising flavor. Make informed decisions for your total health and fitness by understanding the impact of chicken taco calories on your well-being.
Choose Grilled Chicken
Opting for grilled chicken instead of fried chicken can significantly reduce the calorie content of your chicken taco. Grilled chicken is lower in fat and retains more of its natural flavors. By choosing grilled chicken, you can enjoy a tasty taco while keeping the calorie count in check.
Use Whole-Wheat Tortillas
Switching from regular tortillas to whole-wheat tortillas is an excellent way to make your chicken tacos healthier. Whole-wheat tortillas are higher in fiber and have a lower glycemic index, which means they provide a slower release of energy and keep you feeling fuller for longer. Additionally, they offer more nutrients compared to their refined counterparts.
Load Up on Fresh Vegetables
Incorporating a variety of fresh vegetables into your chicken taco can add flavor, texture, and essential nutrients without significantly increasing the calorie content. Consider adding ingredients such as lettuce, tomatoes, onions, bell peppers, and cilantro. These vegetables not only enhance the taste but also provide valuable vitamins and minerals.
Be Mindful of Condiments and Sauces
Condiments and sauces can quickly escalate the calorie count of your chicken taco. While they can enhance the taste, it's important to use them in moderation. Opt for healthier alternatives like salsa, guacamole, or pico de gallo, which are lower in calories compared to creamy dressings or cheese-based sauces.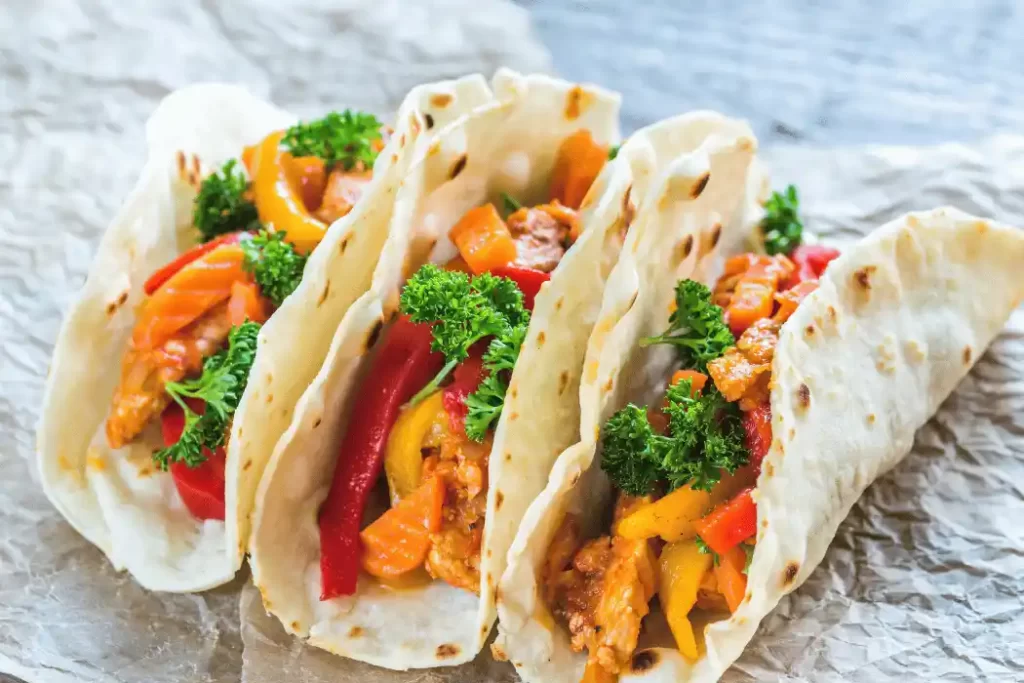 Control Portion Sizes
Portion control plays a crucial role in managing calorie intake. Be mindful of the amount of chicken, tortillas, and fillings you use in your taco. Aim for a balanced combination of proteins, vegetables, and whole-wheat tortillas to create a satisfying yet calorie-conscious meal.
Consider Homemade Options
Preparing your chicken tacos at home gives you full control over the ingredients and cooking methods used. You can choose lean cuts of chicken, incorporate more vegetables, and experiment with healthier cooking techniques such as baking or grilling. Homemade chicken tacos allow you to customize the flavors while ensuring that you're making healthier choices.
Opt for Lighter Side Dishes
When enjoying chicken tacos at a restaurant, consider choosing lighter side dishes to accompany your meal. Instead of opting for high-calorie options like chips and queso, choose a side of black beans or a fresh salad. These alternatives provide additional nutrients and fiber without adding excessive calories.
Balance Your Overall Diet
While managing chicken taco calories is important, it's equally essential to maintain a balanced and varied diet. Incorporate a wide range of nutritious foods, including lean proteins, whole grains, fruits, and vegetables, to ensure that you're meeting your body's requirements. By focusing on overall dietary balance, you can enjoy chicken tacos as part of a healthy eating plan.
Mindful Eating
Practicing mindful eating can help you manage your calorie intake effectively. Slow down and savor each bite of your chicken taco, paying attention to flavors, textures, and sensations. This approach allows you to enjoy your meal fully and can prevent overeating.
Conclusion
In conclusion, managing chicken taco calories doesn't mean you have to sacrifice flavor or enjoyment. By making smarter choices such as opting for grilled chicken, using whole-wheat tortillas, loading up on fresh vegetables, controlling condiments, practicing portion control, and considering homemade options, you can create healthier chicken tacos. Remember to balance your overall diet, choose lighter side dishes, and practice mindful eating. By implementing these strategies, you can indulge in delicious chicken tacos while still maintaining a healthy lifestyle.