Dealing with a crick in the neck can be a real pain, quite literally. Whether it's caused by poor posture, muscle strain, or sudden movements, a crick in neck can disrupt your daily activities and cause discomfort. When it comes to managing a crick in your neck and finding pain relief, it's crucial to prioritize your total health and fitness. In this article, we will explore effective pain relief tips and management strategies to help you find relief and get back to your normal routine.
Understanding Crick in Neck
A crick in the neck refers to a sudden and painful stiffness in the neck, usually accompanied by limited mobility. It is often caused by muscle strain or sprain in the neck area, leading to muscle spasms and inflammation. The discomfort can vary from mild to severe, affecting your ability to move your head and neck freely.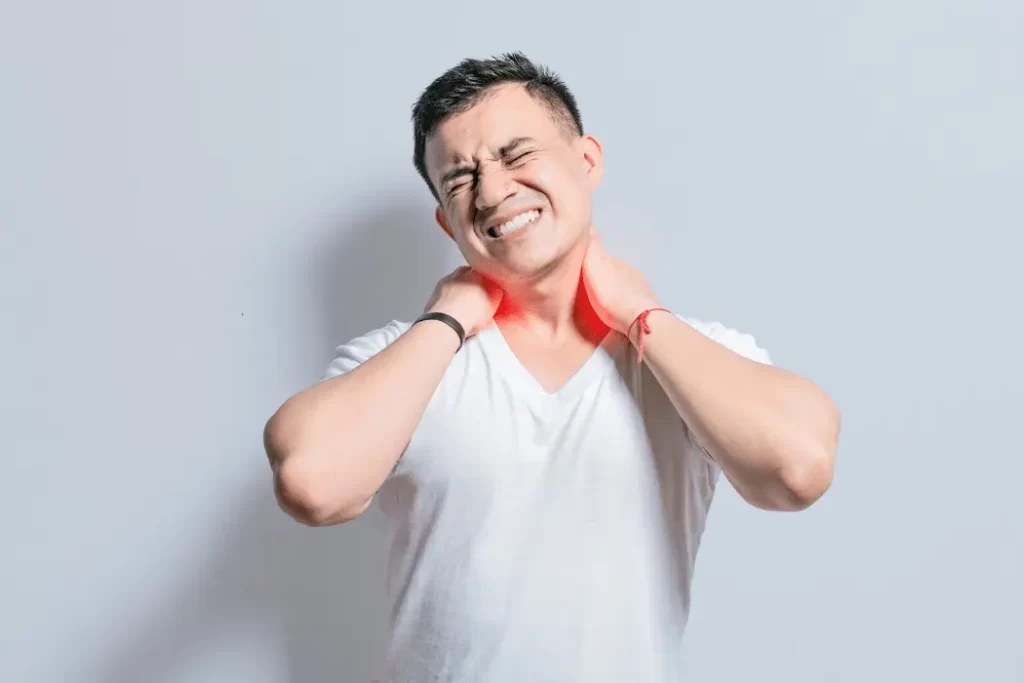 Causes of Crick in Neck
Several factors can contribute to the development of a crick in neck. Poor posture, especially when sitting for long periods with the head tilted forward, can strain the neck muscles. Sudden movements, such as jerking the neck during physical activities or accidents, can also lead to a crick. Sleeping in an awkward position or using improper pillows can strain the neck overnight. Stress and anxiety can also manifest physically and contribute to muscle tension in the neck.
Symptoms and Diagnosis
The symptoms of a crick in neck may include pain, stiffness, and difficulty moving the neck. In some cases, the pain can radiate to the shoulders or arms. A healthcare professional can diagnose a crick in neck by conducting a physical examination and discussing the symptoms and possible causes with the patient. In some instances, imaging tests such as X-rays or MRI scans may be required to rule out other underlying conditions.
Read more about Back Pain When Breathing.
Prevention and Lifestyle Changes
Preventing a crick in the neck starts with maintaining good posture throughout the day. Sit with your back straight and your shoulders relaxed. Use an ergonomic chair and ensure that your computer screen is at eye level. Avoid prolonged periods of sitting or looking down at your mobile devices. Incorporate regular breaks and stretch your neck and shoulders. Invest in a supportive pillow that keeps your neck aligned while sleeping.
Home Remedies for Crick in Neck
When a crick in neck strikes, several home remedies can provide relief. Applying heat or cold packs to the affected area can help reduce inflammation and soothe the muscles. Gentle neck exercises and stretches can improve flexibility and alleviate tension. Over-the-counter pain relievers, such as ibuprofen or acetaminophen, can help manage pain and reduce inflammation. Resting the neck and avoiding activities that exacerbate the pain is crucial for a speedy recovery.
Stretching and Exercise
Engaging in regular stretching and strengthening exercises can not only relieve pain but also prevent future occurrences of a crick in neck. Here are some exercises that can help improve flexibility and strengthen the neck muscles:
1. Neck Rotations: Start by sitting or standing upright with your shoulders relaxed. Slowly turn your head to the right, trying to bring your chin parallel to your shoulder. Hold for a few seconds, then return to the center. Repeat on the left side. Perform 5-10 repetitions on each side.
2. Neck Tilts: Begin in the same position as the neck rotations. Tilt your head sideways, bringing your ear towards your shoulder. Hold the stretch for a few seconds and then return to the starting position. Repeat on the other side. Aim for 5-10 repetitions on each side.
3. Neck Flexion and Extension: Sit or stand with your spine straight and your shoulders relaxed. Gently lower your chin towards your chest, feeling a stretch along the back of your neck. Hold for a few seconds, then slowly lift your head back up and lean it slightly backward, looking up towards the ceiling. Hold for a few seconds and repeat the sequence 5-10 times.
4. Shoulder Rolls: Shoulder rolls can help release tension in the neck and upper back. Stand with your feet shoulder-width apart and let your arms hang by your sides. Roll your shoulders forward in a circular motion, then roll them backward. Repeat this exercise 10 times in each direction.
5. Upper Trapezius Stretch: Sit or stand upright and gently tilt your head to the right, bringing your right ear towards your right shoulder. Place your right hand over your left ear and apply gentle pressure, deepening the stretch. Hold for 15-30 seconds, then repeat on the opposite side. Perform 2-3 stretches on each side.
Remember to perform these exercises in a slow and controlled manner. If you experience any pain or discomfort, stop immediately and consult a healthcare professional. It's important to listen to your body and avoid overstretching or straining the neck muscles.
In addition to these exercises, incorporating regular aerobic exercises like walking, swimming, or cycling can improve overall muscle strength and promote better posture. Stronger muscles provide better support for the neck, reducing the risk of cricks and other neck-related issues.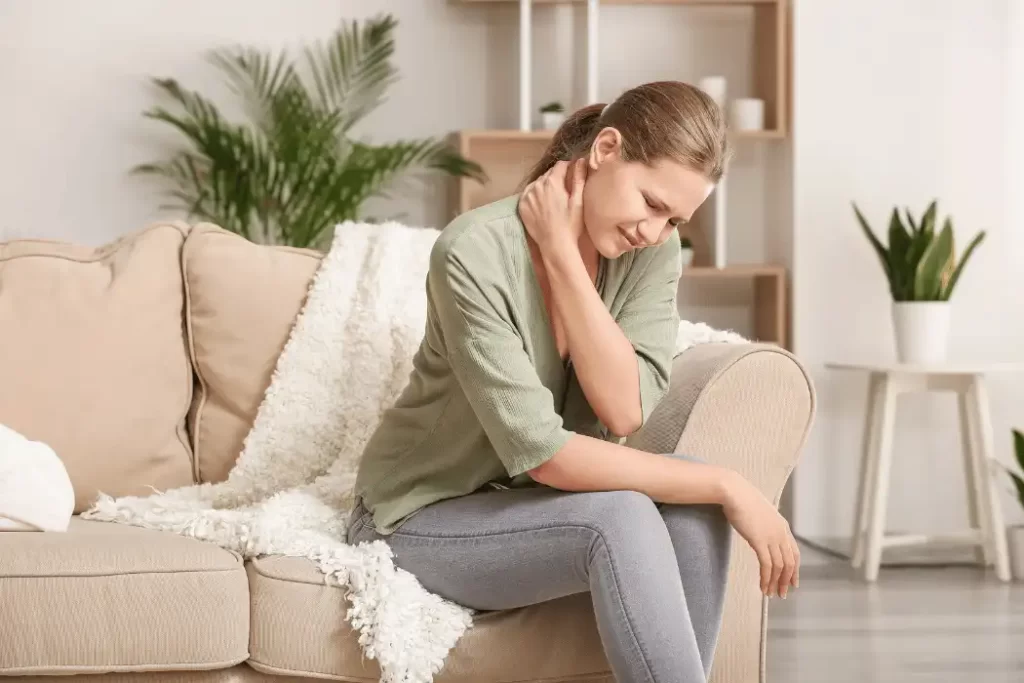 Pain Relief Techniques
Alongside stretching and exercise, various pain relief techniques can help alleviate discomfort associated with a crick in neck. Consider trying the following:
1. Heat Therapy: Applying heat to the affected area can help relax the muscles and relieve pain. You can use a heating pad, a hot water bottle, or take a warm shower to apply heat. Remember to use a towel or cloth as a barrier between the heat source and your skin to prevent burns.
2. Cold Therapy: Cold therapy can help reduce inflammation and numb the area, providing temporary pain relief. Wrap an ice pack or a bag of frozen peas in a thin towel and apply it to the affected area for 15-20 minutes at a time. Repeat this several times a day, ensuring you take breaks between applications.
3. Massage: Gentle massage can help improve blood circulation, relax the muscles, and reduce pain. You can use your fingertips or seek assistance from a professional masseuse. Apply gentle pressure and circular motions to the affected area. If the pain worsens or persists, consult a healthcare professional before continuing with massage therapy.
4. Over-the-Counter Pain Relievers:
Over-the-counter pain medications, such as ibuprofen or acetaminophen, can provide temporary relief from pain and reduce inflammation. Follow the instructions on the packaging and adhere to the recommended dosage. It's essential to consult with a healthcare professional or pharmacist before taking any medication, especially if you have underlying health conditions or are currently taking other medications.
Professional Treatments
If home remedies and self-care techniques do not provide significant relief, or if the crick in your neck persists or worsens, it may be necessary to seek professional treatment. Some options include:
1. Physical Therapy: A physical therapist can assess your condition and develop a customized treatment plan. They may use various techniques such as manual therapy, exercises, and stretches to alleviate pain and improve mobility.
2. Chiropractic Care: Chiropractors specialize in diagnosing and treating musculoskeletal conditions, including neck pain. They use spinal adjustments, manipulations, and other techniques to restore proper alignment and relieve pain.
3. Massage Therapy: Professional massage therapists can target specific areas of tension and provide targeted relief through massage techniques. They can help relax tight muscles, improve blood flow, and reduce pain.
4. Acupuncture: Acupuncture involves the insertion of thin needles into specific points on the body to stimulate healing and relieve pain. It is a traditional Chinese medicine practice that may provide relief for some individuals with cricks in neck.
When to Seek Medical Help
While most cricks in the neck can be managed at home, there are instances when it is necessary to seek medical help. Consult a healthcare professional if:
The pain is severe and persistent, even with home remedies.
The neck pain is accompanied by numbness, tingling, or weakness in the arms or hands.
You experience difficulty swallowing or breathing.
The crick in the neck is a result of a recent injury or accident.
You have a history of neck or spine issues.
A healthcare professional can evaluate your condition, provide a proper diagnosis, and recommend appropriate treatment options.
Tips for Managing Crick in Neck
In addition to the exercises, pain relief techniques, and professional treatments mentioned earlier, here are some additional tips for managing a crick in the neck:
Take regular breaks: If you have a desk job or spend long hours in front of a computer, take breaks every 30 minutes to stretch and change positions.
Improve your posture: Maintain good posture while sitting, standing, and walking. Use ergonomic furniture and ensure that your workspace is set up to support proper posture.
Use supportive pillows: Choose a pillow that supports the natural curve of your neck while sleeping. Avoid sleeping on your stomach, as it can strain your neck.
Practice stress management: Stress and tension can contribute to muscle tightness and pain. Engage in stress-relieving activities such as yoga, meditation, deep breathing exercises, or hobbies that help you relax.
Stay hydrated: Drinking an adequate amount of water helps keep your muscles and joints hydrated, promoting overall health and flexibility.
Avoid sudden movements: Be mindful of your neck movements and try to avoid sudden jerks or twisting motions that may strain your neck muscles.
Conclusion
Managing a crick in neck can be a discomforting experience, but with the right strategies and remedies, pain relief is achievable. By incorporating simple lifestyle changes such as maintaining good posture, practicing regular stretching exercises, and using heat or cold therapy, individuals can effectively alleviate their neck pain. Additionally, taking breaks from repetitive activities, using ergonomic equipment, and seeking professional help when necessary can further contribute to a speedy recovery. It is important to listen to one's body and be proactive in implementing these pain relief tips to prevent the crick in the neck from becoming a chronic issue. Remember, with patience, self-care, and a proactive approach, individuals can effectively manage and overcome the discomfort of a crick in neck, enabling them to lead a more pain-free and enjoyable life.