Practically anyone who has struggled to lose weight knows that starving yourself isn't the way to go. That being said, there is something to intermittent fasting — the method of abstaining from food for extended periods of time. While adjusting to this lifestyle could cause someone to be uncomfortably hungry, there is research that supports how effective it can be for managing weight and even preventing disease when done right.
Incorporating intermittent fasting into your routine can have a significant impact on your total health and fitness, promoting weight management and metabolic well-being. Below, we'll go over what intermittent fasting (IF) may entail as well as the potential benefits and risks of this age-old dietary method.
Types Of Intermittent Fasting
First, it's important to note that there are many ways to embark on this diet, which is more about when to eat and not what to eat. Those who are just getting started are advised to make the change slowly. For instance, instead of jumping in feet first to long periods of fasting, it's easier to try the 12:12 method. Referring to equal windows of twelve hours for fasting and twelve for eating, 12:12 may be the most straightforward change for some. Simply eat healthily between the hours of 8 a.m. and 8 p.m. Then, nothing until the next morning at eight.
When ready to adjust to a more challenging regime, move to 14:10 or 16:8, depending on comfort level. Both of these have longer fasting windows and, therefore, limit food intake based on timing. Another type of IF is OMAD, or "one meal a day." This approach is exactly as it sounds, with one large meal being consumed per day.
Other types of IF revolve around the week, as opposed to each day. The 5:2 method, for example, has someone eating normally for five days of the week and restricting calories severely on the two remaining, nonconsecutive days. With so many options, it makes acclimating to this lifestyle much less demanding than some other diets.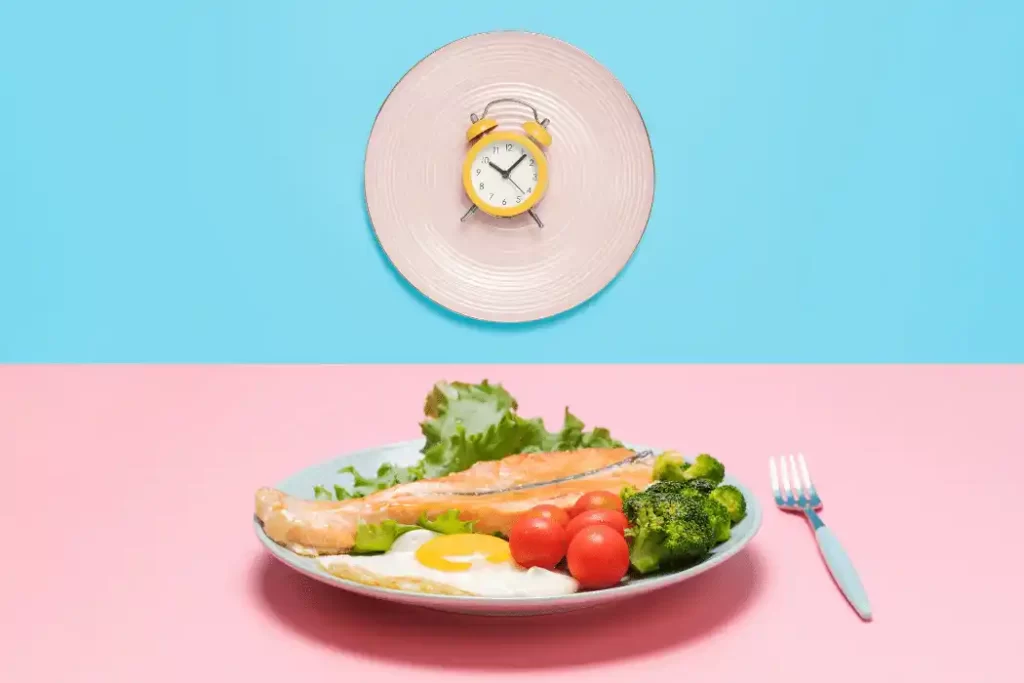 Potential Benefits and Risks
There are many potential benefits to IF. The leading one for many of those who are interested in it is weight loss. As long as the person is eating healthy and exercising, the chances of weight loss during IF are good, with studies showing a 3-7% decrease in weight on average over the course of eight weeks. This could be very constructive for patients considering healthcare-led weight loss techniques, such as a duodenal switch procedure.
Other promising benefits of committing to IF include healthier cholesterol, triglyceride, HDL and LDL levels. As these important measures of health become more consistent with "normal" levels, it may, in turn, help ease risk factors for adverse health conditions, like a heart attack and type 2 diabetes. In other words, IF has the potential to improve blood pressure and other heart-related measurements, leading to enhance wellbeing overall.
Because the nature of IF surrounds timing and not food choices, it's vital to consider what's on the menu carefully. When someone is only eating once a day, that meal needs to have plenty of nutrients. If the plan is pizza or fried foods, the body won't be getting the important vitamins and minerals it needs. Supplements may help, but little works as well as well-balanced, healthy meals.
While certain food choices may lead to side effects and suboptimal results, IF on its own comes with risks. These risks vary based on the health of the individual, lifestyle choices and so on. The primary risks to be aware of include dizziness, fatigue, feeling weak, difficulty concentrating and headaches. Preexisting conditions could worsen these symptoms or even lead to more dangerous ones. IF should be avoided by people who are pregnant, breastfeeding, underweight, diabetic, sick or taking certain medications.
Seek Consultation Before Trying IF
Speaking to a healthcare professional is of the utmost importance when considering if intermittent fasting is right for you. This is especially true if you have any conditions or take medicine. Be sure to schedule a consultation with your doctor to discuss the risks specific to you as well as any other helpful pointers from the experts.
Want to learn more about IF? Check out the accompanying resource from the Center for Weight Loss Surgery for further information.
Author bio: Dr. Myur S. Srikanth is a board-certified bariatric and cosmetic surgeon at the Center for Weight Loss Surgery. He has been performing bariatric surgery exclusively since 2000 and has performed over 4,000 weight loss surgeries. Dr. Srikanth performs nearly every operation that is currently available to treat obesity.