Are you tired of dealing with an atrophic scar? These types of scars can leave you feeling self-conscious and unhappy with the appearance of your skin. Fortunately, proven methods are available to help reduce the appearance of atrophic scars and boost your confidence. Say goodbye to atrophic scars and embrace total health and fitness with these proven methods. This article will explore the various medical and natural treatments that can effectively minimize atrophic scars. Say goodbye to atrophic scars and hello to smoother, more even-toned skin!
Atrophic scars are characterized by depression or indentation in the skin, often resulting from acne, injuries, or surgical procedures. They occur when there is a loss of collagen and elastin, essential proteins for maintaining skin elasticity and structure. Atrophic scars can be emotionally distressing, affecting a person's self-esteem and overall well-being. However, with dermatology and skincare advancements, several reliable methods exist to combat atrophic scar.
Understanding Atrophic Scar
What are Atrophic Scar?
Atrophic scars are scars that appear sunken or depressed compared to the surrounding skin. They are commonly categorized into three types: ice pick scars, rolling scars, and boxcar scars. Ice pick scars are narrow and deep, resembling small puncture marks. Rolling scars are wave-like, while boxcar scars are wider and have defined edges.
Causes of Atrophic Scar
Several factors contribute to the development of atrophic scar. The most common cause is acne, especially severe or cystic acne that damages the deeper layers of the skin. Other causes include injuries, such as cuts or burns, and certain surgical procedures that disrupt the skin's natural healing process.
Read more here about Breast Reduction Scars.
Treating Atrophic Scars
To effectively treat atrophic scars, it is crucial to choose the right approach based on the severity and type of scars. Here are some proven methods for reducing the appearance of atrophic scars:
Topical Treatments
Topical treatments can help improve the texture and appearance of atrophic scars. Ingredients like retinoids, vitamin C, hyaluronic acid, and silicone-based gels or sheets are commonly used to promote collagen production, enhance skin regeneration, and reduce scar visibility.
Medical Procedures
Medical procedures performed by dermatologists or skincare professionals offer more intensive solutions for atrophic scar. These procedures include:
Chemical Peels
Chemical peels involve the application of a chemical solution to exfoliate the outer layer of the skin. This process stimulates collagen production and encourages the growth of new, healthier skin cells, resulting in a smooth and more even skin texture. Chemical peels can be tailored to different depths, targeting specific types of atrophic scar. They are effective for mild to moderate scars and may require multiple sessions for optimal results.
Microneedling
Microneedling, also known as collagen induction therapy, involves using a device with fine needles to create tiny punctures in the skin. These micro-injuries stimulate the skin's natural healing response, triggering collagen and elastin production. As new collagen forms, the depressed areas of atrophic scar gradually fill in, leading to improved skin texture and reduced scar visibility.
Dermal Fillers
Dermal fillers are injectable substances that can plump up and elevate depressed atrophic scar. The fillers, often made of hyaluronic acid, are carefully injected into the scar tissue to raise it to the level of the surrounding skin. This technique provides immediate results and can last several months to a year, depending on the type of filler used.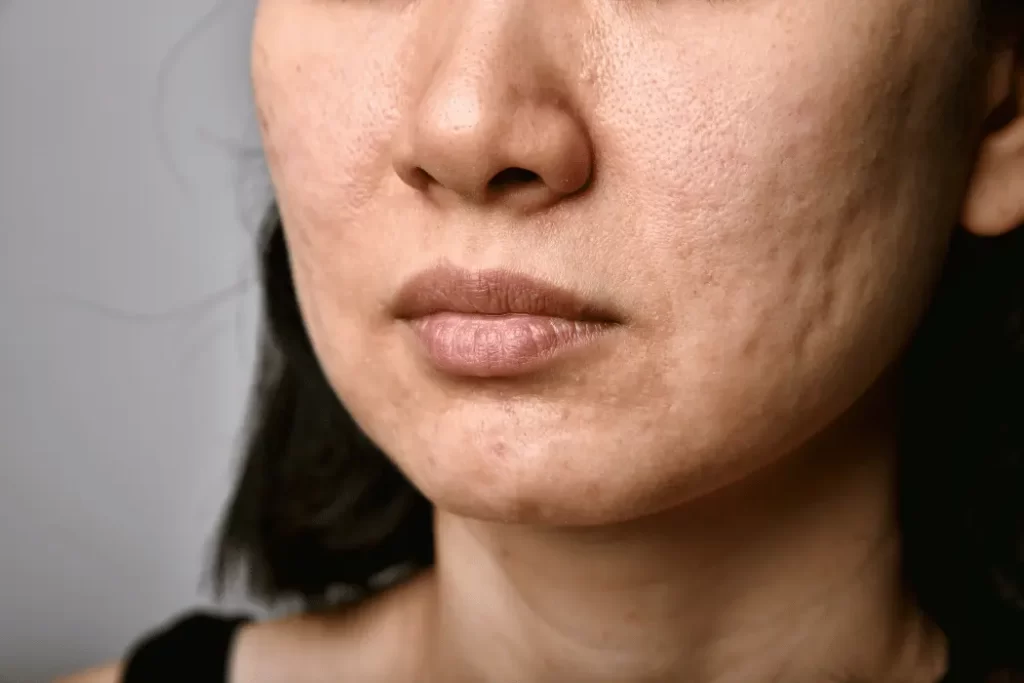 Laser Treatments
Laser treatments have revolutionized scar reduction and skin rejuvenation. They work by delivering focused beams of light energy to the targeted area, stimulating collagen production and resurfacing the skin. For atrophic scar, two common laser treatments are:
Fractional Laser Resurfacing
Fractional laser resurfacing targets the deeper layers of the skin while leaving the surrounding tissues unaffected. This procedure promotes collagen remodeling, resulting in the smoothing of atrophic scars. Fractional laser resurfacing requires multiple sessions, and downtime varies depending on the intensity of the treatment.
CO2 Laser Therapy
CO2 laser therapy is an ablative laser treatment that precisely removes layers of damaged skin, stimulating collagen production and tightening the skin. This procedure effectively reduces the appearance of atrophic scars by resurfacing the skin and improving its texture. CO2 laser therapy may have a longer recovery period compared to other treatments but can provide significant and long-lasting results.
Home Remedies and Lifestyle Tips
In addition to medical interventions, certain home remedies and lifestyle practices can complement scar reduction efforts. Consider incorporating the following tips into your skincare routine:
Exfoliation
Regular exfoliation helps remove dead skin cells and promotes cell turnover, which can improve the texture and appearance of atrophic scar. Gentle exfoliants, such as chemical exfoliators or mild scrubs, can be used to avoid irritating the skin.
Moisturization
Keeping the skin well-hydrated with moisturizers helps maintain its elasticity and promotes healing. Look for moisturizers containing ingredients like hyaluronic acid, shea butter, or ceramides to nourish and hydrate the skin.
Nutrition and Hydration
Maintaining a balanced diet rich in vitamins, minerals, and antioxidants is essential for overall skin health. Foods high in vitamin C, zinc, and omega-3 fatty acids can support collagen production and tissue repair. Additionally, staying hydrated by drinking an adequate amount of water helps keep the skin hydrated and plump.
Protection from the Sun
Sun protection is crucial for scar management. Prolonged sun exposure can worsen the appearance of atrophic scars and cause hyperpigmentation. Apply a broad-spectrum sunscreen with at least SPF 30 and seek shade when the sun is at its strongest.
Conclusion
Atrophic scars no longer have to be a source of frustration and self-consciousness. With a range of proven methods available, including topical treatments, medical procedures, laser therapies, and home remedies, you can effectively reduce the appearance of atrophic scar and restore your confidence in your skin. Consult with a dermatologist or skincare professional to determine the most suitable treatment options for your specific needs.