In today's fast-paced world, stress has become an almost inescapable part of our lives. The demands of modern living, coupled with the constant influx of information, can leave us feeling overwhelmed and mentally fatigued. As the quest for effective stress management continues, alternative approaches are gaining traction. One such method, ear acupuncture, offers a unique and holistic path to relieving stress and achieving relaxation. Discover relaxation points through ear acupuncture, a practice that offers stress relief and contributes to total health and fitness by harmonizing the body's energy flow. This article delves into the realm of ear acupuncture, exploring its origins, mechanisms, and the profound relaxation it can provide.
Unveiling the Basics of Ear Acupuncture
Ear acupuncture, also known as auricular acupuncture, is rooted in traditional Chinese medicine. It revolves around the belief that the ear is a microsystem of the entire body, with specific points on the ear corresponding to various organs, systems, and emotions. By stimulating these points through the insertion of fine needles, practitioners aim to restore balance and alleviate discomfort.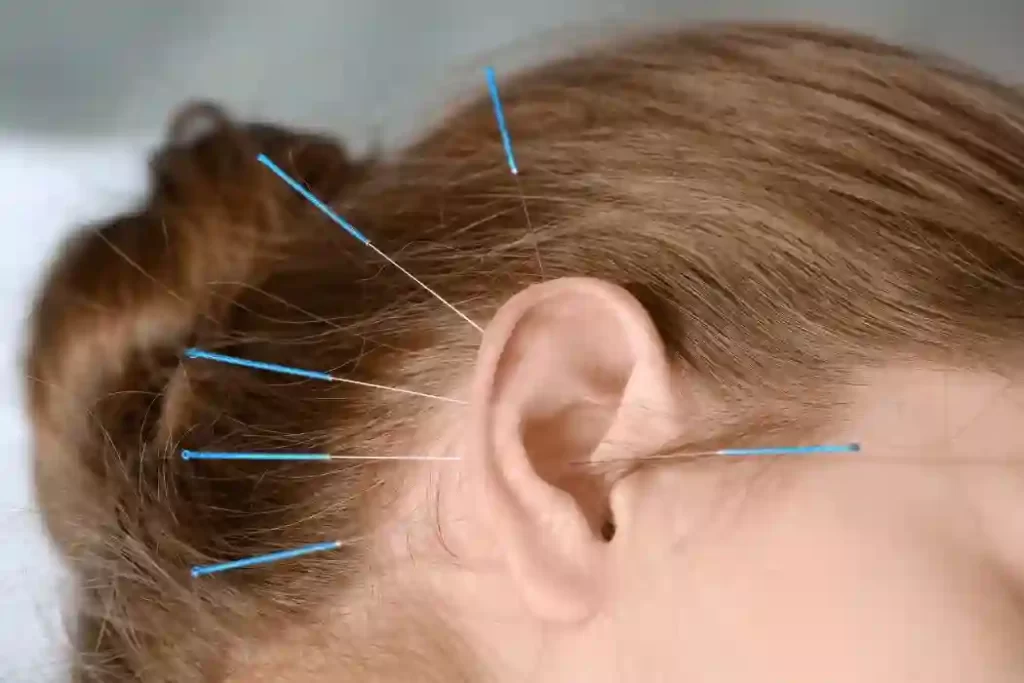 The Science Behind the Serenity
The Brain-Ear Connection
Modern research sheds light on the mechanisms underlying ear acupuncture's effectiveness. The ear is richly supplied with sensory nerves and is intricately connected to the brain through neural pathways. When specific points on the ear are stimulated, signals are transmitted to the brain, triggering the release of endorphins, the body's natural "feel-good" chemicals. These endorphins induce a sense of calmness, reduce pain perception, and promote relaxation.
Regulating Stress Hormones
Stress activates the body's "fight or flight" response, releasing hormones such as cortisol. Chronic stress can lead to elevated cortisol levels, contributing to anxiety, sleep disturbances, and a host of health issues. Ear acupuncture has been shown to regulate cortisol production, helping to restore the body's natural stress response. By doing so, it aids in mitigating the adverse effects of stress on both the body and mind.
The Journey of a Typical Session
Consultation and Assessment
A typical ear acupuncture session begins with a thorough consultation to understand the individual's stressors, concerns, and overall health. The practitioner then assesses the ear, identifying specific points that correspond to the individual's needs.
Needle Insertion and Stimulation
Fine, sterile needles are gently inserted into the identified points on the ear. The sensation is often described as minimal discomfort, and the needles are left in place for a predetermined duration, typically ranging from 15 to 30 minutes. Some sessions may incorporate gentle stimulation or the application of mild heat to enhance the therapeutic effect.
Deep Relaxation and Rejuvenation
As the needles work their magic, many individuals experience a profound sense of relaxation. The release of endorphins and the restoration of balance contribute to a tranquil state of mind. It's not uncommon for individuals to drift into a state of deep relaxation akin to meditation.
A Holistic Approach to Stress Relief
Ear acupuncture offers more than just a momentary escape from stress. Its holistic nature addresses the root causes of stress by harmonizing the body's energy flow. This comprehensive approach not only provides immediate relaxation but also fosters long-term resilience against stressors.
Navigating the Path to Wellness
Customized Treatment Plans
Each individual's stress profile is unique, and as such, treatment plans are tailored to address specific needs. Experienced practitioners consider not only physical symptoms but also emotional triggers when crafting personalized approaches.
Integrating with Lifestyle Changes
While ear acupuncture can provide significant stress relief, its benefits can be amplified when integrated with lifestyle modifications. Incorporating practices such as mindfulness, exercise, and proper nutrition enhances the overall effectiveness of stress management.
The Empowerment of Self-Care
Beyond the acupuncture sessions, individuals can empower themselves by exploring ear massage and acupressure techniques. Gently massaging specific points on the ear can help alleviate tension and induce a sense of relaxation. This self-care aspect of ear acupuncture ensures that individuals can access stress relief whenever needed.
Conclusion
In the pursuit of stress relief, ear acupuncture stands as a beacon of hope. Through its intricate connection to the brain, regulation of stress hormones, and holistic approach to well-being, it offers a multidimensional path to relaxation. By tapping into the body's innate ability to heal and find balance, individuals can cultivate a state of tranquility in the midst of life's challenges. Experience the profound relaxation and holistic benefits of ear acupuncture. Embrace a journey towards stress relief, enhanced well-being, and a harmonious mind-body connection.