As parents and caregivers, we're constantly seeking ways to provide our children with the best opportunities for growth and development. One avenue that has gained significant attention is the use of creative toys to enhance children's cognitive skills. These toys offer more than just entertainment; they play a crucial role in nurturing a child's intellectual abilities in a fun and engaging way. Creative toys play a pivotal role in enhancing children's cognitive skills, contributing to their total health and fitness by promoting problem-solving, critical thinking, and imaginative exploration.
Understanding Cognitive Development in Children
Cognitive development refers to the growth and maturation of a child's intellectual capabilities. It encompasses a wide range of skills, including memory, attention, problem-solving, and language acquisition. Creative toys facilitate cognitive development by encouraging children to engage in activities that require them to think, analyze, and imagine.
The Power of Play in Learning
Play is more than just entertainment for children; it's a fundamental way through which they learn about the world around them. Creative toys offer an avenue for structured play, where children can explore concepts such as cause and effect, spatial relationships, and patterns.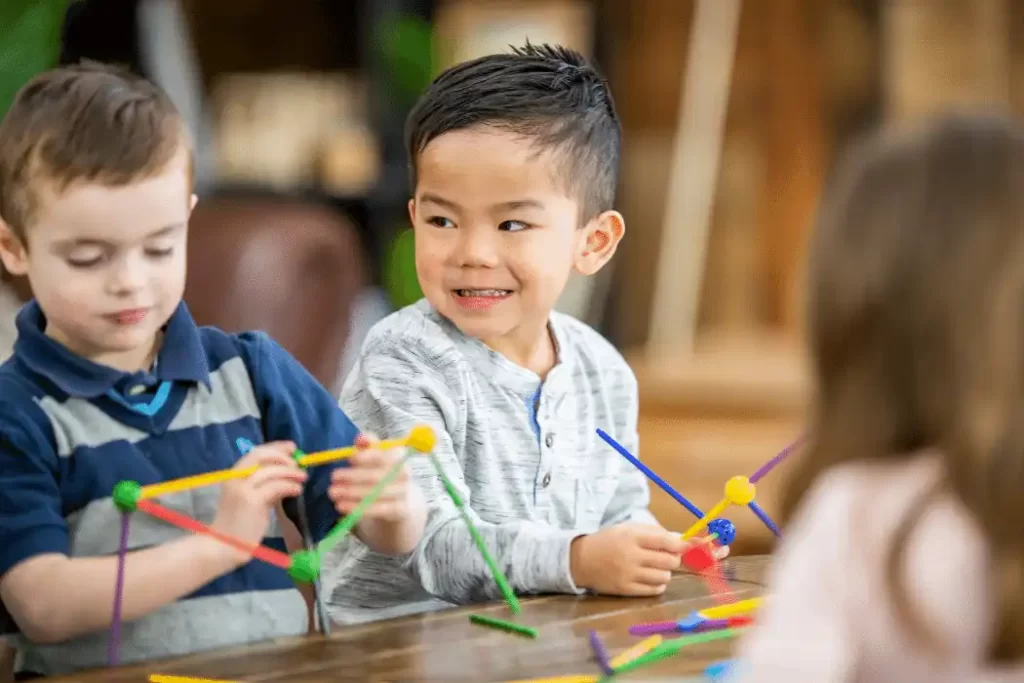 What Are Creative Toys?
Creative toys are items designed to stimulate a child's imagination, enabling them to create, build, and explore. These toys come in various forms, from building sets that allow children to construct intricate structures to art supplies that let them express their creativity on paper.
Benefits of Creative Toys on Cognitive Skills
Enhancing Problem-Solving Skills
Creative toys often present challenges that require children to come up with solutions. Whether it's figuring out how to fit pieces together or finding the right colors for a project, these activities hone problem-solving abilities.
Fostering Creativity and Imagination
By their very nature, creative toys encourage children to think beyond the obvious. Whether it's envisioning a storyline during pretend play or devising unique structures, these toys nurture creativity and imagination.
Developing Fine Motor Skills
Many creative toys involve manipulating small parts, which aids in the development of fine motor skills. This fine-tuned control over hand movements is essential for tasks such as writing and tying shoelaces.
Promoting Critical Thinking
Engaging with creative toys requires children to think critically. They must make decisions, evaluate outcomes, and adjust their approach accordingly, all of which contribute to the development of critical thinking skills.
Types of Creative Toys
Building Blocks and Construction Sets
Building toys like blocks and construction sets allow children to experiment with spatial relationships, balance, and engineering concepts while constructing various structures.
Art Supplies and Craft Kits
Artistic toys provide a canvas for self-expression. Through drawing, painting, and crafting, children develop fine motor skills and learn to communicate visually.
Puzzle Games and Brain Teasers
Puzzles and brain teasers challenge children's logical thinking and problem-solving abilities as they work to fit pieces together or solve intricate challenges.
Role-Playing and Pretend Play
Role-playing toys encourage children to explore different roles and scenarios, enhancing their social understanding and empathy while promoting creativity.
Choosing the Right Creative Toys
Selecting appropriate creative toys involves considering various factors.
Age Appropriateness
Different toys suit different age groups. It's crucial to choose toys that match a child's developmental stage to ensure engagement and safety.
Open-Ended vs. Structured Toys
Both open-ended and structured toys have their merits. Open-ended toys encourage freeform exploration, while structured toys offer specific guidelines, encouraging focused learning.
Interests and Preferences
Understanding a child's interests and preferences can guide the choice of creative toys, ensuring they remain engaged and enthusiastic.
Incorporating Creative Toys into Learning
At Home
Integrating creative toys into home activities enhances learning. Setting aside designated playtime allows children to explore and learn in a relaxed environment.
In Educational Settings
Educational institutions can benefit from incorporating creative toys into their curricula. These toys promote hands-on learning and can make complex concepts more accessible.
Challenges and Overcoming Them
While creative toys offer numerous benefits, challenges like overstimulation or difficulty in sharing may arise. Addressing these challenges through guidance and communication helps children navigate them effectively.
Parental Involvement and Engagement
Parents play a vital role in maximizing the benefits of creative toys. Engaging in play with children not only strengthens the parent-child bond but also offers opportunities for guided learning.
Conclusion
Creative toys hold the power to ignite children's cognitive development in ways that are engaging, effective, and enjoyable. By fostering problem-solving, creativity, and critical thinking, these toys pave the way for well-rounded growth. Introducing the right creative toys at the right age, coupled with active parental involvement, can lay a strong foundation for a child's future success.