The pursuit of body positivity is becoming an increasingly recognized and important part of many people's lives, and fat people are no exception. All bodies deserve respect and acceptance, but fat people often face a lot of stigma and discrimination in day-to-day life. That's why it's important to take steps to ensure a healthier, more positive relationship with our bodies. In this blog post, we'll look at practical ways for fat people to promote a body-positive mindset and create positive changes in their lives. We'll explore topics such as positive self-talk, challenging fatphobia, and body neutrality. By making use of these health tips, fat people can take an active role in creating a more inclusive and accepting society. So let's get started!
1. Identify and challenge fatphobic thoughts
One of the first steps in embracing body positivity is to identify and challenge fatphobic thoughts. Fatphobia is an irrational fear and hatred of fat people, and it can manifest in negative inner dialogue. This can range from telling yourself that you're not good enough to compare yourself to other people to self-criticism. Take a moment to recognize any fatphobic thoughts you may have and then challenge them with facts. Remind yourself of your worth, that you are capable of achieving anything you put your mind to, and that you don't have to conform to anyone's beauty standards.
2. Wear clothing that makes fat people feel comfortable
For fat people, one of the most important things you can do to foster body positivity is to wear clothing that makes you feel comfortable. This means wearing clothes that fit you well, not just what's in fashion. Wearing clothes that fit you well means that you don't have to constantly pull and tug at them or worry about how you look. Instead, you can focus on how you feel and how confident you are in your clothing. Additionally, wearing clothes that make you feel comfortable can also help boost your self-confidence and make you feel better about yourself. So don't be afraid to go up a size, try new styles, and wear whatever makes you feel the best.
Read More: How to Hide Lower Belly Fat in Jeans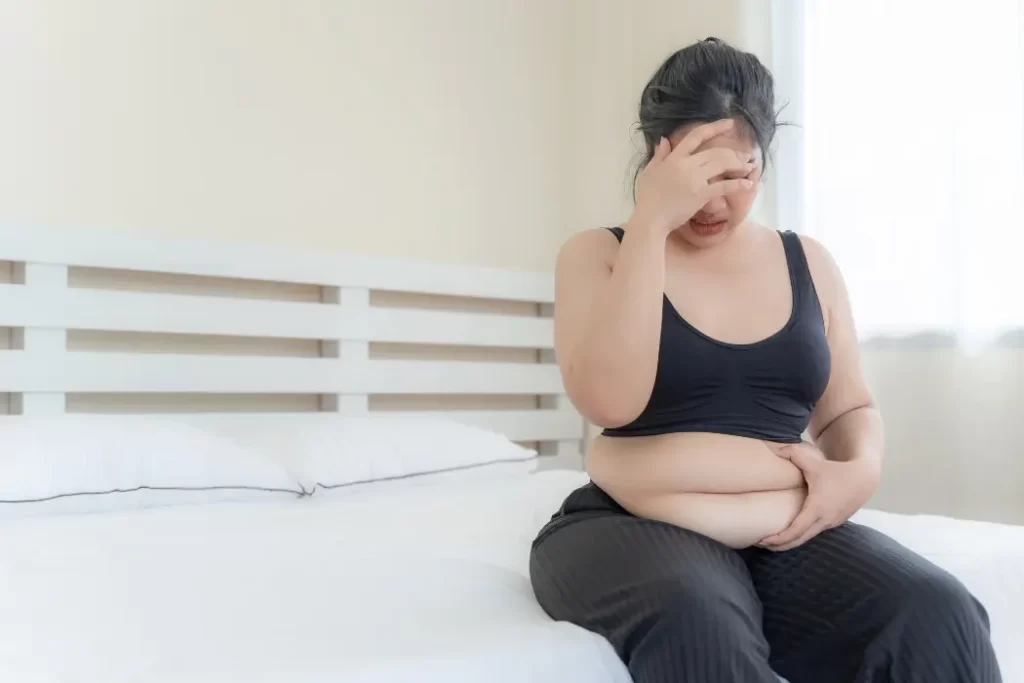 3. Connect with other fat people
Fat people are often isolated from each other due to societal stigma. This can make it hard to build a support system of peers who understand and empathize with the unique challenges of being fat in a world that is often hostile to them. Connecting with other fat people can help reduce feelings of loneliness and alienation and provide a space to celebrate and affirm our bodies. Whether it's online or in person, connecting with others who share our experiences can be empowering. Social media platforms such as Twitter and Instagram are great for finding other fat people to follow and connect with. There are also several online communities dedicated to celebrating and supporting fat people. Don't be afraid to reach out and start a conversation. Connecting with other fat people can be an invaluable source of support and strength.
4. Practice self-care
Body positivity isn't just about accepting and loving yourself—it's about actively taking care of yourself. Practicing self-care is essential for maintaining good mental and physical health, and it can be especially beneficial for people who are feeling overwhelmed by negative thoughts about their bodies. Self-care can be anything from taking a bath, going for a walk, or reading a book—whatever helps you relax and recharge. Additionally, it's important to remember that self-care doesn't always mean treating yourself with something special; it can be as simple as setting aside time in your day to do something that brings you joy and peace.
5. Speak out against fatphobia
We often hear fatphobia expressed in the form of microaggressions or small but still hurtful comments. Speak out against fatphobia whenever you encounter it. Whether it's a friend or family member making a joke, a colleague making an assumption, or a stranger giving you a dirty look, it's important to stand up for yourself and make it known that fatphobia is unacceptable. If you can, explain why their comments are hurtful and encourage them to think more critically about their language. Education is a powerful tool for creating change.
In conclusion, body positivity is essential to living an empowered life. Practicing body positivity is a process; it takes time to unlearn the shame and stigma associated with fatness. With the practical tips outlined in this post, fat people can start to embrace their bodies and find joy in living a life unencumbered by oppressive beauty standards. With body positivity, everyone can find the power to be their most authentic selves.