Digestive problems can be a common issue for many people, causing discomfort and inconvenience in their daily lives. While there are various medications available to alleviate these problems, natural remedies can often provide a gentler and more holistic approach. One such remedy is bay leaf tea, which has been used for centuries to promote digestive health and soothe various gastrointestinal issues.
Bay leaf tea not only serves as a natural remedy for digestive issues but also contributes to total health and fitness. In this article, we will explore the benefits of bay leaf tea, learn how to make it, discuss precautions, and discover other uses of bay leaves.
Digestive problems like indigestion, bloating, and stomach discomfort can be caused by a variety of factors, including poor diet, stress, and underlying health conditions. Many individuals are turning to natural remedies to address these issues, and bay leaf tea has gained popularity due to its potential therapeutic properties.
What is Bay Leaf Tea?
Bay leaf tea is a herbal infusion made from the leaves of the bay laurel tree, scientifically known as Laurus nobilis. These aromatic leaves are commonly used as a culinary spice, but they also possess medicinal qualities. When steeped in hot water, the leaves release their beneficial compounds, creating a flavorful and soothing tea.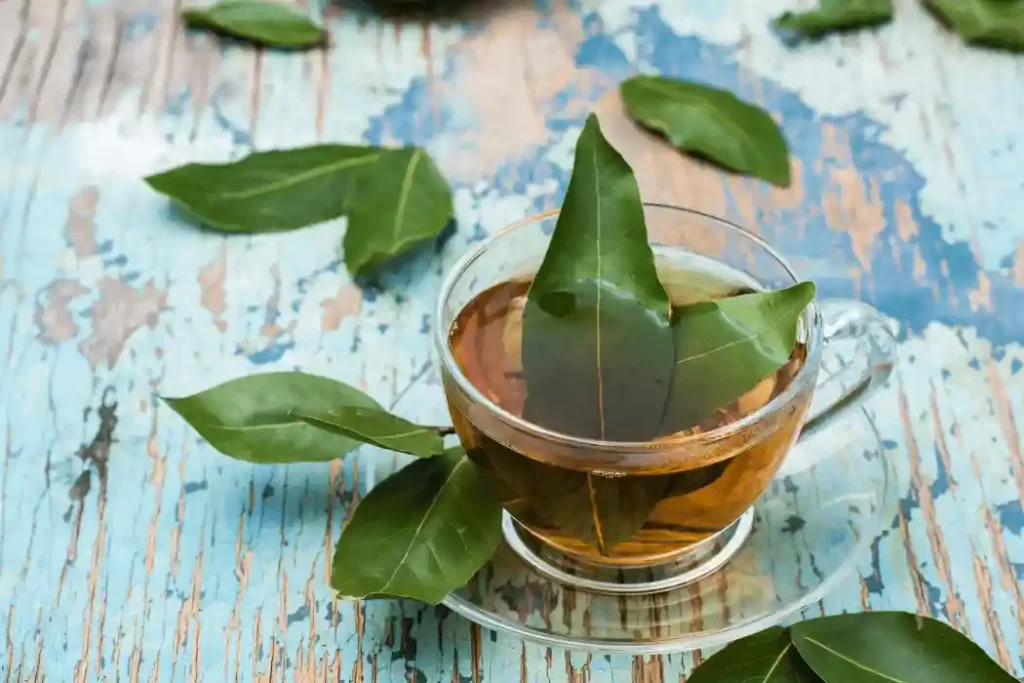 Health Benefits of Bay Leaf Tea
Aid in Digestion
One of the primary reasons bay leaf tea is used for digestive issues is its ability to aid in digestion. The active compounds found in bay leaves, such as cineole and eugenol, have been shown to stimulate the digestive system, promoting the secretion of digestive enzymes and reducing digestive discomfort.
Reduce Gas and Bloating
Bay leaf tea is often consumed to alleviate gas and bloating, which can cause significant discomfort. The natural compounds in bay leaves help relax the intestinal muscles, allowing for the smooth passage of gas and relieving bloating.
Relieve Upset Stomach
If you're experiencing an upset stomach, sipping on a warm cup of bay leaf tea may provide relief. The soothing properties of bay leaves can help calm an irritated stomach lining and reduce nausea and vomiting.
Soothe Irritable Bowel Syndrome (IBS)
Individuals with irritable bowel syndrome (IBS) often struggle with recurring digestive symptoms. Bay leaf tea can be a helpful addition to their management plan, as it has been reported to reduce abdominal pain, cramping, and diarrhea associated with IBS.
Read more about Honeybush Tea.
How to Make Bay Leaf Tea
Making bay leaf tea at home is a simple process. Here's a step-by-step guide:
Ingredients:
2-3 dried bay leaves
2 cups of water
Honey or lemon (optional, for flavor)
Preparation Steps:
Boil the water in a kettle or saucepan.
Add the dried bay leaves to the boiling water.
Reduce the heat and let the leaves simmer for 5-10 minutes.
Remove the pan from the heat and let the tea steep for another 5 minutes.
Strain the tea into a cup or teapot, discarding the bay leaves.
If desired, add honey or a squeeze of lemon for extra flavor.
Enjoy your warm and soothing bay leaf tea.
Tips for Brewing the Perfect Cup of Bay Leaf Tea
To enhance your bay leaf tea experience, here are some useful tips:
Use high-quality dried bay leaves for the best flavor and medicinal benefits.
Crush or crumble the bay leaves slightly before adding them to the water to release more of their aromatic compounds.
Experiment with steeping times to find your preferred strength. Longer steeping times may result in a stronger, more intense flavor.
Consider using filtered water to avoid any impurities that may affect the taste.
Feel free to add other complementary herbs or spices like ginger or cinnamon for added flavor and digestive benefits.
Possible Side Effects of Bay Leaf Tea
While bay leaf tea is generally safe for most individuals, it's essential to be aware of potential side effects. Some people may experience allergic reactions to bay leaves, resulting in symptoms such as skin rashes, itching, or respiratory issues. If you have known allergies to other plants in the Lauraceae family, like cinnamon or camphor, it's best to avoid bay leaf tea or consult with a healthcare professional before consuming it.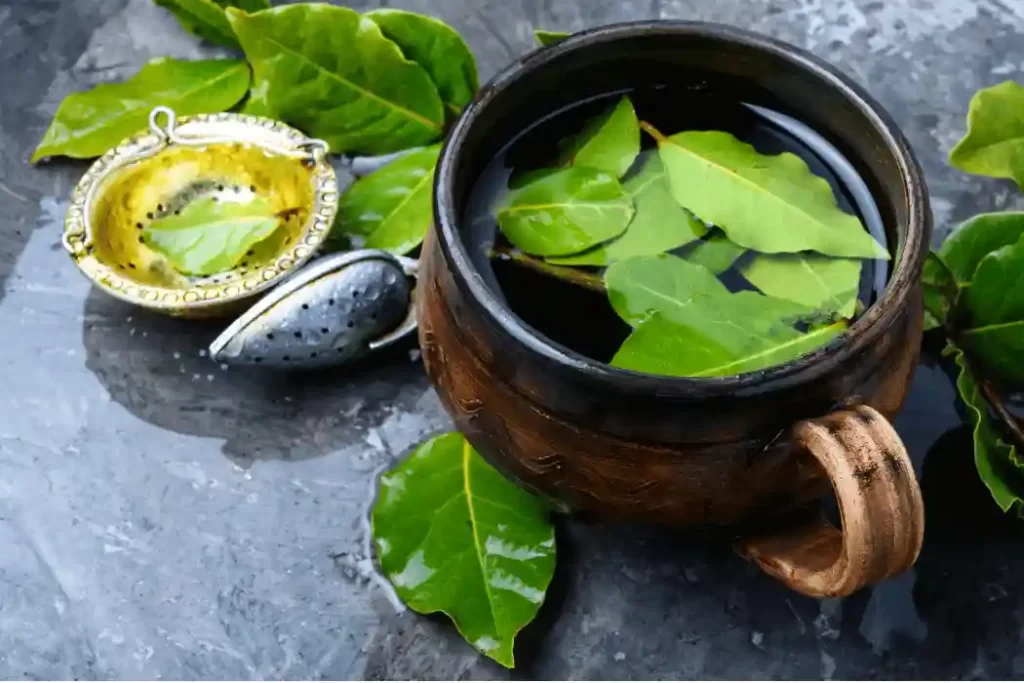 Precautions and Considerations
It's important to exercise caution and consider the following factors when using bay leaf tea:
Allergies and Sensitivities
As mentioned earlier, individuals with known allergies or sensitivities to bay leaves or related plants should exercise caution and avoid consuming bay leaf tea. If you experience any adverse reactions after consuming bay leaf tea, discontinue its use and seek medical advice.
Pregnancy and Breastfeeding
Pregnant and breastfeeding women should consult with their healthcare providers before incorporating bay leaf tea into their routines. Limited research is available on the safety of bay leaf tea during these periods, so it's best to err on the side of caution.
Other Uses of Bay Leaves
Bay leaves have been used in traditional medicine for various purposes beyond digestive health. Some of their potential benefits include:
Respiratory support: Bay leaf steam inhalation may help ease congestion and respiratory discomfort.
Anti-inflammatory effects: The compounds found in bay leaves exhibit anti-inflammatory properties that may benefit conditions like arthritis.
Blood sugar management: Some studies suggest that bay leaf extract may help regulate blood sugar levels, but further research is needed.
Conclusion
Bay leaf tea offers a natural and soothing remedy for digestive issues. With its rich aroma and potential health benefits, it can be a comforting addition to your wellness routine. Remember to prepare it using high-quality bay leaves, follow the recommended steeping guidelines, and consider any precautions or potential side effects. Embrace the gentle power of bay leaf tea and support your digestive health naturally.