Are you looking for a delicious and healthy herbal beverage to add to your daily routine? Look no further than honeybush tea! This South African herbal tea has been enjoyed for centuries for its unique flavor and numerous health benefits. From aiding digestion to boosting the immune system, honeybush tea has something to offer for everyone. Drinking Honeybush Tea regularly can be a great addition to your total health and fitness routine, as it not only tastes delicious but is also a nutritious herbal beverage that can help boost your immune system and provide various other health benefits. In this article, we will explore the many benefits of honeybush tea and why it should be a staple in your pantry.
What is Honeybush Tea?
Honeybush tea is an herbal tea that is made from the leaves and stems of the Cyclopia plant. It is a caffeine-free alternative to black or green tea and has a unique sweet, honey-like taste. The tea is naturally sweet, which makes it an ideal beverage for those who want to cut down on their sugar intake.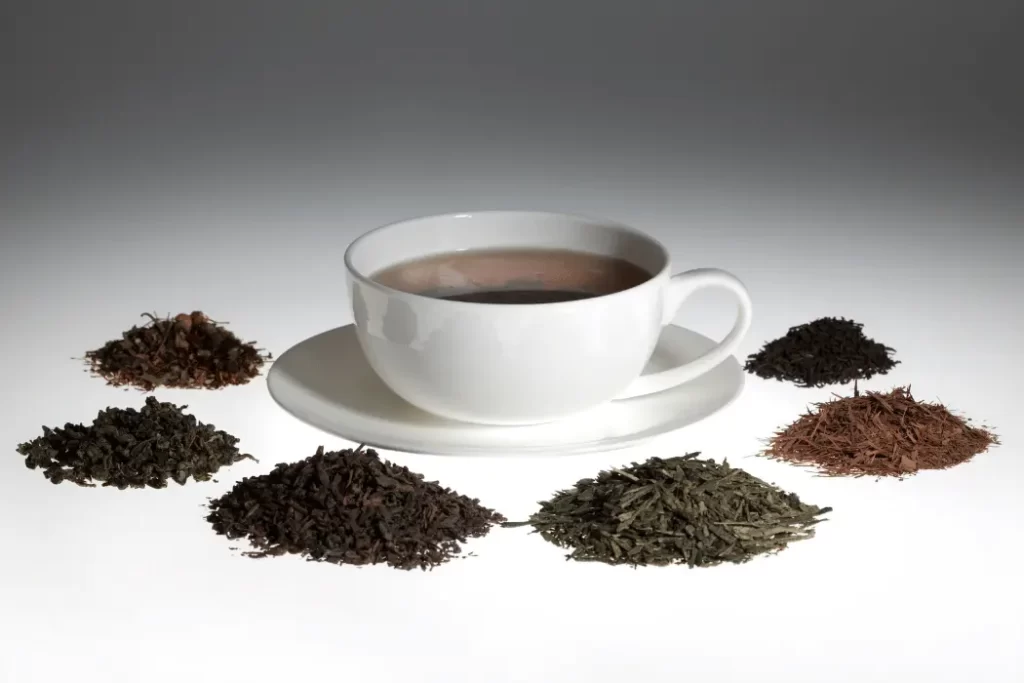 History of Honeybush Tea
Honeybush tea has been a popular beverage in South Africa for centuries, where it is often consumed as an alternative to black tea. The indigenous Khoi and San people of South Africa have been using the plant for medicinal purposes for centuries. In the early 20th century, honeybush tea became popular in Europe, and today it is widely enjoyed all over the world.
How is Honeybush Tea Made?
Honeybush tea is made from the leaves and stems of the Cyclopia plant. The plant is harvested, and the leaves and stems are chopped and bruised to release their natural oils. The leaves and stems are then left to ferment for a few days, which gives the tea its unique sweet taste. After fermentation, the tea is dried, packed, and ready to be brewed.
Read more about Does Jasmine Tea have Caffeine?
Nutritional Value of Honeybush Tea
Honeybush tea is rich in antioxidants, minerals, and vitamins, making it a nutritious beverage. It is also caffeine-free, making it an ideal beverage for those who are sensitive to caffeine. The nutritional value of honeybush tea includes:
Vitamin C
Potassium
Calcium
Magnesium
Zinc
Iron
Manganese
Health Benefits of Honeybush Tea
Honeybush tea has numerous health benefits due to its high nutritional value and natural compounds. Some of the most notable health benefits of honeybush tea are:
Anti-Inflammatory Properties
Honeybush tea contains polyphenols, which have anti-inflammatory properties. These compounds can help reduce inflammation in the body, which can help manage chronic inflammatory diseases such as arthritis and asthma.
Digestive Benefits
Honeybush tea contains compounds that can help improve digestion and relieve digestive issues such as bloating and constipation. The tea can also help soothe stomach ulcers and reduce inflammation in the gut.
Immune System Boost
Honeybush tea is rich in antioxidants, which can help boost the immune system. The tea can help protect the body against infections and diseases, making it an ideal beverage for those who want to stay healthy.
Lowers Blood Sugar Levels
Studies have shown that honeybush tea can help lower blood sugar levels, making it a potentially beneficial beverage for people with diabetes. The tea may help improve insulin sensitivity and reduce the risk of complications associated with high blood sugar levels.
Promotes Relaxation and Reduces Stress
Honeybush tea contains compounds that can help promote relaxation and reduce stress. The tea can help calm the mind and body, making it an ideal beverage to enjoy before bedtime or during times of high stress.
Hydrates the Body
Honeybush tea is a natural source of hydration, making it a great alternative to sugary beverages. Drinking honeybush tea can help keep the body hydrated and support overall health.
How to Prepare Honeybush Tea
Preparing honeybush tea is simple. Here's how to do it:
Boil water and let it cool for a minute or two.
Add a honeybush tea bag to your cup or teapot.
Pour the hot water over the tea bag.
Let the tea steep for 5-7 minutes.
Remove the tea bag and enjoy your delicious cup of honeybush tea.
Conclusion
Honeybush tea is a delicious and nutritious herbal beverage that offers a wide range of health benefits. Whether you are looking to improve your digestion, boost your immune system, or simply enjoy a tasty and refreshing drink, honeybush tea is an excellent choice. With its unique flavor and natural compounds, honeybush tea is sure to become a favorite in your daily routine. So why not try it out today and experience all the amazing benefits that honeybush tea has to offer?