In the quest for better health and wellness, many are turning to natural remedies and superfoods to boost their immunity and overall vitality. One such elixir that has gained popularity in recent years is refreshing turmeric lemonade for Health. This vibrant drink not only quenches your thirst but also offers a multitude of health benefits.
In this article, we will explore the wonders of refreshing turmeric lemonade for Health, covering everything from its preparation to its numerous health advantages. Let's dive into the golden world of this delightful concoction.
The Power of Turmeric
Turmeric, often referred to as the "golden spice," has been used for centuries in traditional medicine for its incredible healing properties. Curcumin, the active compound in turmeric, is a potent antioxidant and anti-inflammatory agent. Incorporating turmeric into your diet can help reduce inflammation, boost your immune system, and alleviate various health issues.
The Zingy Freshness of Lemon
Lemons, on the other hand, are packed with vitamin C, a crucial nutrient for a robust immune system. They also provide a refreshing tartness that balances the earthy flavor of turmeric, making it a perfect combination for a revitalizing drink.
Crafting Your Refreshing Turmeric Lemonade
To create this invigorating elixir, you will need the following ingredients:
1 tablespoon of fresh turmeric root (grated) or turmeric powder
1 tablespoon of fresh lemon juice
1 tablespoon of honey or maple syrup (for sweetness)
A pinch of black pepper (to enhance turmeric absorption)
1 cup of water
Ice cubes (optional)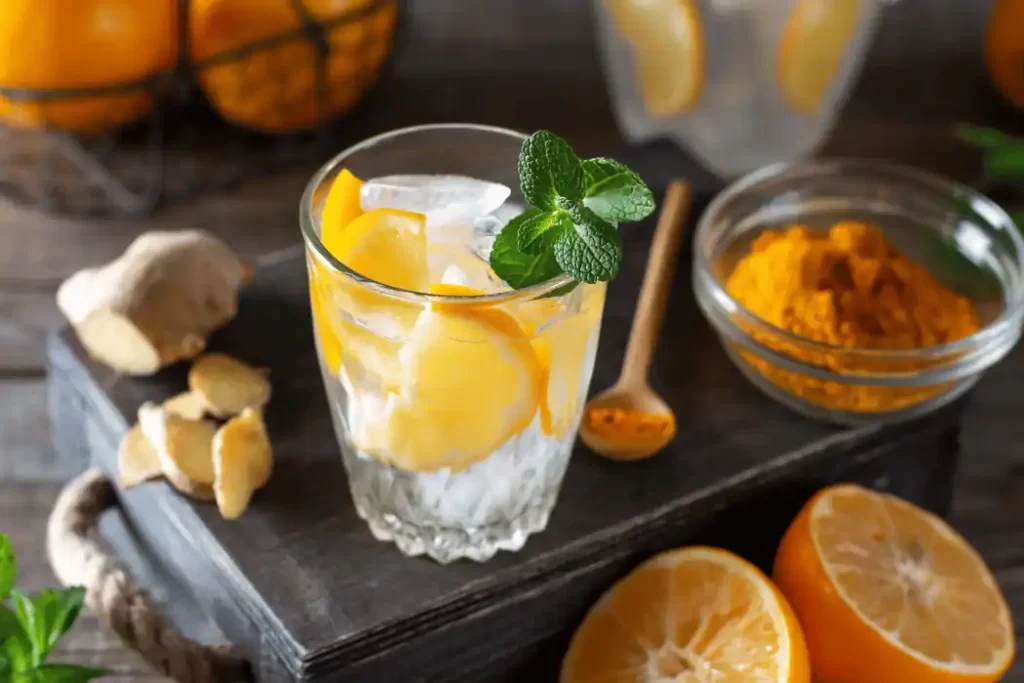 Directions:
Boil the water and let it cool for a few minutes.
In a glass, combine the grated turmeric or turmeric powder, lemon juice, honey or maple syrup, and a pinch of black pepper.
Pour the slightly cooled water over the mixture and stir well.
Add ice cubes if desired.
Enjoy your turmeric lemonade for Health!
Health Benefits of Turmeric Lemonade
1. Boosts Immunity
The vitamin C from lemons combined with the anti-inflammatory properties of turmeric can strengthen your immune system, helping your body ward off illnesses.
2. Reduces Inflammation
Curcumin in turmeric is renowned for its ability to reduce inflammation, making it beneficial for conditions like arthritis and inflammatory bowel disease.
3. Supports Digestion
This drink can aid in digestion and alleviate digestive discomfort, thanks to the soothing properties of both turmeric and lemon.
4. Detoxifies the Body
Lemonade is known for its detoxifying properties, while turmeric enhances the liver's ability to remove toxins from the body.
5. Promotes Skin Health
The antioxidants in this elixir can promote healthy, glowing skin by combating free radicals and reducing skin inflammation.
6. Aids Weight Management
The combination of turmeric and lemon may support weight loss efforts by boosting metabolism and reducing appetite.
Conclusion
Refreshing turmeric lemonade for Health is more than just a delicious beverage; it's a natural elixir with numerous health benefits. By incorporating this golden drink into your daily routine, you can boost your immunity, reduce inflammation, support digestion, and promote overall wellness. With its simple preparation and delightful taste, there's no reason not to enjoy the benefits of this golden elixir.
So, why not take a sip of health and vitality today with Refreshing Turmeric Lemonade for Health?