Pole dancing, once associated primarily with exotic entertainment, has evolved into a popular form of fitness and self-expression. Beyond the alluring moves and spins, pole dancing offers a multitude of physical and mental benefits that contribute to a transformed body and mind. Pole dancing fosters a remarkable body-mind transformation, enhancing total health and fitness by harmoniously integrating physical prowess with mental well-being. This article delves into how pole dancing can positively impact your physical well-being and enhance your mental state.
Redefining Pole Dancing
In recent years, pole dancing has experienced a significant shift in perception. It has transitioned from being seen solely as a seductive art form to a powerful fitness activity that challenges the body and mind. Many individuals, from all walks of life, have embraced pole dancing for its ability to provide a comprehensive workout and improve overall self-confidence.
Physical Transformations Through Pole Dancing
1. Full-Body Workout
Pole dancing engages various muscle groups, resulting in a comprehensive full-body workout. The combination of strength, flexibility, and cardiovascular elements leads to increased endurance, muscle toning, and improved physical fitness.
2. Muscle Strength and Definition
Pole dancing requires the use of your body weight as resistance, leading to enhanced muscle strength and definition. Core muscles, upper body, and lower body muscles are all engaged during different pole moves, resulting in a balanced physique.
3. Improved Flexibility
The dynamic movements and stretches in pole dancing contribute to improved flexibility. Regular practice gradually increases flexibility in muscles and joints, reducing the risk of injuries and enhancing overall mobility.
4. Cardiovascular Health
Pole dancing routines often involve continuous movement and transitions, which elevate the heart rate and improve cardiovascular health. This aspect of pole dancing helps to burn calories, improve circulation, and boost stamina.
5. Enhanced Coordination and Balance
Executing pole dancing moves requires precise coordination and balance. As individuals learn and master various spins, climbs, and poses, their overall sense of coordination and balance improves, leading to better body awareness.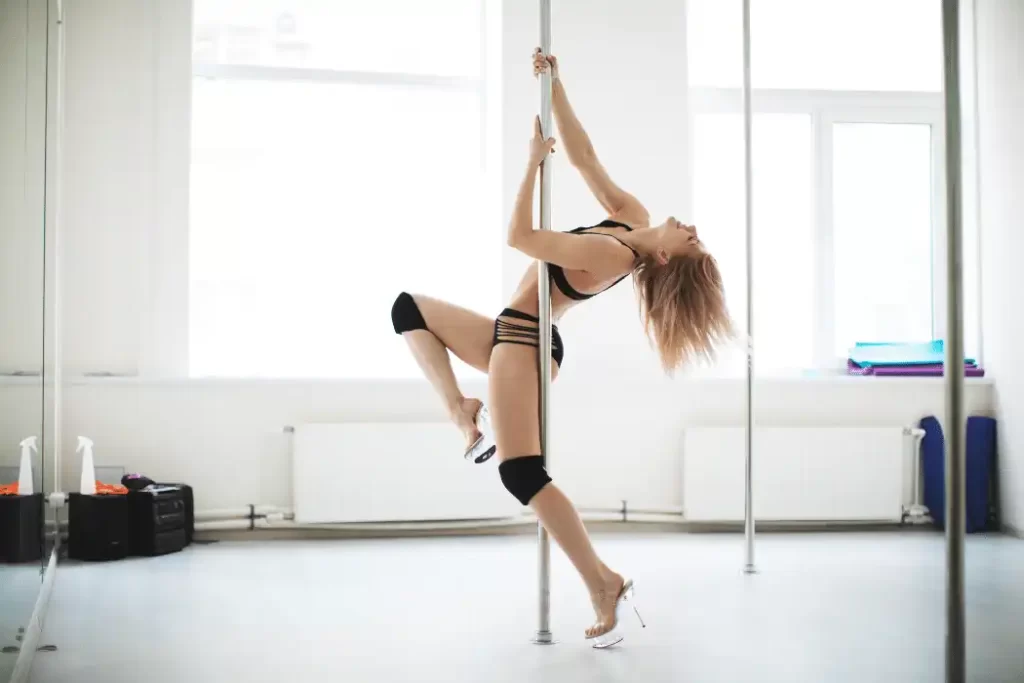 The Mental Benefits of Pole Dancing
1. Boosted Confidence
Pole dancing empowers individuals by encouraging them to step out of their comfort zones and try new, sometimes challenging, moves. As they successfully execute these moves, their confidence soars, both in the studio and in everyday life.
2. Body Positivity and Self-Image
Engaging in pole dancing encourages a positive relationship with one's body. As individuals witness the physical transformations and accomplishments, they often develop a more accepting and appreciative view of their bodies.
3. Stress Relief and Empowerment
The rhythmic and expressive nature of pole dancing provides an outlet for stress and tension. Engaging in the dance releases endorphins, which can alleviate stress and promote feelings of empowerment and well-being.
4. Creative Expression
Pole dancing is a form of artistic expression that allows individuals to explore their creativity. Choreographing routines, trying new moves, and improvising spins foster a sense of liberation and creativity.
5. Mind-Body Connection
Pole dancing requires focus and mindfulness to execute moves accurately. Practicing this dance form nurtures the mind-body connection, promoting mental clarity and presence.
Overcoming Stereotypes
It's important to address the stereotypes that still surround pole dancing. While the fitness and empowerment aspects of pole dancing have gained recognition, there are instances where the activity is misunderstood or wrongly categorized. However, the growing community of pole dancers is actively working to challenge these misconceptions and promote the positive aspects of the practice.
A Journey of Transformation
Pole dancing offers a journey of transformation that extends beyond the physical realm. It encourages individuals to challenge themselves, celebrate their achievements, and embrace their uniqueness. As more people recognize the holistic benefits of pole dancing, the stigma associated with it continues to diminish.
Conclusion
Pole dancing is a powerful activity that transforms not only the body but also the mind. It reshapes perceptions, builds strength, boosts confidence, and fosters self-expression. As individuals engage in this dynamic art form, they embark on a transformative journey that enriches their lives both physically and mentally. Whether you're drawn to the captivating spins or the confidence-building elements, pole dancing has the potential to revolutionize your body and mind in ways you never imagined.