Are you considering saying goodbye to that old tattoo that no longer resonates with you? Thanks to the rapid advancements in technology, laser tattoo removal has become a highly effective and sought-after solution for individuals looking to erase their inked past. Exploring the advanced technology of laser tattoo removal not only offers a solution for revising one's appearance but also aligns with the broader pursuit of total health and fitness. In this article, we'll delve into the fascinating world of laser tattoo removal, exploring the process, benefits, potential side effects, and what to expect during and after the procedure.
How Does Laser Tattoo Removal Work?
Understanding Tattoo Ink Absorption
Laser tattoo removal operates on the principle of selective photothermolysis, which means using laser energy to target and break down specific tattoo pigments without damaging surrounding skin. Tattoo inks come in a variety of colors and consist of different elements that absorb various wavelengths of light. This allows laser devices to be tuned to specific wavelengths, effectively fragmenting the ink particles.
The Power of Laser Pulses
During a laser tattoo removal session, a focused beam of high-intensity light is directed onto the tattooed area. This light energy penetrates the skin's surface and gets absorbed by the tattoo ink. The rapid energy pulses cause the ink particles to heat up and shatter into tiny fragments.
Targeting Different Colors
Different tattoo colors require different wavelengths for effective removal. For instance, red and green inks might require lasers with specific frequencies to break down properly. Advanced laser systems offer various settings, making it possible to treat multi-colored tattoos without causing harm to the skin.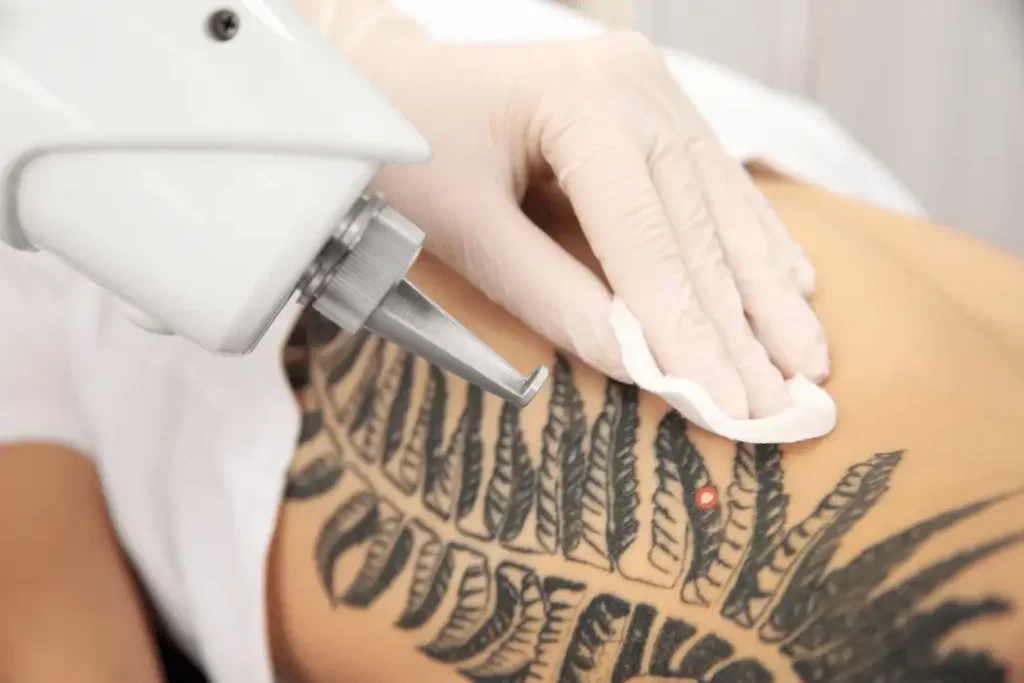 The Procedure Step by Step
Consultation and Patch Test
Before the actual removal sessions, a consultation with a trained professional is essential. They will assess the tattoo, skin type, and medical history to determine the most suitable treatment plan. A patch test may be conducted to assess the skin's reaction to the laser and to establish the appropriate energy levels.
The Removal Session
During the removal session, protective eyewear is provided to shield the eyes from the laser light. The laser device is then used to target the tattooed area, delivering precise energy pulses. The sensation varies from person to person and can be likened to the snap of a rubber band against the skin.
Post-Treatment Care
After the session, an ice pack and a topical antibiotic ointment may be applied to soothe the treated area. It's essential to follow post-treatment care instructions diligently, which may include avoiding sun exposure, keeping the area clean, and applying recommended creams.
Benefits of Laser Tattoo Removal
Precision and Customization
Laser technology offers a high level of precision, allowing professionals to target specific areas and colors without affecting the surrounding skin. This is particularly beneficial for intricate tattoos or those with multiple colors.
Minimized Risk of Scarring
Compared to other tattoo removal methods, such as surgical excision, laser removal carries a significantly lower risk of scarring. The focused energy targets only the ink particles, leaving the surrounding tissue unharmed.
Non-Invasive Nature
Laser tattoo removal is a non-invasive procedure that doesn't require incisions or sutures. This reduces the chances of infection and promotes faster healing.
Considering Pain and Discomfort
Comparing Sensations to Getting a Tattoo
The sensation during a removal session is often compared to the discomfort experienced during the tattooing process. While some discomfort is expected, the procedure is generally tolerable. Many clinics offer numbing options to minimize discomfort.
Topical Anesthetics and Cooling
To further alleviate discomfort, topical anesthetics or cooling techniques might be employed. These methods help to numb the skin and minimize any sensations during the laser application.
Factors Influencing the Number of Sessions
Tattoo Size, Color, and Age
The number of sessions required for complete tattoo removal depends on various factors, including the size of the tattoo, the colors used, and the tattoo's age. Older tattoos often require fewer sessions as the ink particles have started to break down over time.
Skin Tone and Health
Skin tone can influence the efficacy of the treatment. Individuals with lighter skin tones typically respond better to laser tattoo removal. Moreover, maintaining good overall health can expedite the healing process.
Professional vs. Amateur Tattoos
Tattoos applied by professionals tend to have more consistent ink distribution, making them easier to remove. Amateur tattoos might require more sessions due to uneven ink placement.
Potential Side Effects
Temporary Skin Changes
After a removal session, it's common for the treated area to experience temporary redness, swelling, and mild discomfort. These effects usually subside within a few days.
Rare Risk of Infection or Allergic Reaction
While rare, infections or allergic reactions can occur post-treatment. It's crucial to adhere to aftercare instructions and contact a medical professional if unusual symptoms arise.
Hypopigmentation and Hyperpigmentation
In some cases, the skin might experience changes in pigmentation, leading to either lighter (hypopigmentation) or darker (hyperpigmentation) patches. These changes are usually temporary but can be of concern.
Post-Treatment Care and Recovery
Treating the Treated Area
Proper aftercare is pivotal for effective healing. Keeping the treated area clean and moisturized, as well as avoiding picking at scabs, can help prevent complications.
Protecting from Sun Exposure
UV rays can hinder the healing process and potentially lead to pigment changes. It's essential to protect the treated area from direct sunlight by applying sunscreen or covering it.
Staying Hydrated and Eating Well
Staying hydrated and consuming a balanced diet can aid the body's natural healing processes and contribute to better skin recovery.
The Evolution of Laser Technology
Q-Switched Lasers
The early days of laser tattoo removal saw the use of Q-switched lasers, which emitted high-energy pulses in nanoseconds. These lasers were effective but often required numerous sessions for complete removal.
Picosecond Lasers
Picosecond lasers are more advanced, emitting even shorter pulses (in picoseconds). This technology targets ink particles with greater precision, resulting in faster and more efficient removal.
Nanosecond Lasers
Nanosecond lasers are commonly used for tattoos that require specific wavelengths. They offer excellent control over the energy delivered, minimizing the risk of damaging surrounding tissue.
Conclusion
Delving into the advanced technology of laser tattoo removal reveals a remarkable journey of innovation and precision. With the power of laser pulses and the science of selective photothermolysis, this modern technique offers individuals a second chance to bid farewell to tattoos that no longer align with their lives. The benefits, including minimized scarring risk, precision targeting, and non-invasiveness, make laser removal an appealing choice for those seeking a fresh canvas.
FAQ
What does laser tattoo removal feel like?
Laser removal can be uncomfortable, with sensations similar to rubber bands snapping against the skin. However, numbing options are available.
How long does a typical removal session take?
The duration varies depending on the size and complexity of the tattoo. Sessions can range from a few minutes to around half an hour.
Can all tattoo colors be removed?
While most colors can be treated, some may require more sessions than others. White and flesh-colored tattoos are often challenging to remove.
Are there tattoos that are harder to remove?
Tattoos with vibrant colors, such as green and blue, can be more challenging to remove due to their absorption characteristics.
Is complete tattoo removal guaranteed?
While significant fading is achievable, complete removal can't be guaranteed for all tattoos. Factors like ink density and skin response play a role.