Weightlifting has numerous benefits, including building strength, toning muscles, and improving overall fitness. However, one common concern among weightlifters is the appearance of stretch marks. These indented streaks on the skin can be unsightly and may affect one's confidence. But fear not, as we delve into the causes, prevention strategies, and treatment options for stretch marks from lifting weights. Discover how to maintain total health and fitness while addressing stretch marks from lifting weights with our comprehensive guide on the causes, prevention, and treatment options available.
Understanding Stretch Marks
Stretch marks, also known as striae, are long, narrow streaks that develop on the skin when it undergoes rapid stretching or shrinking. They commonly occur during periods of growth, such as puberty or pregnancy, but can also manifest due to rapid weight gain or loss. Stretch marks are a form of scarring that affects the middle layer of the skin (dermis) and can appear in various colors, ranging from red to purple or silver.
Causes of Stretch Marks from Lifting Weights
Weightlifting can cause stretch marks due to the rapid expansion of muscle mass. When you engage in strength training, your muscles grow and increase in size. This growth puts pressure on the surrounding skin, leading to the development of stretch marks. Factors such as the intensity and frequency of your workouts, genetics, and skin type can also contribute to the likelihood of stretch marks occurring.
Preventing Stretch Marks
While it may not be possible to completely prevent stretch marks, following these tips can help minimize their occurrence:
Gradual Progression
Avoid rapid and excessive increases in weightlifting intensity. Gradually progress your workouts to allow your skin to adapt to the changes. This approach gives your body time to produce collagen and elastin, proteins that enhance skin elasticity and reduce the likelihood of stretch marks.
Proper Hydration
Drink an adequate amount of water each day to keep your skin hydrated. Staying hydrated promotes skin elasticity and helps maintain its natural suppleness. Aim for at least eight glasses of water per day and increase your intake during intense workout sessions.
Balanced Nutrition
Maintain a well-rounded diet that includes essential nutrients for skin health. Consume foods rich in vitamins A, C, and E, as well as zinc and protein. These nutrients support collagen production and promote healthy skin. Incorporate fruits, vegetables, lean proteins, and whole grains into your meals.
Skincare Routine
Adopt a regular skincare routine that focuses on moisturizing and nourishing your skin. Apply a hydrating lotion or cream after each workout to keep your skin moisturized and enhance its elasticity. Look for products that contain ingredients such as cocoa butter, shea butter, or hyaluronic acid.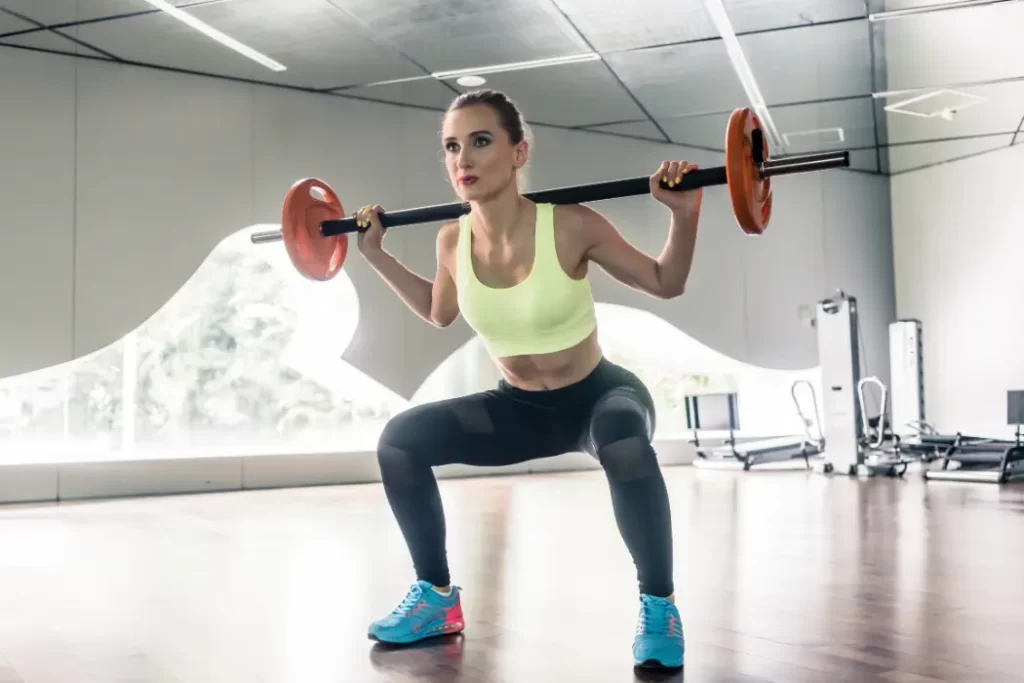 Treating Stretch Marks
If stretch marks have already formed, various treatment options can help reduce their visibility:
Topical Creams and Lotions
Many over-the-counter creams and lotions are available that claim to fade stretch marks. Look for products containing ingredients like retinol, hyaluronic acid, or vitamin E. These ingredients can improve skin texture and promote collagen production, reducing the appearance of stretch marks over time.
Laser Therapy
Laser treatments can target stretch marks and stimulate collagen production. This non-invasive procedure helps to diminish the appearance of stretch marks and improve skin texture. Several sessions may be required for optimal results.
Microdermabrasion
Microdermabrasion involves gently exfoliating the top layer of the skin to stimulate collagen production and reduce the visibility of stretch marks. This procedure is typically performed by a dermatologist and may require multiple sessions.
Chemical Peels
Chemical peels involve applying a chemical solution to the skin, which exfoliates the top layer. This process encourages the growth of new skin cells and can help fade stretch marks. Chemical peels should only be performed by a qualified professional.
Surgical Options
In severe cases, surgical procedures like abdominoplasty or laser surgery may be considered to remove stretch marks. These options are typically recommended when other treatments have failed, and the stretch marks significantly affect a person's self-esteem.
Lifestyle Tips for Healthy Skin
In addition to the prevention and treatment methods mentioned above, adopting a few lifestyle habits can support overall skin health:
Protect your skin from the sun by using sunscreen with a high SPF.
Avoid smoking and excessive alcohol consumption, as they can impair collagen production and affect skin health.
Engage in regular exercise to improve blood circulation and promote healthy skin.
Manage stress levels through activities like meditation, yoga, or engaging in hobbies you enjoy.
Conclusion
Stretch marks from lifting weights can be a common concern for fitness enthusiasts. By understanding their causes, implementing preventive measures, and exploring treatment options, you can manage and minimize their impact on your skin's appearance. Remember to gradually progress in your weightlifting routine, maintain proper hydration and nutrition, and adopt a skincare routine that keeps your skin moisturized and nourished. In cases where stretch marks have already formed, various treatments like topical creams, laser therapy, and microdermabrasion can help reduce their visibility. With consistent care and healthy lifestyle choices, you can embrace your fitness journey with confidence and achieve a harmonious balance between a strong physique and healthy skin.
FAQs About Stretch Marks from Lifting Weights
Q1: Can men get stretch marks from weightlifting?
Answer: Yes, men can develop stretch marks from weightlifting due to rapid muscle growth and skin stretching.
Q2: Are stretch marks permanent?
Answer: Stretch marks may fade over time but are unlikely to disappear completely. Treatments can help reduce their visibility.
Q3: How long does it take for stretch marks to fade?
Answer: The time it takes for stretch marks to fade varies for each individual. It can range from several months to years.
Q4: Can stretch marks be prevented during pregnancy?
Answer: While it may not be possible to prevent all stretch marks during pregnancy, following preventive measures like gradual weight gain and moisturizing the skin can help minimize their occurrence.
Q5: Are there any natural remedies for treating stretch marks?
Answer: While natural remedies may not completely eliminate stretch marks, certain ingredients like aloe vera, coconut oil, and almond oil may help improve skin texture and hydration.