In today's fast-paced world, balancing the demands of motherhood with maintaining personal fitness can be quite a challenge. As a Stay Fit Mom, you understand the importance of managing your health while managing a hectic schedule. This blog is your go-to resource for effective home workouts tailored specifically for busy moms like you. We'll provide you with practical exercises, time-saving tips, and motivation to help you stay fit and healthy amidst the chaos of motherhood. Get ready to embrace a healthier lifestyle and set a positive example for your children. Busy moms can prioritize their total health and fitness with effective home workouts. Discover tailored exercises to achieve your fitness goals! Let's embark on this fitness journey together as Stay Fit Moms!
The Importance of Regular Exercise
Regular exercise is essential for maintaining a healthy lifestyle, and as a busy mom, finding time for physical activity is crucial. Exercise helps you stay fit and manage your weight, boosts energy levels, improves mood, and reduces stress. By incorporating a variety of home workouts into your routine, you can reap these benefits without compromising your busy schedule.
Quick and Efficient Cardiovascular Workouts
High-Intensity Interval Training (HIIT):
HIIT workouts are a fantastic option for busy moms as they provide maximum results in a short amount of time. These workouts involve alternating between high-intensity exercises and short periods of rest. For example, you could perform a circuit of exercises such as jumping jacks, burpees, and mountain climbers, each for 30 seconds, followed by a 15-second rest period. Repeat the circuit for a total of 10-15 minutes.
Tabata Training:
Tabata workouts are another excellent option for time-efficient cardio. This workout structure involves performing an exercise at maximum intensity for 20 seconds, followed by a 10-second rest. Repeat this cycle for four minutes, alternating between squats, lunges, or jumping rope exercises. You can choose four to five exercises and perform a complete Tabata circuit.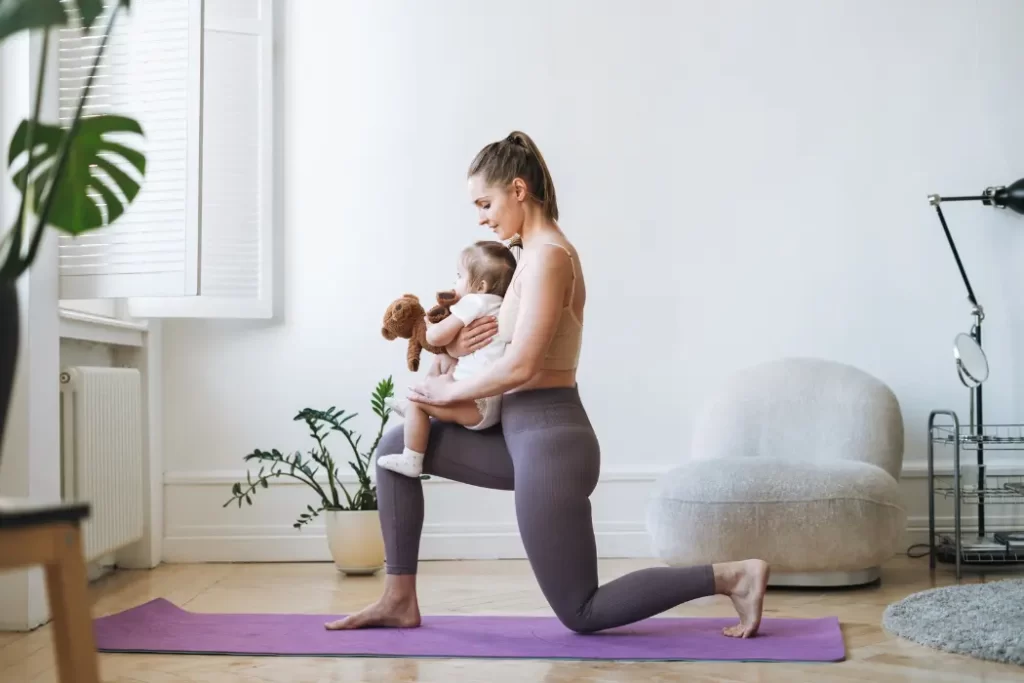 Strength Training for Busy Moms
Bodyweight Exercises:
Utilizing your body weight for strength training exercises is both convenient and effective. Squats, lunges, push-ups, and planks are just a few exercises that engage multiple muscle groups and can be done in the comfort of your home. Aim for two to three sets of 10-15 repetitions for each exercise, gradually increasing the intensity as you progress.
Resistance Bands:
Resistance bands are versatile and compact tools that allow for various resistance exercises. With a set of bands, you can target your arms, legs, and core muscles effectively. Include exercises such as bicep curls, lateral raises, squats with resistance, and seated rows. Perform two to three sets of 12-15 repetitions for each exercise.
Flexibility and Mind-Body Workouts
Yoga and Pilates: Incorporating yoga or Pilates into your routine can provide numerous benefits for busy moms. These practices focus on improving flexibility, core strength, and overall body awareness. You can follow along with online classes or use mobile apps that offer guided sessions. Aim for at least 20-30 minutes of practice thrice a week.
Stretching:
Carve out a few minutes daily to perform stretching exercises targeting your major muscle groups. Stretching helps improve flexibility, prevent injuries, and relieve muscle tension. Focus on stretches for your hamstrings, quadriceps, calves, shoulders, and neck. Hold each stretch for 20-30 seconds and repeat two to three times.
Creating a Realistic Workout Routine
Creating a realistic routine that suits your lifestyle is essential to make the most of your home workouts as a busy mom. Here are a few tips to help you stay consistent:
Prioritize Exercise: Dedicate specific time slots for your workouts, treating them as non-negotiable appointments with yourself. Whether it's early mornings, during nap times, or after the kids go to bed, find a time that works best for you and stick to it.
Start Small: Don't overwhelm yourself with excessive workouts if you're just beginning your fitness journey. Start with shorter sessions and gradually increase the duration and intensity as you build strength and endurance.
Involve Your Kids: Engaging your children in your workouts allows you to spend quality time together and sets a positive example of an active lifestyle. Consider activities such as family walks, bike rides, or dance parties to make exercise fun for everyone.
Stay Consistent: Consistency is key when it comes to seeing results. Aim for at least 10 minutes of physical activity, even on busy days. Remember, every little bit counts!
Conclusion
"Stay Fit Mom: Effective Home Workouts for Busy Moms" has been a valuable resource for moms who are determined to prioritize their fitness goals despite their busy schedules. As Stay Fit Moms, you have discovered the power of incorporating home workouts into your routine, allowing you to maintain a healthy and active lifestyle. By dedicating time to your well-being, you have improved your physical and mental health and become role models for your children. Remember, the journey of a Stay Fit Mom is ongoing, and there will be ups and downs along the way. Stay committed, stay motivated, and continue embracing the challenges and triumphs of motherhood while staying fit. Stay Fit Moms, you've got this!