In the realm of oral health, orthodontists assume a multifaceted role that goes beyond crafting beautiful smiles. Their expertise significantly impacts the intricate balance of jaw health and overall function. Beyond the aesthetics of straight teeth, orthodontists are essential guardians of total health and fitness. The alignment of the jaw and teeth isn't merely a cosmetic concern; it's a pivotal aspect of overall well-being. Correct jaw alignment ensures proper chewing, effective digestion, clear speech and minimizes the risk of issues like temporomandibular joint disorders. By guiding the growth and positioning of teeth and jaws, orthodontists contribute to the harmonious interplay between oral health and the body's broader physiological systems. This blog delves into orthodontists' comprehensive role in maintaining optimal jaw health, improving function, and consequently, enhancing the overall quality of life.
The Interplay of Teeth and Jaw
Understanding Dental Occlusion
Dental occlusion refers to how the upper and lower teeth come together when the mouth is closed. A misaligned bite, known as malocclusion, can result in issues such as uneven wear on teeth, jaw pain, and even headaches. Orthodontists specialize in diagnosing and treating malocclusion, ensuring that teeth fit together harmoniously and promoting optimal jaw function.
Impact on Chewing and Speech
A properly aligned jaw plays a pivotal role in chewing and speech. Malocclusion can disrupt the efficient grinding of food, leading to improper digestion and potentially contributing to gastrointestinal issues. Additionally, jaw misalignment can affect speech patterns, leading to articulation challenges. Orthodontic interventions address these concerns, allowing individuals to enjoy comfortable chewing and clear speech.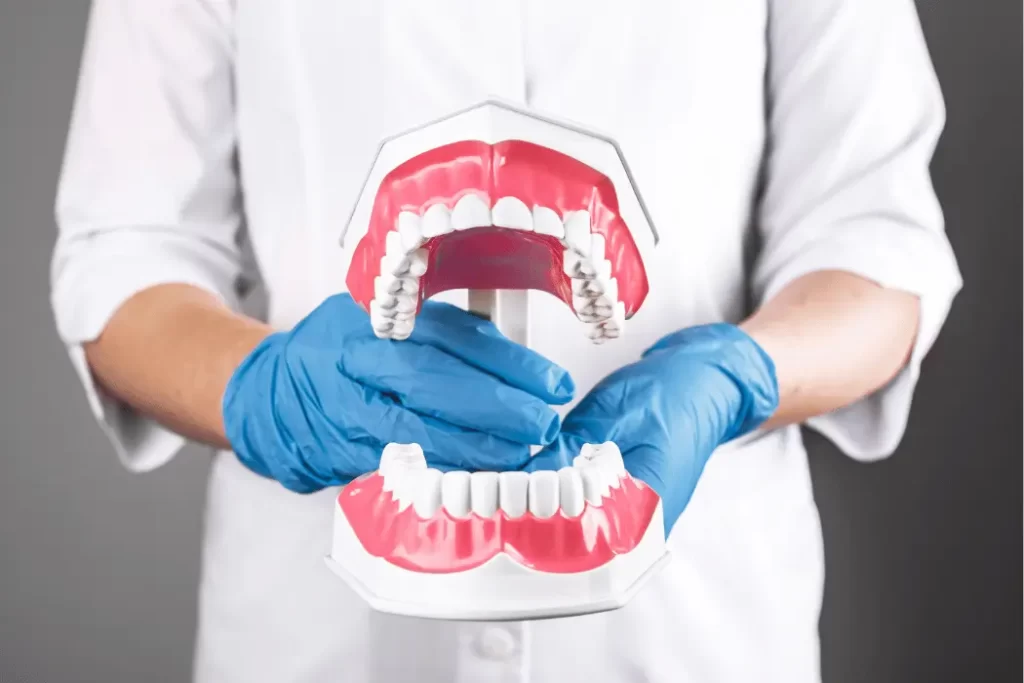 Orthodontic Solutions for Jaw Health
Braces: Beyond Aesthetics
Braces, often associated with straightening teeth, also contribute significantly to jaw health. By aligning teeth properly, braces help distribute the forces of biting and chewing evenly across the jaw. This minimizes strain on the temporomandibular joint (TMJ) – the joint connecting the jawbone to the skull – and reduces the risk of TMJ disorders.
Bite Correction and Functional Appliances
Orthodontists utilize various techniques, including functional appliances, to correct bite issues. Functional appliances address problems like overbites, underbites, and crossbites by gently guiding the jaw into a more optimal position. These interventions not only enhance facial aesthetics but also promote long-term jaw health.
Collaborative Care for Comprehensive Results
Coordinating with Dental Specialists
Orthodontists often collaborate with other dental specialists to ensure comprehensive care. For instance, a periodontist may address gum issues before orthodontic treatment, while an oral surgeon may be consulted for complex cases requiring surgical interventions. This collaborative approach addresses the diverse needs of patients, enhancing overall oral health outcomes.
Preserving Jaw Health for a Lifetime
Orthodontic care doesn't end with the removal of braces. Orthodontists play a crucial role in ensuring that the alignment achieved remains stable over time. Retainers are commonly prescribed to maintain the corrected position of teeth and prevent relapse, safeguarding the long-term health and function of the jaw.
Beyond Aesthetics: Prioritizing Functionality
A Holistic Approach
The impact of orthodontic care on jaw health goes beyond aesthetics. A properly aligned jaw supports proper oral hygiene, comfortable eating, and effective speech. It contributes to the overall well-being of an individual by minimizing discomfort and reducing the risk of dental complications.
Addressing Developmental Issues
Orthodontists are trained to identify developmental issues in children and adolescents that may affect jaw growth and alignment. Early intervention can guide proper jaw development and prevent more severe issues in adulthood, emphasizing the preventive aspect of orthodontic care.
Conclusion
The intricate relationship between the teeth and the jaw underscores the vital role orthodontists play in optimizing oral health. Beyond their impact on appearance, orthodontic interventions have far-reaching implications for jaw functionality and overall well-being. By addressing bite issues, promoting alignment, and collaborating with dental specialists, orthodontists empower individuals to enjoy a life characterized by comfort, confidence, and oral health. Experience the comprehensive benefits of orthodontic care and its profound impact on jaw health. Partner with orthodontists to unlock a journey of functional well-being and a confident, healthy smile.