Oxygen, the life-sustaining gas that we breathe, is essential for our body's proper functioning. For some individuals, however, respiratory conditions can hinder the body's ability to efficiently extract oxygen from the air. This is where oxygen concentrator play a crucial role. Understanding oxygen concentrator and maintaining respiratory health contributes to overall total health and fitness. In this article, we delve into the world of oxygen concentrator, their benefits, and their significance in maintaining optimal respiratory health.
The Role of Oxygen in the Body
Oxygen is vital for our body's energy production. When we breathe, our lungs extract oxygen from the air, which is then transported through the bloodstream to every cell in the body. Cells use oxygen to convert nutrients into energy through a process called cellular respiration. Without an adequate oxygen supply, our body's organs and tissues cannot function optimally.
Respiratory Conditions and Oxygen Deficiency
Certain respiratory conditions, such as chronic obstructive pulmonary disease (COPD), asthma, and pneumonia, can compromise the lungs' ability to absorb sufficient oxygen. This results in decreased oxygen levels in the blood, leading to symptoms like shortness of breath, fatigue, and reduced physical activity tolerance. Oxygen therapy becomes necessary in such cases to ensure the body receives the oxygen it requires.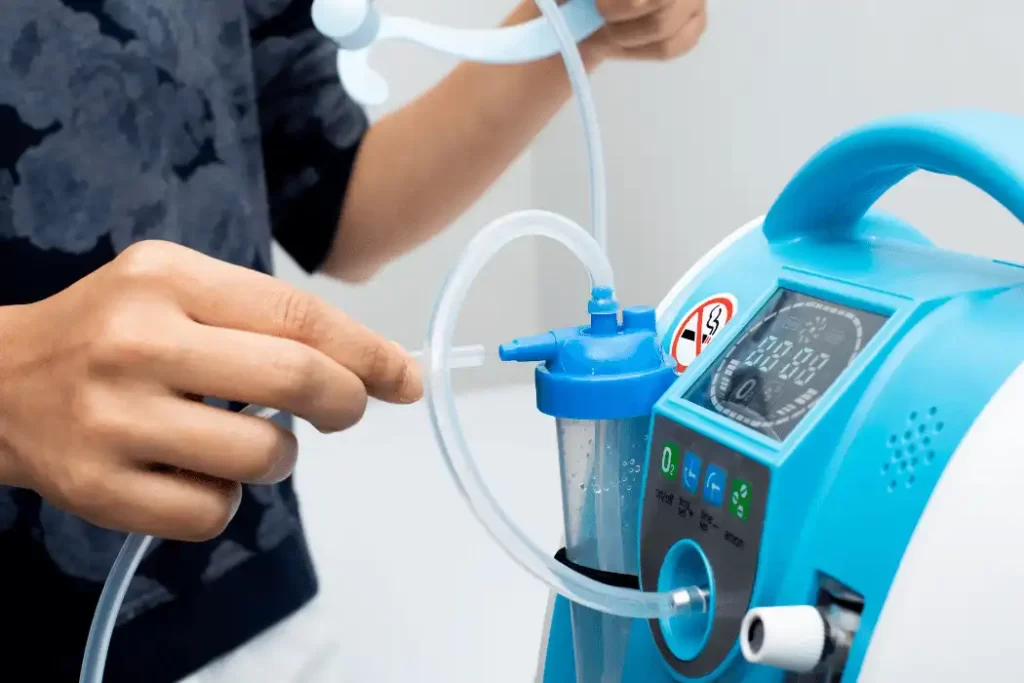 Introducing Oxygen Concentrator
An oxygen concentrator is a medical device designed to deliver concentrated oxygen to individuals with respiratory issues. Unlike oxygen cylinders, which store oxygen in compressed form, concentrators extract oxygen from the surrounding air, making them a convenient and sustainable solution for long-term oxygen therapy.
How Oxygen Concentrator Work
Oxygen concentrator utilize advanced technology to extract and concentrate oxygen from the air. Here's a simplified breakdown of the process:
Air Intake: The device draws in room air through a series of filters to remove impurities and particles.
Compression: The filtered air is then compressed to increase its pressure.
Sieving Process: The compressed air is passed through a molecular sieve bed containing zeolite, a substance that selectively absorbs nitrogen, leaving behind concentrated oxygen.
Delivery: The concentrated oxygen is delivered to the user through a nasal cannula or mask, ensuring that they inhale a higher percentage of oxygen than is available in the ambient air.
Benefits of Oxygen Concentrator
1. Improved Oxygen Levels
The primary benefit of oxygen concentrator is the ability to significantly increase oxygen levels in the bloodstream. This alleviates symptoms associated with oxygen deficiency and enhances overall well-being.
2. Enhanced Quality of Life
For individuals with chronic respiratory conditions, oxygen therapy with concentrators can greatly improve their quality of life. It enables them to engage in activities that were previously limited due to breathlessness and fatigue.
3. Convenience and Independence
Oxygen concentrators offer a convenient and independent solution for oxygen therapy. Users can receive oxygen therapy in the comfort of their homes without the need for frequent cylinder refills.
4. Precise Dosage
Oxygen concentrators allow for precise control of oxygen dosage. Healthcare professionals can adjust the device to deliver the exact amount of oxygen a patient needs, ensuring safety and effectiveness.
5. Long-Term Sustainability
Unlike oxygen cylinders that require regular replacement, concentrators provide a sustainable solution as long as they are properly maintained. This reduces the environmental impact associated with cylinder disposal.
Choosing the Right Oxygen Concentrator
Selecting the appropriate oxygen concentrator depends on factors such as the patient's oxygen prescription, lifestyle, and mobility requirements. Healthcare professionals work closely with patients to determine the most suitable device and settings to ensure optimal results.
Caring for Your Oxygen Concentrator
Proper maintenance is essential to ensure the longevity and effectiveness of an oxygen concentrator. Regularly cleaning filters, following manufacturer guidelines, and scheduling routine maintenance checks are crucial steps to keep the device functioning optimally.
Conclusion
Oxygen concentrator play a vital role in supporting individuals with respiratory conditions by providing them with the oxygen they need for optimal bodily function. These devices offer a convenient, efficient, and sustainable solution for oxygen therapy, enabling patients to lead a more fulfilling and active life. By understanding the benefits of oxygen concentrators and their significance in respiratory health, individuals can make informed decisions to improve their overall well-being.