Tattoos have evolved from being mere body art to meaningful expressions of emotions, memories, and beliefs. In recent years, the emotional and mental aspects of getting inked have gained significant attention. People are using tattoos as a form of self-expression, therapy, and a way to cope with their emotions. Delving into the emotional and psychological dimensions of tattoos offers valuable insights into how body art can intersect with total health and fitness. This article delves into the deeper psychological dimensions of tattoos, examining how they impact our emotions and mental well-being.
Tattoos have transcended their historical origins as cultural markers or symbols of social status. They are now a canvas for the soul, allowing individuals to express their deepest emotions and commemorate significant life events. The decision to get a tattoo is driven by myriad emotional and mental factors, each contributing to the overall experience.
The Psychology Behind Tattoos
Understanding Body Modification
Tattoos, as a form of body modification, hold profound psychological implications. They involve altering one's appearance intentionally, often leaving a permanent mark. This process of transformation can impact how individuals perceive themselves and how they are perceived by others.
Tattoos as Symbols of Identity
Tattoos serve as a powerful medium for self-identity and self-expression. They allow individuals to visually represent their values, affiliations, and personal stories. A tattoo can encapsulate a person's essence in a single image, forging a connection between their inner world and outer appearance.
The Connection to Memories
Tattoos possess the remarkable ability to evoke memories and emotions. They become intricate reminders of pivotal life moments, fostering a strong emotional connection with the past. Whether it's a loved one's name or a symbol representing a milestone, tattoos serve as tangible anchors to cherished memories.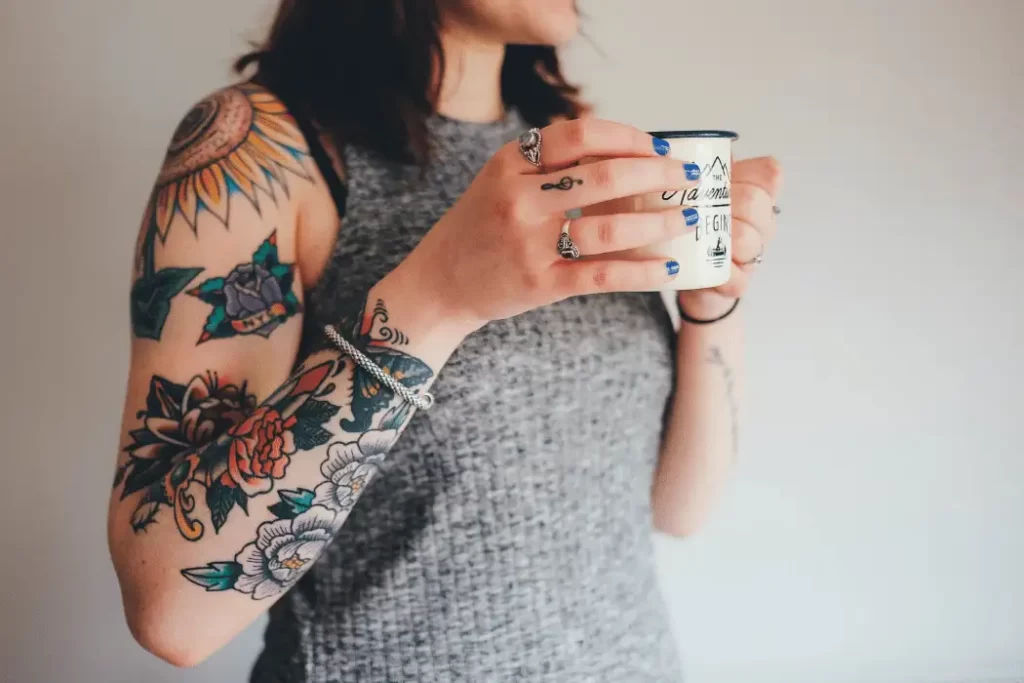 Emotional Release and Catharsis
The act of getting a tattoo can be cathartic, offering an emotional release that relieves stress and tension. The pain endured during the tattooing process triggers the release of endorphins, which are natural mood-enhancers. This combination of pain and pleasure can create a therapeutic experience, providing temporary relief from emotional burdens.
Tattoos as a Form of Healing
Empowerment and Self-Esteem
Tattoos empower individuals by giving them a sense of control over their bodies and lives. They can boost self-esteem and body confidence, particularly for those who have struggled with body image issues. The act of choosing a design and seeing it come to life can instill a sense of achievement and pride.
Overcoming Trauma
For some, tattoos become a way to heal from trauma or adversity. They might serve as symbols of resilience and triumph over life's challenges. The process of transformation through tattoos can be a step towards reclaiming ownership of one's body and emotions after a traumatic experience.
Tattoos and Self-Discovery
Journey of Self-Exploration
Tattoos often mark significant moments of personal growth and transformation. They can represent a journey of self-discovery, symbolizing newfound perspectives and wisdom. The permanence of a tattoo reflects the enduring nature of personal evolution.
Symbolism and Personal Growth
The symbols chosen for tattoos are often rich in personal meaning. They might reflect an individual's values, aspirations, or spiritual beliefs. As life unfolds, these symbols can serve as constant reminders of the path walked and the person one aspires to be.
Social and Cultural Influences
Tattoos as Cultural Artifacts
Tattoos have held cultural significance in various societies throughout history. They can represent rites of passage, social status, or group affiliations. The choice of design and placement can be influenced by cultural norms and traditions.
Social Acceptance and Peer Influence
The growing acceptance of tattoos in mainstream culture has influenced people's decisions to get inked. Social media platforms showcase tattooed individuals proudly displaying their body art, which can sway perceptions and normalize the practice.
The Role of Pain and Endorphins
The pain experienced during tattooing triggers the body's release of endorphins, which act as natural painkillers and mood elevators. This dual response creates a complex emotional experience, intertwining pain, pleasure, and emotional release.
Tattoo Artist as Therapists
Building a Trusted Relationship
Tattoo artists often become trusted confidants during the tattooing process. Clients may share personal stories behind their chosen designs, creating a therapeutic bond. The artist's empathetic listening can turn the tattoo session into a form of emotional release.
The Art of Active Listening
Tattoo artists practice active listening, allowing them to understand the emotional significance of a tattoo for their clients. This skill enables them to provide the necessary support and ensure that the final design accurately represents the client's emotions and intentions.
Tattoo Removal and Its Psychological Implications
Removing a tattoo can have psychological consequences. It might represent a changing identity or a desire to erase a painful memory. The process can evoke feelings of regret, but also signify personal growth and a willingness to move forward.
Ethical and Psychological Considerations
Informed Decision-Making
Making an informed decision about getting a tattoo involves evaluating its potential impact on mental and emotional well-being. Individuals need to consider their motivations, potential regrets, and the long-term significance of the chosen design.
Impact on Professional Life
The visibility of tattoos raises questions about their impact on professional opportunities. While societal attitudes are changing, it's essential to consider how visible tattoos might be perceived in various work environments.
Tattoos and Relationships
Communication and Interpretation
Tattoos can spark conversations, facilitating the sharing of personal stories and emotions. However, misinterpretations can also occur, leading to the importance of open communication about the meanings behind the tattoos.
Shared Tattoo Experiences
Couples, friends, or family members may get matching tattoos as a way to solidify their bonds. These shared experiences can deepen emotional connections and serve as permanent reminders of the relationships.
Tattoo Taboos and Stigma
Challenging Stereotypes
Society's perception of tattoos has evolved, but negative stereotypes persist. Some individuals may face judgment or discrimination based on their tattoos. Challenging these stereotypes promotes a more inclusive view of body art.
Coping with Negative Reactions
Dealing with negative reactions to tattoos requires emotional resilience. Having a strong sense of the personal significance of the tattoo can help individuals navigate and respond to critical comments.
Long-Term Effects and Regret
While tattoos may hold deep emotional meaning at the time of their creation, feelings can change over the years. What once symbolized an important phase might lose its relevance. Coping with tattoo regret involves accepting the evolution of one's identity.
Tattoos in the Digital Age
Social Media and Visibility
Social media platforms offer a space for individuals to showcase their tattoos and connect with like-minded enthusiasts. This virtual community can offer validation, inspiration, and a platform for creative expression.
Virtual Tattoos and Identity
Advances in technology allow individuals to try on virtual tattoos before committing to the real thing. This digital exploration can help people assess how a tattoo might impact their identity and emotions before making a permanent decision.
Conclusion
Tattoos are more than just art; they are a canvas for the heart and mind. Exploring the emotional and mental aspects of tattoos reveals their profound impact on self-identity, healing, and personal growth. As society continues to embrace body art, the emotional stories etched into the skin will continue to shape and transform lives.
FAQs
Are tattoos only about aesthetics?
Tattoos are often deeply symbolic and emotional, transcending mere aesthetics.
Can tattoos help with mental health issues?
Some individuals find therapeutic value in tattoos, using them as a way to cope with mental health challenges.
What if I regret getting a tattoo?
Tattoo regret is normal for some people, and there are ways to address it, including cover-ups or acceptance.
How can I choose a design that holds emotional significance?
Choose symbols, quotes, or images that resonate with your experiences, values, or memories.
Are there cultural differences in tattoo meanings?
Yes, tattoos hold diverse cultural meanings, often varying based on historical and societal contexts.