In the vast realm of yoga and meditation, hand gestures, known as mudras, play a significant role. Among these, the Linga Mudra holds a special place. It is believed to harness the inherent energy of the body and direct it towards specific purposes. By understanding the Linga Mudra and incorporating it into your practice, you can experience its numerous benefits and empower your overall well-being. Practicing Linga Mudra benefits the practitioner by enhancing vitality and inner strength through its specific hand gesture and posture. Linga Mudra Benefits, Steps, and Posture is a powerful practice that promotes total health and fitness, offering numerous benefits for physical, mental, and emotional well-being.
Understanding Linga Mudra
What is Linga Mudra?
Linga Mudra is a symbolic hand gesture that represents the phallus, symbolizing the masculine energy and the power of creation. The word "linga" translates to "phallus" in Sanskrit, while "mudra" refers to a seal or gesture. By forming this mudra, one can tap into the vital energy present within the body and channel it for various purposes.
Origin and Symbolism
The origins of Linga Mudra can be traced back to ancient Indian traditions and yoga practices. It is associated with Lord Shiva, one of the principal deities in Hinduism. The Linga Mudra symbolizes the generative power of Lord Shiva and represents the union of male and female energies. It embodies the concept of creation, transformation, and balance.
How to Perform Linga Mudra
Preparing for the Mudra
To perform Linga Mudra, find a comfortable and quiet place for your practice. It is best to sit in a cross-legged position or any other posture that allows you to relax while maintaining a straight spine. Take a few deep breaths to center yourself and prepare for the practice.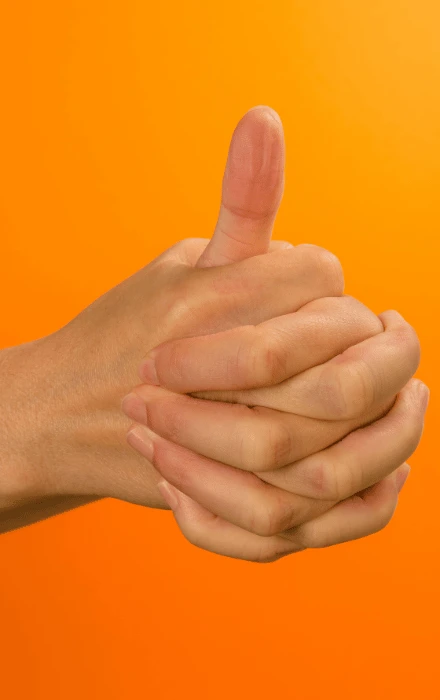 Hand Gesture Instructions
Interlock your fingers with both hands.
Keep your left thumb pointing upwards, firmly clasping it with your right hand.
Let the right thumb encircle the left thumb, creating a circular shape.
By forming this hand gesture, you activate specific energy points and meridians within the hands, stimulating the flow of energy throughout the body.
Activation of Energy
Stimulating the Fire Element
Linga Mudra is associated with the fire element, which symbolizes transformation and energy. By practicing this mudra, you ignite the inner fire within, awakening your vitality and strength. It helps in improving digestion, increasing body heat, and boosting metabolism.
Balancing the Doshas
According to Ayurveda, the Linga Mudra can balance the doshas, which are the elemental energies within the body. By regulating the flow of energy, it harmonizes Vata, Pitta, and Kapha, promoting overall health and well-being.
Linga Mudra Benefits
Increased Vitality and Inner Strength
Regular practice of Linga Mudra enhances your vitality and inner strength. It boosts your energy levels and invigorates the entire body. By activating the vital energy within, it helps you overcome fatigue, lethargy, and physical weakness.
Boosting the Immune System
Linga Mudra stimulates the body's immune system, promoting better resistance against diseases and infections. It strengthens the natural defense mechanisms, enabling you to maintain good health and well-being.
Improving Digestion and Metabolism
The practice of Linga Mudra improves digestion and metabolism. It increases the digestive fire (agni) and helps in the efficient breakdown of food, absorption of nutrients, and elimination of waste. This mudra also aids in weight management and detoxification.
Enhancing Concentration and Focus
Linga Mudra enhances mental clarity, concentration, and focus. It calms the mind, reduces distractions, and improves cognitive function. Regular practice can be beneficial for students, professionals, and anyone seeking mental clarity and improved productivity.
Promoting Emotional Balance
The Linga Mudra helps in balancing emotions and cultivating inner harmony. It can reduce anxiety, stress, and negative emotions. By channeling energy, it brings a sense of calmness, peace, and emotional stability.
Incorporating Linga Mudra into Your Practice
Duration and Frequency
For optimal results, practice Linga Mudra for 15-20 minutes daily. You can divide this time into multiple sessions throughout the day if needed. Consistency is key, so make it a regular part of your routine.
Suitable Environments
Choose a peaceful and clean environment for your practice. Find a place where you can sit comfortably without any distractions. You may also incorporate Linga Mudra into your yoga or meditation sessions to deepen your practice.
Complementary Practices
Linga Mudra can be combined with other yoga asanas, pranayama (breathing exercises), and meditation techniques to enhance its benefits. Consult a qualified yoga teacher or practitioner for guidance on incorporating Linga Mudra into your existing practice.
Precautions and Contraindications
While Linga Mudra is generally safe for most individuals, it is essential to consider a few precautions:
Pregnant women should avoid practicing Linga Mudra.
If you have any existing medical conditions or injuries, consult a healthcare professional or a qualified yoga teacher before practicing this mudra.
Discontinue the practice if you experience any discomfort or pain during the mudra.
It is always recommended to listen to your body and practice mindfully. Respect your limitations and modify the practice as needed.
Conclusion
In conclusion, the Linga Mudra is a powerful hand gesture that offers a multitude of benefits to those who incorporate it into their daily practice. Throughout this guide, we have explored the various Linga Mudra benefits brought to physical and mental well-being. From its ability to generate warmth and stimulate the body's natural energy to its potential in supporting respiratory health and relieving congestion, the Linga Mudra holds significant therapeutic potential. Moreover, its connection to the element of fire and its impact on the manipura chakra make it an excellent tool for boosting self-confidence and igniting inner strength. By following the simple steps and posture outlined here, individuals can harness the potential of the Linga Mudra to enhance their overall vitality and bring balance to their energy flow. Whether used as part of a yoga or meditation practice or integrated into daily life, embracing the Linga Mudra benefits can be a valuable addition to one's journey towards improved health and holistic well-being.
Frequently Asked Questions (FAQs)
Can anyone practice Linga Mudra?
Answer: Yes, most individuals can practice Linga Mudra. However, pregnant women and individuals with specific medical conditions should avoid it. It is advisable to consult a healthcare professional or a qualified yoga teacher before practicing this mudra.
Can Linga Mudra help with weight loss?
Answer: Linga Mudra can aid in weight management by improving digestion, metabolism, and balancing the doshas. However, it is important to adopt a holistic approach to weight loss, including a balanced diet and regular exercise.
How long does it take to experience the benefits of Linga Mudra?
Answer: The benefits of Linga Mudra may vary from person to person. With regular practice, you may start noticing positive changes in your vitality, concentration, and overall well-being within a few weeks.
Can I practice Linga Mudra during meditation?
Answer: Yes, Linga Mudra can be practiced during meditation. It can help deepen your meditative state and enhance your focus and concentration. Incorporate it into your meditation practice and observe the effects.
Where can I learn more about yoga and mudras?
Answer: There are various resources available, including books, online articles, and qualified yoga teachers who can provide in-depth knowledge and guidance on yoga, mudras, and their benefits.