Many people have the common goal of gaining lean muscle mass in order to reach their fitness goals. Whether you're an athlete looking to improve performance, a bodybuilder aiming for size and definition, or simply someone seeking a healthier, more sculpted physique, proper nutrition plays a pivotal role in the process. This article will explore various nutritional strategies that can help you achieve your goal of gaining lean muscle mass. Additionally, it will delve into how you can buy prohormone as a potential option to optimize your muscle-building journey.
Balanced Macronutrient Intake
The foundation of any successful muscle-building endeavor is a well-balanced diet that provides your body with the necessary macronutrients – protein, carbohydrates, and fats. These macronutrients serve distinct roles in muscle growth and overall health.
Protein Power
Protein is the building block of muscle tissue. Incorporating an adequate amount of high-quality protein into your diet is essential for muscle repair and growth. Sources like lean meats, poultry, fish, eggs, dairy products, and plant-based options like tofu and legumes are excellent choices. Aim for around 1.2 to 2.2 grams of protein per kilogram of body weight per day to support muscle development.
Carbohydrates for Energy
Carbohydrates are your body's primary energy source during exercise. They replenish glycogen stores, ensuring you have the energy to push through intense workouts. Opt for complex carbohydrates like whole grains, fruits, and vegetables to provide sustained energy without causing rapid spikes in blood sugar levels.
Healthy Fats
Fats, especially unsaturated fats, are essential for overall health and hormone production, which directly impacts muscle growth. Incorporate sources of healthy fats such as avocados, nuts, seeds, and olive oil into your diet. However, be mindful of portion sizes as fats are calorie-dense.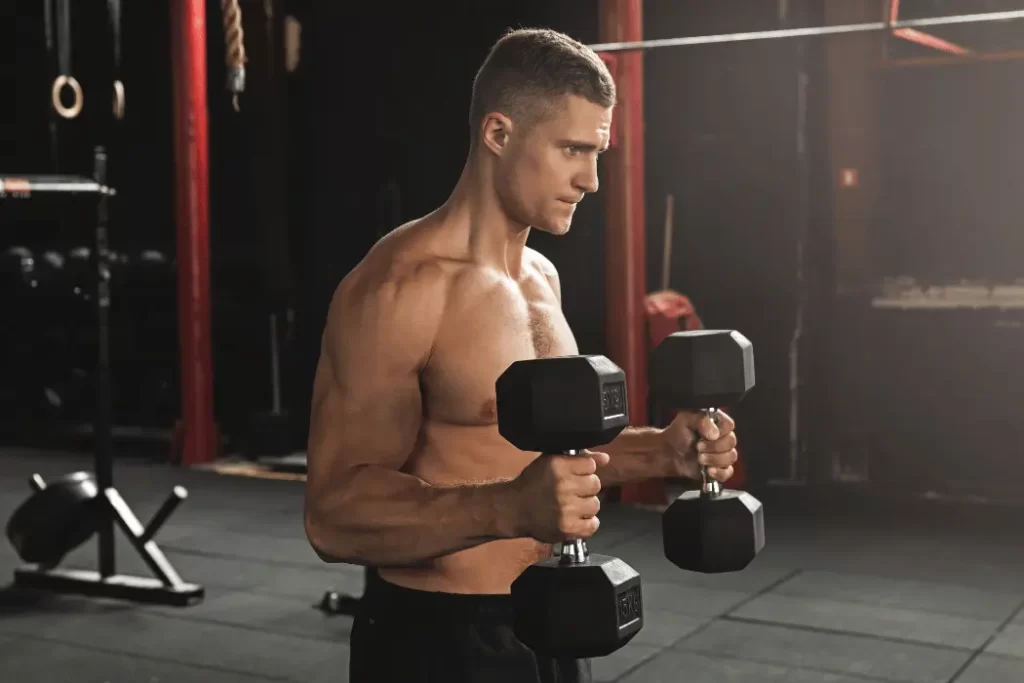 Strategic Meal Timing
In addition to the types of nutrients you consume, when you eat can also impact your muscle-building efforts. Consider the following meal-timing strategies:
Pre-Workout Fuel
Consuming a balanced meal or snack containing protein and carbohydrates about 1-2 hours before your workout can provide the necessary energy for a productive training session. Examples include a turkey sandwich on whole-grain bread or a yogurt and fruit smoothie.
Post-Workout Nutrition
After exercise, your body is primed to absorb nutrients. Consume a protein-rich meal or shake within 30 minutes to 2 hours post-workout to maximize muscle repair and growth. Whey protein, with its rapid digestion, is an excellent choice.
Supplements for Muscle Growth
While a well-rounded diet should be your primary source of nutrients, supplements can be useful in filling nutritional gaps. One popular option to support muscle growth is prohormones. These compounds are precursors to hormones like testosterone, which plays a crucial role in muscle development. Prohormones can potentially help increase muscle mass, strength, and recovery.
Prohormones – A Muscle-Building Option
Prohormones are compounds that convert into active hormones in the body, such as testosterone. These supplements have gained popularity as many individuals buy prohormone to enhance their muscle-building potential. Prohormones can offer several benefits:
Increased Testosterone Levels
Higher testosterone levels are associated with greater muscle growth and strength. Prohormones can help boost your body's testosterone production, potentially leading to improved muscle gains.
Enhanced Recovery
Prohormones may aid in faster recovery between workouts, allowing you to train harder and more frequently.
Muscle Growth
By promoting an anabolic environment in the body, prohormones can support muscle protein synthesis, which is essential for muscle growth.
Improved Performance
Some prohormones can enhance athletic performance, making them appealing to athletes and bodybuilders.
Conclusion
Building lean muscle mass requires a multifaceted approach that includes proper nutrition, meal timing, and, potentially, the strategic use of supplements like prohormones. By ensuring a balanced intake of macronutrients, timing your meals effectively, and considering supplementation when appropriate, you can maximize your muscle-building efforts.
Remember that consistency in your training and nutrition is key to achieving your muscle-building goals. With dedication, patience, and the right nutritional strategies, you can work towards a stronger, leaner physique and improved overall health.