Kiwi, a vibrant and nutritious fruit, is a popular choice for many people around the world. However, for some individuals, consuming kiwi can lead to an allergic reaction. Kiwi allergy is a fascinating topic that demands deeper exploration. Understanding and managing kiwi allergy is essential for maintaining total health and fitness, ensuring you can make informed dietary choices and lead a balanced lifestyle. This article aims to unravel the causes and remedies for kiwi allergy, shedding light on the factors that contribute to this condition and how individuals can manage it effectively.
What is a Kiwi Allergy?
A kiwi allergy is an adverse immune response to proteins present in kiwifruits. When a person with a kiwi allergy consumes this fruit, their immune system mistakenly identifies certain proteins as harmful invaders. Consequently, the body releases chemicals, such as histamines, to combat these perceived threats, leading to an allergic reaction.
Prevalence of Kiwi Allergy
The prevalence of kiwi allergy varies in different populations and regions. Studies suggest that kiwi allergy is more common in countries where kiwifruits are regularly consumed. Additionally, individuals with a history of other allergies, such as pollen or latex allergies, may be at a higher risk of developing kiwi allergy.
Symptoms of Kiwi Allergy
The symptoms of kiwi allergy can range from mild to severe and typically appear shortly after consuming the fruit. Common symptoms include itching and tingling sensations in the mouth, swelling of the lips, tongue, and throat, skin rashes, hives, abdominal pain, vomiting, and difficulty breathing. In severe cases, anaphylaxis, a life-threatening allergic reaction, may occur.
Diagnosis of Kiwi Allergy
If someone suspects a kiwi allergy, seeking proper medical diagnosis is essential. Allergy specialists can conduct skin prick tests or blood tests to determine the presence of specific antibodies related to kiwi proteins. An oral food challenge might also be performed under medical supervision to confirm the allergy.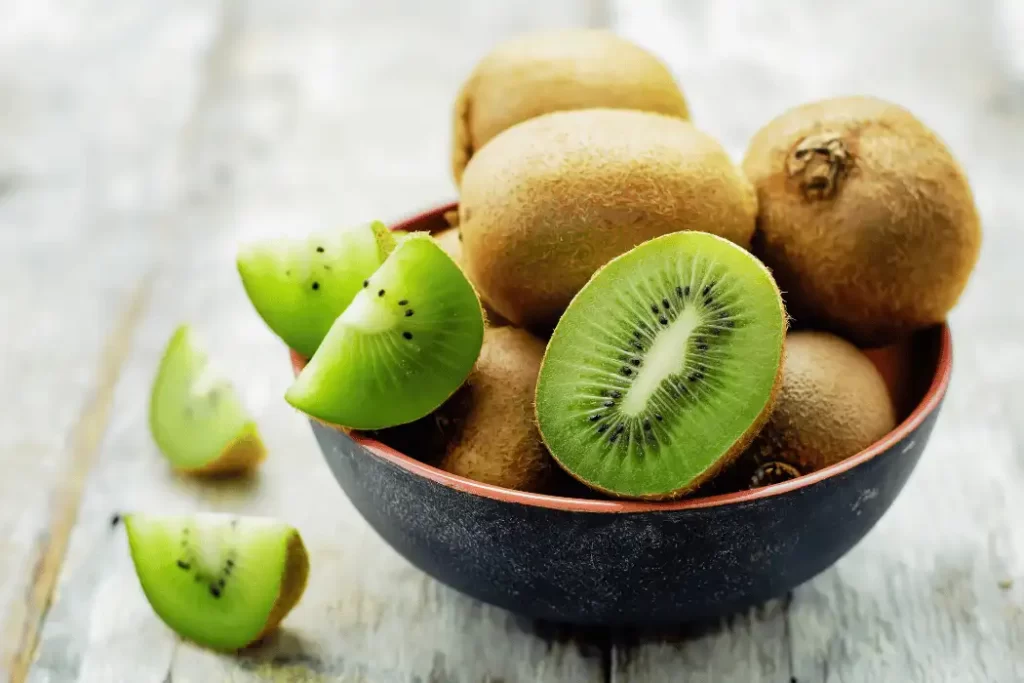 Common Triggers of Kiwi Allergy
Apart from consuming fresh kiwifruits, kiwi allergy can also be triggered by other factors. Touching kiwi fruit or coming into contact with kiwi pollen or latex may lead to an allergic reaction in sensitive individuals.
Understanding the Allergic Reaction
When a person with kiwi allergy ingests or comes in contact with kiwi proteins, their immune system activates a cascade of reactions. Histamines and other chemicals are released, causing the typical allergy symptoms. Understanding the mechanisms behind this process can help individuals take preventive measures.
Cross-Reactivity with Other Allergens
Kiwi allergy may be associated with cross-reactivity to other allergens. People with birch pollen allergy, for example, may experience symptoms when consuming kiwi due to shared proteins between birch pollen and kiwifruits. This phenomenon is known as oral allergy syndrome.
Managing Kiwi Allergy
Managing kiwi allergy involves avoiding kiwifruits and other potential triggers. Learning to read food labels carefully is crucial to identify hidden sources of kiwi proteins. Additionally, carrying an epinephrine auto-injector is essential for those at risk of severe allergic reactions.
Tips for Avoiding Kiwi Allergens
To avoid kiwi allergens, individuals must be cautious while dining out or purchasing packaged foods. They should inform restaurant staff about their allergy and be aware of foods that may contain kiwi derivatives.
Kiwi Allergy and Oral Allergy Syndrome
Oral allergy syndrome (OAS) is a common condition where certain raw fruits and vegetables cause localized allergic reactions, mainly in the mouth and throat. Kiwifruits can trigger OAS in individuals with pollen allergies, leading to discomfort and itchiness.
Natural Remedies for Kiwi Allergy
Some individuals seek natural remedies to alleviate kiwi allergy symptoms. However, it's crucial to consult a healthcare professional before trying any alternative treatments. Options like quercetin supplements, probiotics, and honey are among the natural remedies that people explore.
Medical Treatments for Kiwi Allergy
Medical treatments for kiwi allergy may include antihistamines to manage mild symptoms or epinephrine injections in case of severe allergic reactions. Allergy shots (immunotherapy) may be recommended to desensitize the immune system over time.
Living with Kiwi Allergy
Living with kiwi allergy requires vigilance and awareness. It is essential to communicate the allergy to friends, family, and caregivers to prevent accidental exposure. Support groups can also be valuable for sharing experiences and coping strategies.
Conclusion
In conclusion, kiwi allergy is a significant health concern for some individuals, impacting their quality of life and dietary choices. Understanding the causes, symptoms, and management of kiwi allergy is crucial for those affected. By taking preventive measures and seeking appropriate medical care, individuals with kiwi allergy can lead fulfilling and healthy lives.