Paneer, also known as Indian cottage cheese, is a popular dairy product widely used in various cuisines across the Indian subcontinent and beyond. It is a versatile ingredient that can be used in both savory and sweet dishes. Apart from its delicious taste and texture, paneer is also known for its nutritional content, especially its protein content. If you're curious about the protein in 100 gm paneer, this article will reveal its nutritional value and why it's beneficial for your diet.
Discovering the nutritional content of paneer, specifically the amount of protein in 100 grams, is a key aspect of total health and fitness. In this article, we'll explore the protein content in 100 grams of paneer and its significance in a balanced diet.
What is Paneer?
Before we delve into the protein content, let's understand what paneer is. Paneer is a fresh cheese made by curdling milk with the help of an acidic agent like lemon juice or vinegar. The resulting curds are then pressed to form a cohesive, solid block known as paneer. Due to its mild and creamy flavor, paneer has gained immense popularity in vegetarian and non-vegetarian diets alike.
The Nutritional Profile of Paneer
Paneer is not only a rich source of protein but also provides various essential nutrients. In a 100-gram serving of paneer, you can expect to find:
Protein: Paneer is particularly prized for its high protein content. A 100-gram serving can contain around 18 to 20 grams of protein, making it an excellent option for vegetarians and those looking to add more protein to their diet.
Fat: Paneer does contain fat, but it is mainly the healthier unsaturated fats. The amount of fat in a 100-gram serving is approximately 20 grams, which contributes to its creamy texture and taste.
Calcium: Paneer is a great source of calcium, an essential mineral for maintaining healthy bones and teeth. A 100-gram serving of paneer can provide around 200 to 250 milligrams of calcium.
Phosphorus: Apart from calcium, paneer is also rich in phosphorus, another crucial mineral that supports bone health and various physiological functions.
Vitamins: Paneer contains various vitamins, including vitamin A, vitamin D, and some B-complex vitamins, which play essential roles in maintaining overall health.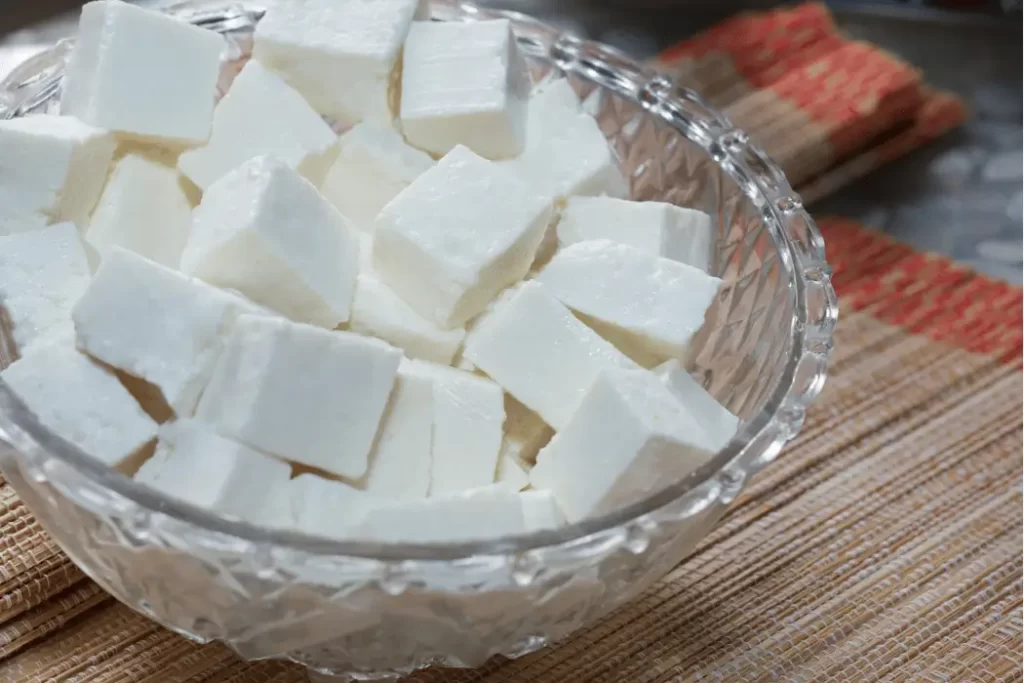 The Importance of Protein in Paneer
Protein is an essential macronutrient that plays a pivotal role in the human body. It is made up of amino acids, which are the building blocks for muscles, enzymes, hormones, and various other molecules vital for life. Proteins are responsible for repairing tissues, supporting the immune system, and contributing to the growth and development of the body.
Incorporating protein-rich foods like paneer into your diet can have several benefits:
1. Muscle Growth and Repair
For individuals engaged in physical activities or regular exercise, consuming an adequate amount of protein is vital for muscle growth and repair. The amino acids in paneer support the development of lean muscle mass, making it a favorite among fitness enthusiasts.
2. Weight Management
Protein is known to induce a feeling of fullness, reducing overall calorie intake. This can be beneficial for weight management and weight loss goals. Including paneer in a balanced diet can help you feel satiated and curb unnecessary snacking.
3. Bone Health
As mentioned earlier, paneer is rich in calcium and phosphorus, both of which are crucial for maintaining healthy bones and teeth. Adequate protein intake, along with these minerals, contributes to better bone health and reduces the risk of osteoporosis.
4. Healthy Hair and Skin
Protein plays a significant role in the structure and health of hair and skin. Including paneer in your diet can provide the necessary amino acids for promoting healthy hair growth and maintaining youthful skin.
Conclusion
In conclusion, understanding the protein in 100 gm paneer is essential for individuals seeking to incorporate this dairy product into their diet to meet their nutritional needs. Paneer, a popular cheese in Indian cuisine, is a rich source of protein, making it a valuable addition to vegetarian and protein-based diets. On average, 100 grams of paneer contains a significant amount of protein, typically ranging from 17 to 18 grams. This protein content makes paneer a suitable choice for individuals looking to increase their protein intake, support muscle growth and repair, and maintain overall health. By being aware of the protein in 100 gm paneer, individuals can make informed decisions about portion sizes and incorporate this nutritious cheese into their meals to meet their dietary goals. So, whether you are a vegetarian, athlete, or simply looking to add more protein to your diet, knowing the protein in 100 gm paneer can help you make choices that align with your nutritional requirements and promote a balanced and healthy lifestyle.